ES rising wedge
Here is something I'm keeping a close eye on, especially as this rises right into some of my key areas. Please refer to my April '09 commentary on my website, which shows the overhead areas I am watching. There is also a minor area that was hit at today's (4/13/09) high.
Click image for original size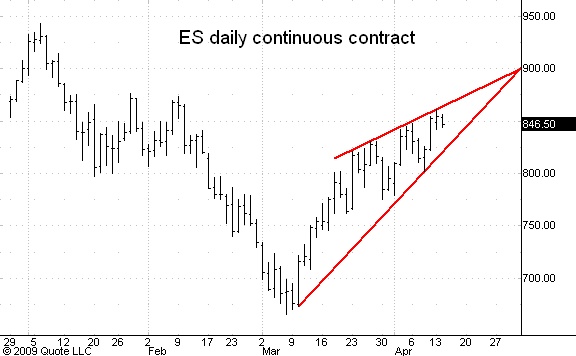 This is a rising wedge, and is very bearish, and quite ominous looking. You can draw the lines a bit different if you want, perhaps not starting at the low, but starting at the 3/30 or 4/1 low, but the pattern is the same. Having this pattern form right into key areas makes it all the more ominous. Just something I am watching, as always,
price action
is key.
Chart created with
QCharts
, courtesy
eSignal
Nick,

I'm not sure if you asked about the 900 because the triangle vertex point is at 900 or not, but that may be (likely is) just a coincidence here, although it could creep that upper line all the way there, too.
quote:

---

Originally posted by MonkeyMeat

Here's drilling down on a 13 minute chart that's showing a Head and Shoulders "look" of a potential topping pattern for the short term combined with my prior post of the daily ES chart. Sorry for any chart sizing miscues until I get the hang of this. Open for any feedback!

---
Nice work, monkeymeat. That median line set (Andrews pitchfork) you have on there is the one I showed in the last chart on my April commentary, which I hope everyone has read so you all know my bigger picture for this rising wedge. You second chart shows the toppy action that makes me think we may see some more downside. But, the massive manipulation of bank earnings, in my opinion, opens this up for anything, so I am ready for the rampers to show up any second and play their usual games.
quote:

---

Originally posted by gio5959on a daily chart that would be an EDT - an EDT wave D cannot exceed the top channel line - bulls need to clear 850

---
Gio! I can't believe I post one chart, and a basic simple one at that, and I've got all this action. Yes, Gio, this is also within the definition of an Elliott ending diagonal triangle. As you all probably know from my website I'm not a strict Elliott practitioner by any stretch, I more look for the practical aspects that I can work into my current work. Hence, I am not super up on the various disciplines of Elliott definitions. Like, didn't Elliott say in a DT that you can have a 'throw-over', spiking above the upper line, sometimes by quite a bit? Or did I misinterpret what you were saying? But I suppose D will always be the highest, even if it is the throwover. I guess that goes without saying, or it wouldn't be 5 waves anymore... Well, regardless of the nuances we are all noting here, this is a very ominous pattern in this position and area, I think. The bulls will need a lot more government money to rush this up from here (but, they may have a lot more, too...).
quote:

---

Originally posted by koolblue

Thx, Jim, i read it as an ending diagonal...

---
Kool, yes, what I was referring to as a 'rising wedge' from old style Edwards and Magee type
TA
is, in the context of Elliott and a wave 5, the 'ending diagonal'. I wasn't sure how many readers would know the Elliott, and I didn't want to get any arguments that it couldn't be an ending diagonal because it wasn't a 'wave 5', and so on. Nothing seems to ignite more challenges than Elliott counts :-)
Man, I'm quitting for the night. I'm so loopy I've edited and corrected my replies here like a zillion times...
Always enjoy your insights , Jim. Ive been a big fan for sometime now and would encourage others to investigate your home page where there is a wealth of useful articles, studies etc.
Thanks, Kool, I didn't know that. I thought all the lines would drive you crazy :-) If you send me an e-mail (you can find it on the contact page on my website, I don't want to post it here where the spammers can find it easily), I have a chart to send you showing something cool about your projections and something I do, plus something interesting about a Fib number, if you want.
hi jim,

sry did not c u answer my 900 inquiey for some reason its come up on a different thread, yes I was asking re 900 because as much as I see the wedge which i hadnt until u pointed it out I was looking at above and below 900 levels as potential stopping points my key one before 1017 and 1076 being 942,5 have a lot coming together there that was all yet I did not have 900 on rwadr for anyother reaosn than big round number so thxc again for pointing it out.
Nick,

Can you tell me what other thread it's come up on? I need to investigate that, unless I misunderstood what you are saying. I answered it but it is appearing in another thread?
Hi Jim,
When you orignally posted the chart of rising wedge I submitted my question on that thread I looked for and answer from you then got it on here which to me came as a new thread its np to me you answered me whichever way you look at it and I appreciate it that. thx