5/5 Midday Trading?
Snore! After an
NR
/4 (
NR
/7) the mkt broke out yday and gave us a WR day up to the top end of what I have as an upper trendline across the past few weeks on the daily. Currently we have an
ES
range of 11 points ... which is narrower than the Friday
NR
. Are odds pointing to an increase in today's range by the close ... in other words, a semi-decent break of the session's current high or low??? Have posted an
ES
daily chart with a channel in blue. Shorted the
NQ
a little bit ago ... decided to scratch for a few
ticks
. Anyone seeing anything of significance as of yet?
Click image for original size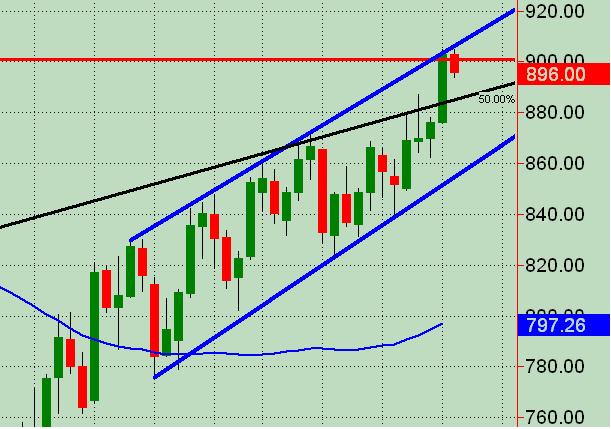 quote:

---

Originally posted by SPQR





And Joe said we should be in the 70s today to buy this thing. Throwing everyone for a loop. Sure we're going up?




---
What does this mean? I have a short @ 897 targeting 877, I have a reverse set for this weeks range (905). I never said anything about it having to be in the 70's for me to buy.... LOL I'll buy like a greedy newbie if this thing breaks up.
Who did I throw for a loop? I'll bet my bottom dollar on it, until I see weakness, and I have not seen weakness for weeks.
And...yes were going up.
SPQR,

They started breaking down @ 8:30 mark you had for a bottom was that a planet ingress or something like it?
quote:

---

Originally posted by CharterJoe

92.75 covered short and trying a long. The 30min RSI is hooking, 30min high breached


---
Covered 1/2 @ +3 Stop at flat +1tick for broker. Lets see if they take'em back up.