5/5 Midday Trading?
Snore! After an
NR
/4 (
NR
/7) the mkt broke out yday and gave us a WR day up to the top end of what I have as an upper trendline across the past few weeks on the daily. Currently we have an
ES
range of 11 points ... which is narrower than the Friday
NR
. Are odds pointing to an increase in today's range by the close ... in other words, a semi-decent break of the session's current high or low??? Have posted an
ES
daily chart with a channel in blue. Shorted the
NQ
a little bit ago ... decided to scratch for a few
ticks
. Anyone seeing anything of significance as of yet?
Click image for original size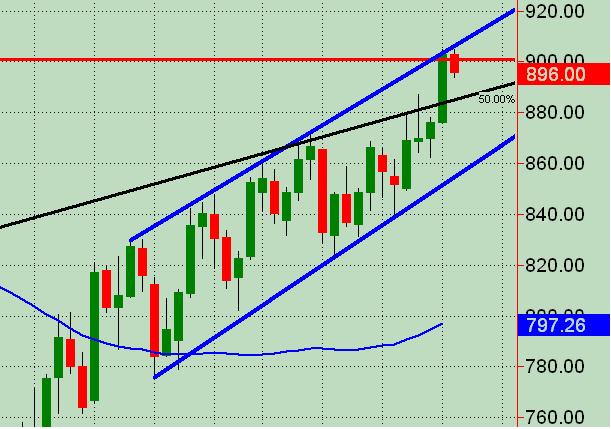 Fyi ... didn't get to trade or watch
price action
yday ... my pooch had a seizure (poor little guy) ... so I was out of commission. It smells short to me currently, at least as a bias as of now. Then again, only 2 trades today ... a scratch a few minutes back and a morning short, again of the
NQ
based on its weakness relative to the
ES
/
DOW
for just pocket change.
as you can see i fully expected downside from the pit open as evidenced by this posting about 5 am this morning. Also had mon as apeak not a low!
SO
HOW COME
IM
DOWN 8 HANDLES!?! great analyst ,,,lousy trader!!
i have been looking all day for 889.75 minimum but so far just sideways .. seem to be correcting in time ,not price! But ill tell you one thing, this aint gonna be a 11 handle range day, so something should occur soon!
Ugh ... that's always frustrating Kool ... know the feeling. Ain't that the 7 wave killer thing? And things are heating up as I type this and I scratched my short earlier even though I would've been stopped for a loss if I'd held it. On the sidelines for now. Looks like I shoulda just stuck with my "sniffer indicator" ha! Testing lows right now. Good chart you posted ... good market "read!"
numbers to watch may include 889.75, and 887.25...fwiw...im getting some shut eye! Cya soon!
Okay, shorted the
NQ
again on a small bounce with a tight stop (prob too tight) ... got taken out. My sniffer indicator still points down but ain't trading by smell. DONE for the day at roughly BE ... bleh. Coulda been worse. Was expecting the 11 point range to be bigger by end of day and was also looking at a retractment of some of yday's WR bar that hit the upper trendline I had. In other words, short. Oh well.
You know people are bored and/or clueless when they're buying decimated failed waves. No one can read bear waves, man.
This bull ended at 97.50 this morning when they slaughtered the first wave from the
ABC
. And they just bought it again.
I'll be short 905.25 if it gets there.
Well, the Monday WR day's high was 904.75 which was the upper trendline (blue) on the daily chart I'd posted above. Today reached 905.00 (again, the top of the trendline/channel daily). Still room on the 30 min chart upper trendline I posted on weekend analysis (which is currently above 910). Price has held today at a
price action
support line in the 895 area on 13 min chart. It's almost put in what could be construed as an intraday (messy) double bottom. As of the stock mkt close, we've got an
NR
day (11.50 points) ... narrower than Friday's NR7.
ES
March contract Jan swing high was 938.25 ... showing 939.50 on my
ES
continuous contract. Also, would've expected a close today that retraced a decent portion of yday's WR bar. It didn't ... and looks like it will prob close near the high end of today's
RTH
range. Simply looking at
price action
and certain potential
S/R levels
here as well as the
NR
and WR daily bars with trendlines (channels). Just some observations.
Should be interesting. That bounce of the upper channel in the 30 gave a buy in my 9 period
RSI
, but as Red just pointed out him seeing a "W" forming, that continuation buy is off a sell signal over-extended. We're going to make a new high, but then it'll be a
triple
divergence
sell.
They put in two prime prices a
tick
apart. That's not certainty by any stretch of the imagination.