ES S/R Map for 11/5/09
On the gf's computer once again ... but after watching
price action
during the session today and looking at charts on multiple time frames ... this is what I distilled down as potential significant price levels for Thursday. 1047-1047.50 is a "minor" area (should have noted that on the chart).
Click image for original size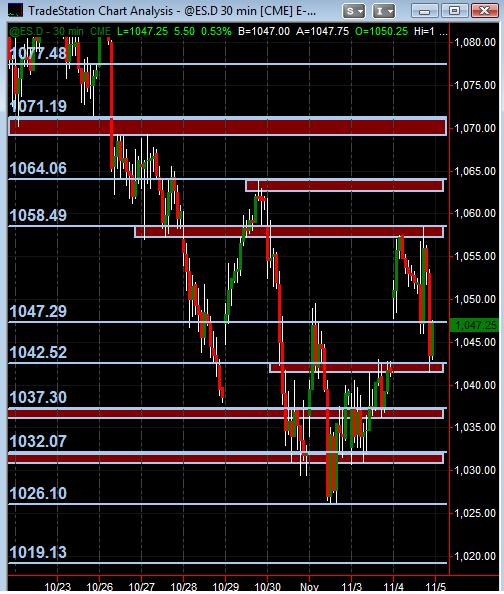 Hope this is helpful ... and open to feedback and analysis from all. Let's share some ideas here ... good stuff!
short 56.00 w/2point stop ... may tighten if doesn't drop quick ... was fading this 57.00 area ... scratched out of trade @56.50 ... mkt still acting too strong to me at least
57-58.50 seems like a reasonable area to consider short if tape and 1min chart weren't so strong ... next price level up that I'm looking at if it gets there is 64.00 ... would expect more signif resistance but would wait for
price action
(tape) to confirm and give a place to enter
mkt has been trending up on 5min chart for both
ES
and
NQ
since 3 Central Time on
globex
is part of my long bias and also the current price activity so far this morning ... may consider another long for a scalp (though we're kind of extended on really short term) ... so will most likely sit on hands for now and see how price acts in this 57-58.50 area unfolds
hmmm ... I'm micro babbling here ... gonna stick to a little bigger picture analysis on intraday time frame as I don't see too much very useful in prior few posts ... espec. since I tend to scalp and for short short term, market read and analysis close-up can change so quickly.

will try to stick to more rationale for observations and for higher probability areas for potential decent trading areas on chart
that 56 - 58 of you folks is the big attractor today..I wouldn't be surprised to see another late day retest..there is a
gap
( small) at 57 so I'm avoiding all long ideas ..I'd rather miss the long if it happens and besides, my 62 is stil there up top
ah Kool..ur slipping...missed that 63.25 by .25...lol...nice when our worlds collide..now clean up that 57...they never make that one easy...like to make me suffer for trading so late in the day
MY
ORDER WAS
AT
1063.25 AND 1063.75,BRUCE! I WAITED 4 DAYS FOR THAT ONLY TO GET ONE TICKED!!! USUALLY IF 1073 IS OING TO BE SEEN IN A DAY OR
SO
YOU WOULD THINK IF ANY THING IT WOULD SLIGHTLY OVERSHOOT THE PROJECTION, INDICATING HIGHER PRICES LATER!
IM
SO
BUMMED ..GOING TO SLEEP
NOW
.
quote:

---

Originally posted by koolblue

TOMORROW IS UNEMPLOYMENT DAY!!! And something to keep in mind. This could be one of those days that drives newbies wacky!...a small decline into the report, then great unemployment news comes out , causeing a pop back up to 1073,or even 1076.75!!! Then just as suddenly the market reverses as everyone remembers that Bennie and the Feds just said they wont consider raising rates till unemployment improves!! Remember? so perversly, they then decline the thing the rest of the day!!! lol... just thinking out loud!..but i wonder!?!


---
The reason for the chop is that good data (good for the indices) has been triggering the purchase of U.S. bonds to offset a declining dollar.