ES S/R Map for 11-6-09
Btw Kool, interesting chart you posted on this page:
http://www.mypivots.com/forum/topic.asp?TOPIC_ID=5075&whichpage=3
Here's what I've got for potential significant
S/R
price areas for Friday using a 15 minute chart. Blue=
price action
S/R
... Red line is Wkly Mid-Pvt ... Green(ish) line is Wkly R1 Pvt. Pleas offer any and all feedback and analysis and charts etc. !
Jobless report will be premkt ... so may be some interesting gyrations to watch.
Click image for original size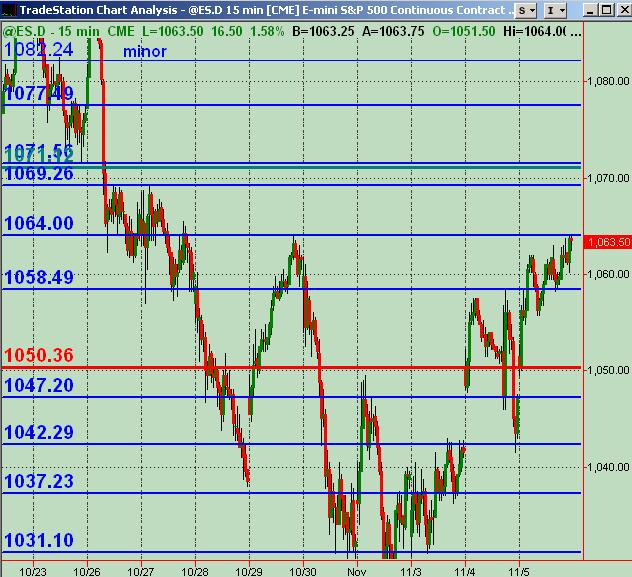 covering 4 at 63.50 from 66.75........have two left...trying for the friday selloff down to the hour break of lows otherwise 66.25 takes me out of the last two......and they will probably run for the 71 area wothout me.....
looks like I covered those 4 a bit early as volume magnet just hit at 62...now as bonds are closed it will get interesting...have a good weekend to those who actually remain here today...I'm still trying for those lows.........
yeah, pretty much a snooze-fest snore-a-thon watch-grass-grow-paint-dry hurry up and do nothing day so far ... with an hour left. I forced a scalp and just dipped my toe into the red for the day. Think I'll avoid any Friday horror stories here and call it a week! Y'all have a good evening and weekend! The barley wine's a callin'

Btw, nice trade there Bruce ... and I think Kool walked away with a decent day in his hip pocket ... good stuff!
hey Blue, can
IB
make
vwap
bands now or are those bollinger on you chart...? I haven't messed with it lately...thanks
Bruce
Hey Blue, what software is that ... and what indicators are those (looks Keltneresh but more like a
MA
envelope)... really like that VOLUME portion
Market Profile
-esque to the right of the price chart. Basically want to know what Bruce is asking as well.
quote:

---

Originally posted by BruceM

hey Blue, can IB make vwap bands now or are those bollinger on you chart...? I haven't messed with it lately...thanks

Bruce


---
Yes the chart is from
IB
.
The red bars are volume bars by price. I didn't realize they had it.
Your references to volume areas twigged me to look.
the bands are ETB
which I think stands for envelope trading bands.
I wanted something that didn't increase in distance (width) with volatility as Bollinger and, to a lessor extend, Keltner do.