ES S/R Map for 11-6-09
Btw Kool, interesting chart you posted on this page:
http://www.mypivots.com/forum/topic.asp?TOPIC_ID=5075&whichpage=3
Here's what I've got for potential significant
S/R
price areas for Friday using a 15 minute chart. Blue=
price action
S/R
... Red line is Wkly Mid-Pvt ... Green(ish) line is Wkly R1 Pvt. Pleas offer any and all feedback and analysis and charts etc. !
Jobless report will be premkt ... so may be some interesting gyrations to watch.
Click image for original size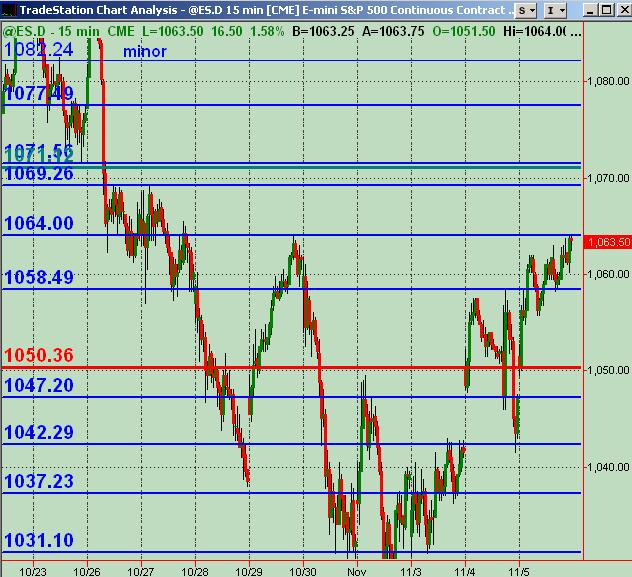 Anyone buy the open
gap
... or short that 69 area? Just curious. Only a premkt trade off of the jobs report for pocket change here so far. It's currently trying to hold the 58.50 area around where the Daily Mid Pvt is ... but don't trust it long here yet ... it ain't acting right (but the
NQ
keeps trying to pop up with
ES
not reacting as much).
I guess the way i see it is ... it already tested the high once (within one
tick
!) so i dontthink it will again . it will likely fall short around the 1067.25 projection i have or go thru the high to 1071-73. Best guess (and thats all it is) is she falls short! (and closes today flat
quote:

---

Originally posted by koolblue

#@[email protected]#%...HIT DEAD NUTS ORDER WAS IN ..NO FILL YET!!!!


---
Don't worry I think we'll see 67.25 again.
quote:

---

Originally posted by BruceM

hey Blue, can IB make vwap bands now or are those bollinger on you chart...? I haven't messed with it lately...thanks

Bruce


---
Yes the chart is from
IB
.
The red bars are volume bars by price. I didn't realize they had it.
Your references to volume areas twigged me to look.
the bands are ETB
which I think stands for envelope trading bands.
I wanted something that didn't increase in distance (width) with volatility as Bollinger and, to a lessor extend, Keltner do.