ES S/R Map for 11-9-09
Here's what I've got for
price action
S/R levels
coming into Monday. Viewed multiple time-frame charts but have this drawn on the 60 minute. As always, each price is a "zone" with a few
ticks
above and below as the "area." Have an actual "zone" drawn in that is WIDE from the 1069-1072 area where both individual prices are pretty solid but feel this will function as a zone. Obviously I prefer something no more than a couple
ticks
or so to each side of the line/price I've drawn in. But in this case (and based on others analysis) I think it appropriate to present it that way on the chart fwiw.
Click image for original size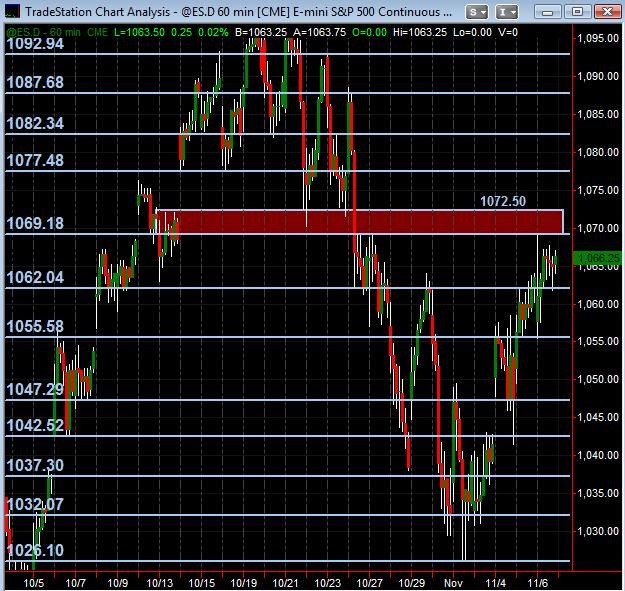 As always, encourage all to post any feedback and analysis!
some may notice that no minus 4 has hit lately...providing the astute trader with some feedback
This process will take time. I would be careful about being too aggressive on the short side too early today.
This narrow
IB
should breakout to the upside and trigger the bigs in long. 1089 is the absolute minimum upside target for today.
Joined you short at 80.00 Bruce but would really have like to see this roll over or have come further off this 81 area more quickly ... small position, tight stop ... anticipate that a retest if the high will be more than a retest if it attempts it ... 1min
$TICK
had begun to show some weaknes and had this as a signif resistance area ... we'll see
scratched the trade ... where'd the volume go??? ... gonna watch ... don't have a decent feel for price right now
$tick
and volume diverge but not convinced it's enough to take me back to the 77-78 area.."air" pocket at 78.75 which let the breakout boys earn some cash
this has to break and soon as th etime is ending for them to run it out and then back to the open print..I'd settle tof that 78 first
final
add
at 83.75......that's the plus 8 - 10 in my world..lack of negative
$ticks
still a big concern...hopefully that volume was the weekly shake out number
so far today no 30 minute bar has traded below the low of any other bar..haven't seen that in a while