ES S/R Map for 11-9-09
Here's what I've got for
price action
S/R levels
coming into Monday. Viewed multiple time-frame charts but have this drawn on the 60 minute. As always, each price is a "zone" with a few
ticks
above and below as the "area." Have an actual "zone" drawn in that is WIDE from the 1069-1072 area where both individual prices are pretty solid but feel this will function as a zone. Obviously I prefer something no more than a couple
ticks
or so to each side of the line/price I've drawn in. But in this case (and based on others analysis) I think it appropriate to present it that way on the chart fwiw.
Click image for original size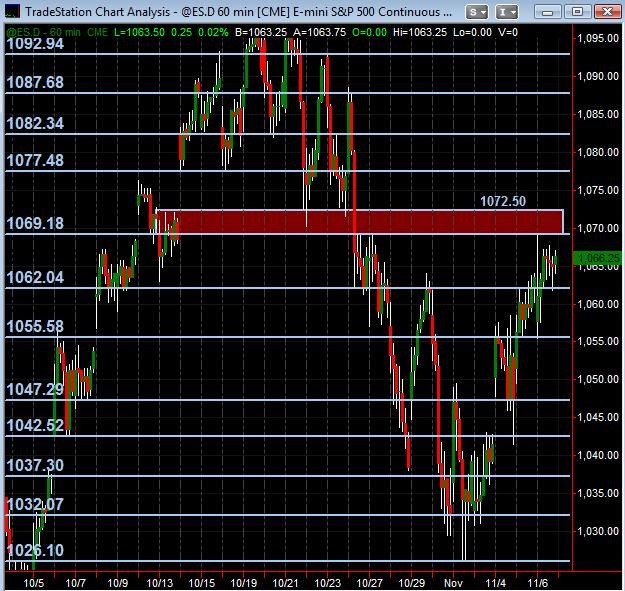 As always, encourage all to post any feedback and analysis!
And for the bigger picture of a daily chart for the
ES
...
Click image for original size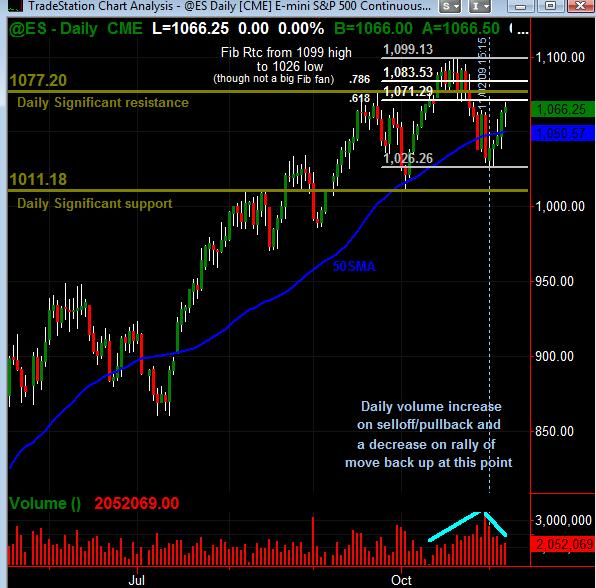 Hope this useful in some way and helps.
MM
BTW ... the
ES WEEKLY PIVOTS
are ...
Mid Pvt
of
1054
...
R1
of
1082
...
S1
of
1038
. All three fall within a few
ticks
of one of the
price action
S/R levels
on the 60min chart above as per the Mypivots.com numbers fwiw.
Typically don't trade overnight unless coming into the 2 hours premkt to the
RTH
session ... but
ES
traded up to 1071 (so far) and shorted as a proxy, the
NQ
twice ... once for a scratch another for a loss. This was when I switched long for a scalp expecting some room to 1072.50 on
ES
and got a spike that I offered out into for a few
NQ
points to get back into decent "profitland."
Still think the area offers some stiff resistance ... and so far price has backed off to 69.25 ... problem is that price is still acting strong so far. Am gonna bow out now and watch the Cowboy's play some football! Always hoping Romo doesn't throw more than 1 or 2 interceptions.
For some reason I like trading the
NQ
during non-
RTH
.
well done
MM
( nice trade too) and thanks for these...I'm looking at the 61 - 62 and then the ongoing test will see what happens at 10 points either side of that high volume zone...so in this case the 71 - 72 and the 51 - 52 would be in place....that's 10 points on either side of Fridays HV numbers
Big money (ie. +450 contract players) did not show up after the
NFP
was released - this is unusual, but not sure how to interpret that. So, this could still go either way. If sellers step in and break it below 1055, I will become bearish and sell resistance. If buyers take control and drive it above 1078, i will become bullish and buy pullbacks.
Gap
fill could be a potential play for Monday, as there is a hi volume node at 1066.
Lots of vertical volume showing up at your 1077-1078 phileo. So that is confirming it.....overnight showing the "P" pattern as per volume..I think they will want a bit higher to run out any stops and then hopefully roll it over to test 71 - 72
Looking for a significant swing high in the
ES
today. I will not be surprised to see the
ES
trade (briefly) back above 1100 today. I have no idea what price level the market will manage to touch before sellers take control and price reverses. The higher the better !
Resistance levels: 1089, 1106, 1113, 1123
Strategy: find the
HOD
and load 'em up !
good idea
PT
..I'm starting at the plus 4 after the run of the overnight highs and pre market
gap
fill...80.25 is my fill......
so far today no 30 minute bar has traded below the low of any other bar..haven't seen that in a while