ESshort term trading 4/7/10
ESshort term trading 4/7/10
reviewing the longer term bias... i have been looking for higher prices into mid to late april, so far ,so good. But we are now getting to a very 'dangerous area' as we approach 1200. we are ripe for a decent decline (at least 25 handles or more). the 15th is beginning to look like an important area time wise. however, given all this, the bullish trend has to be respected untill proven otherwise..... following are twoApril sesonality charts courtesy of Mike Burk. One covers years from 1963 to now and the other , a longer timerame. The main point here is the negative sesonality the 2nd half of the month.
Originally posted by koolblue

So to summarize ... outside of 1192.75 or 1172 area i dont have firm opinions yet. btw.. stopped out on a long attempt from 1181.75 at 1180.25 . now i'll be watching 1178.75-1179.00. perhaps others have a better handle on todays action.

DAM NICE CALL....
SO
FAR!....
Click image for original size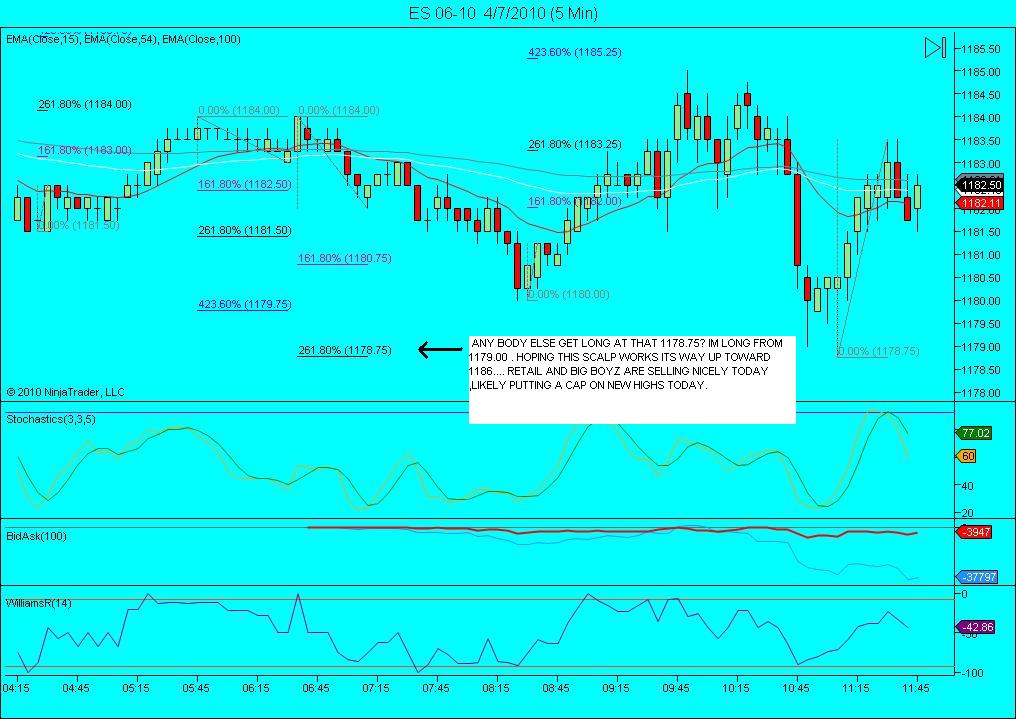 last weeks high before that strange friday session seems likely and a breakout point.....they know we want that....close..
Originally posted by ak1

1177 still on the cards for SP as is 691 for russel

that
NQ
low is a bit strange with the double bottom...es seems like they will need to test below 81.50 again today....so I'm passing on longs for now
covering long at 1184.50...should go closer to 1186.50 at a minimum but i cant help it. this makes up for myloser early today!
I think this could be a runner to 1188 area. Let's see my analysis. I would like to take 2 points at least.
Click image for original size
Originally posted by koolblue



Click image for original size



Hi Koolblue.
I know it is a bit late but I wanted to thank you for posting the chart(s) on 04/07/10
One chart you posted with the 1171 as possible support was outstanding! Right on support too! A turning point.
Thanks again for sharing the way you see!
h