ES Short Term Trading 4/9/10
ES Short Term Trading 4/9/10
Thought I'd go ahead and launch the topic/thread for Friday's trading. I'm posting what I'm seeing with
Price Action
S/R levels
on the Daily and also 1-Hour charts. Other price trendlines/chanels also included. Looking forward to the interaction from Thursday's trading and analysis.
Side note: It still seems that no matter what the mkt news is, price keeps rallying (hard and fast), especially when looking at a 30 or 60 min chart on the
ES
. It's almost cyclical when just eyeing it. I do have 1200 as a significant upside price resistance (don't most folks!?!).
Anyway, here's the goods ... my map for what I'm looking at for trading both the
ES
and a "map" that aids my stock trading.
Daily
ES
Chart:
Click image for original size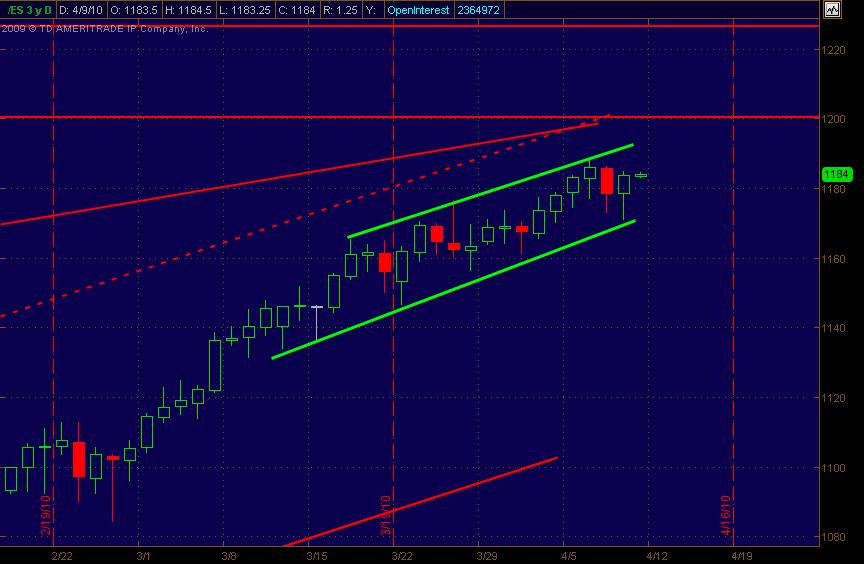 you folks will have to pardon me if some of my posts are a bit edgy...the trade needs to come first..runners trying for 92 now
if buyers are going to make a stand, it needs to happen soon..... fund managers itchy to protect profits after that news about greece.
Originally posted by phileo

today is MATD, don Miller's favorite day.

First resistance is 1192, imo.
First support is 1182.5
Market picks a direction, and I think one of those will be tagged.

I had not hear of an
MATD
until now so I've just done a bit of research on it and defined it here:
Morning After Trend Day (MATD)
. What else would you (everyone)
add
to that definition to improve it?
Just wanted to
add
my 2 cents on this
MATD
pattern...
What I look for after a trend day is the market to enter a phase of "price acceptance" as the market develops a well defined
value area
in
MP
terms.
The key for me is to see the primary intraday moving averages flatten out and price to cross back and forth across the averages right off the open. Basically the market will spend several hours going nowhere. I like to see long full candle bodies on the 5 and 15 minute time frames, color is not important.
The nice thing about the
MATD
is the two way trading returns to the market, (as opposed to the one sided market on a trend day). This enables the scalpers to make money going both ways, fading the edges of the newly developing
value area
. IF you can identify where these edges are in advance, you have a significant trading edge and profit opportunity (assuming you know
how to buy
support and sell resistance). Also, a word of advice, avoid the mistake of initiating new trades in the middle of developing value. Be patient and stick to the edges.