ES Short Term Trading 4/9/10
ES Short Term Trading 4/9/10
Thought I'd go ahead and launch the topic/thread for Friday's trading. I'm posting what I'm seeing with
Price Action
S/R levels
on the Daily and also 1-Hour charts. Other price trendlines/chanels also included. Looking forward to the interaction from Thursday's trading and analysis.
Side note: It still seems that no matter what the mkt news is, price keeps rallying (hard and fast), especially when looking at a 30 or 60 min chart on the
ES
. It's almost cyclical when just eyeing it. I do have 1200 as a significant upside price resistance (don't most folks!?!).
Anyway, here's the goods ... my map for what I'm looking at for trading both the
ES
and a "map" that aids my stock trading.
Daily
ES
Chart:
Click image for original size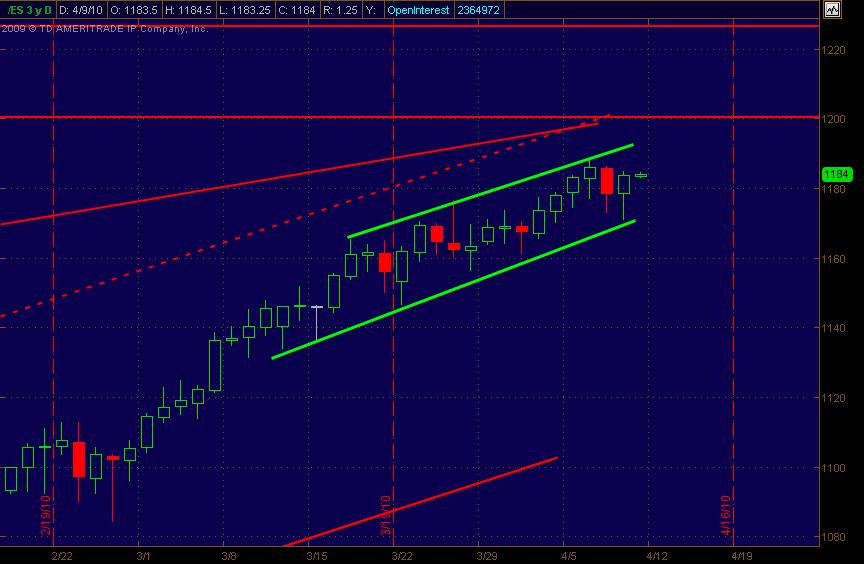 Here's the
ES
Hourly. The red lines are potential
S/R levels
with any magenta ones less significant. And 1200 is what I have next above the market that was listed on the Daily chart.
Click image for original size
Hey Red,
Looking at a 5 min chart, I'm showing a data
gap
from 3:55am to 4:25am central time on my
Thinkorswim
via
TD
Ameritrade. Evidently some kind of glitch it seems.
Ok, here we go! Good day yestesrday (for my analysis, not my trading!).We had the 19 hour low right at key price proj and never looked back! I still have my homework to do, but first blush impression is to buy dips looking for 1193.75. That number is coming up consistantly, just like on yesterdays charts 1187.25 kept appearing! In fact i already took advantage of that selling one es at 1187.00 this morning , covering at 1185.25 for a small scalp!...quick early look at the hourly chart....
Click image for original size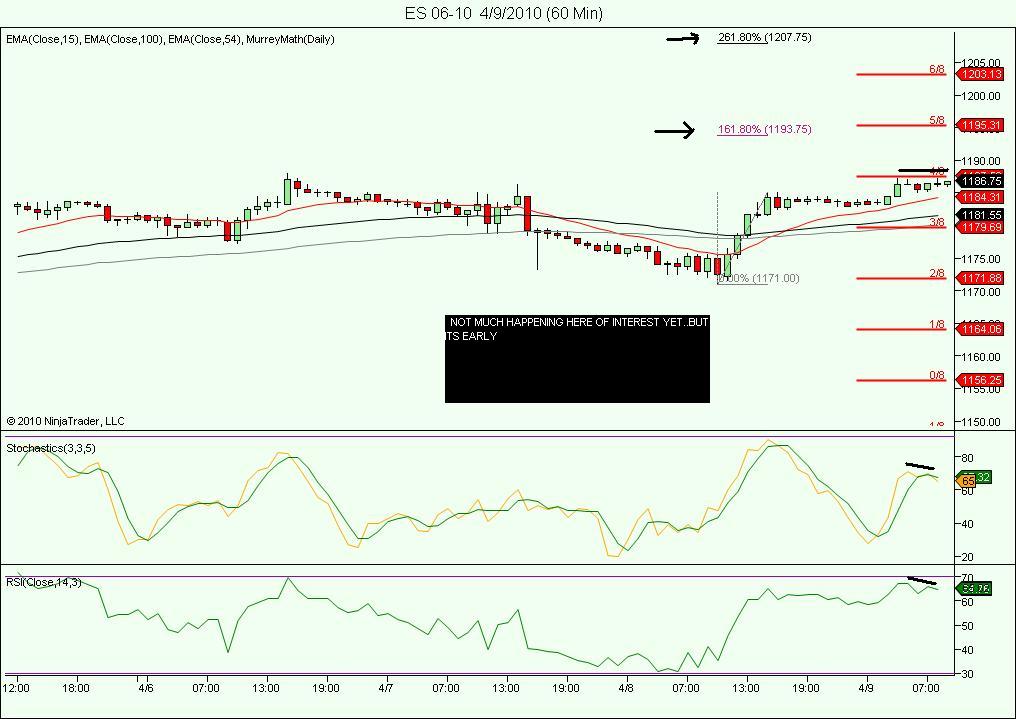 yes red trading for the 1184.25
gap
from 86.25....
Originally posted by redsixspeed

Thanks Monkey;

Bruce do you see a gap in your 5 or 15 charts

ideal trade for me in the
RTH
will be the short at the Overnight high which is R1 today and obvious previous highs as already mentioned
Just wanted to
add
my 2 cents on this
MATD
pattern...
What I look for after a trend day is the market to enter a phase of "price acceptance" as the market develops a well defined
value area
in
MP
terms.
The key for me is to see the primary intraday moving averages flatten out and price to cross back and forth across the averages right off the open. Basically the market will spend several hours going nowhere. I like to see long full candle bodies on the 5 and 15 minute time frames, color is not important.
The nice thing about the
MATD
is the two way trading returns to the market, (as opposed to the one sided market on a trend day). This enables the scalpers to make money going both ways, fading the edges of the newly developing
value area
. IF you can identify where these edges are in advance, you have a significant trading edge and profit opportunity (assuming you know
how to buy
support and sell resistance). Also, a word of advice, avoid the mistake of initiating new trades in the middle of developing value. Be patient and stick to the edges.