Weekend preview ES short term trading 4/24/10
Weekend preview ES short term trading 4/24/10
First a quick review..We had a Kools turn cycle due the 15th. We were dead on! The price, however we missed (looked for 1207 or so) by 3 handles. I thought the normal 10-28 handle decline was the most likely outcome and we got that to 1179.75. Now im suspecting a more serious decline may now finally be fast aproaching within the next 2 weeks.At least that seems the most likely scenerio, given the cycles,and seasonals...
Click image for original size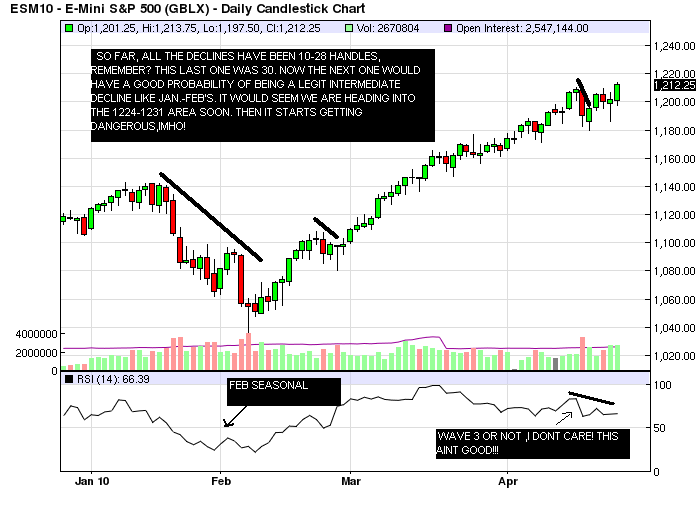 So to summarise : we are entering a time frame (late April, early May)from where a decent decline is possible (maybe even probable?). The 3rd wave marches on and they usually go further than anyone expects they should.Keep that in mind as we approach the mid 20's , which is next good resistance. Monkey, i think the next peak , whenever it comes, is the one you want to buy your put options on! Time will tell!
Now a brief comment on some recent posts. When i started this thread on short term trading a few weeks ago, the idea was for an explaination of setups, ie:the reasons why we enter ,or exit at a given price or zone.Simply 'calling' a trade or stop without reason (while fun i know) is better suited on the 'journals' page that D.T. has here at mypivots. I have tried to provide reasons for my trades, and hope to learn from others.(and i already have!).I dont care if your right or wrong, or if its opposing a view or trade that i hold, i want to know how others are 'reading' their own work and making decisions! That, in my opinion is when this forum and especially this thread are at their best!... thanks,...Kool
Koolblue. Have you try the 1.28% high to high or low to low, same with the 1.618% Not only multiplying but also dividing (any time frame) . Eventually you find a match. It is fun to see the price and the time come together, and more so if you are trading it.
No, i really havent ,Hunter. I'll have to defer to Jim Kane, the 'father' of the 1.127 and 0.886 ratio's. he has done extensive work with these.Incidently ,his web site is a wealth of imformation , and i advise all to check it out.
Since I did posted the time and price, I feel that a follow up is good so we can see if it was a total screw up or if it did had merit to it. Still much work needs to be done since it is a very complex matter.
Click image for original size