ES Short Term Trading 5-4-10
ES Short Term Trading 5-4-10
I'm still trying to get used to
Thinkorswim
, but here's a basic big pic overview of the Daily
ES
chart. Have the the trend channel and also included Fib Retracement levels though I don't typically use them much ... but nice to know where they are. And Kool and others have referenced the sideways pattern that I've thrown Cyan lines on as a pennant type formation ... even though it's not so much price swings creating it as it is the volatility increase and Wider Range trading sessions of overlapping bars. Hope this is helpful.
Click image for original size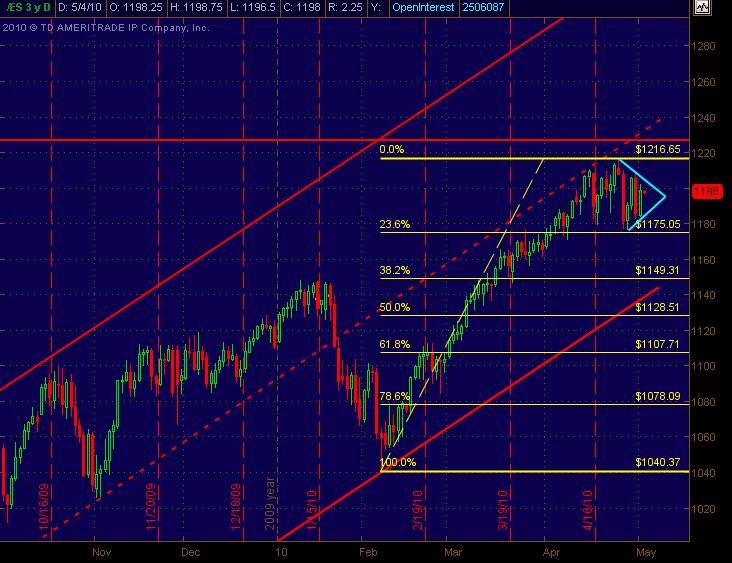 ideal
air pocket
to fill in is that 83.75....minus 1100
ticks
..we shopuld be scared...I guess...that is selling strong
I guess most folks expect us to be down 40 points today off yesterdays close...down 20 points in the first 30 minutes...seems a bit dramatic...to me...so I'll
fade
What we have to keep in mind is this .. even if your real bearish (as i suddenly am) you have to notice that the daily range is already at 22.75 handles, the recent avg is about 20-21. the highest lately was 25.25. Therefore its logical to conclude that the selling is over ,or nearly over(within ,say about 3 handles) so ill be looking to continue buy scalps even tho my bull-bear bias has changed!
a half hour in ... might get a move (don't like how it's been sitting down here across all the major indices) ...
ES
having trouble holding above Daily S2 @ 81.00
I have daily S2 at 76.50....all the volume coming into 79.50 so that is my concern...all air filled in from day session but still would like to see that retest of the 83.74
Bruce I find him to be the most thoughtful, accurate and flexable analyst I have ever seen. His Sat audio updates are complete and concise. He has been calling for March 20 high to be followed by a short correction leading to an Aug 20 high which you better get out of the way. This call is over 6 mos old. New Lows, maybe and lasting for a major cycle.