ES Short Term Trading 5-4-10
ES Short Term Trading 5-4-10
I'm still trying to get used to
Thinkorswim
, but here's a basic big pic overview of the Daily
ES
chart. Have the the trend channel and also included Fib Retracement levels though I don't typically use them much ... but nice to know where they are. And Kool and others have referenced the sideways pattern that I've thrown Cyan lines on as a pennant type formation ... even though it's not so much price swings creating it as it is the volatility increase and Wider Range trading sessions of overlapping bars. Hope this is helpful.
Click image for original size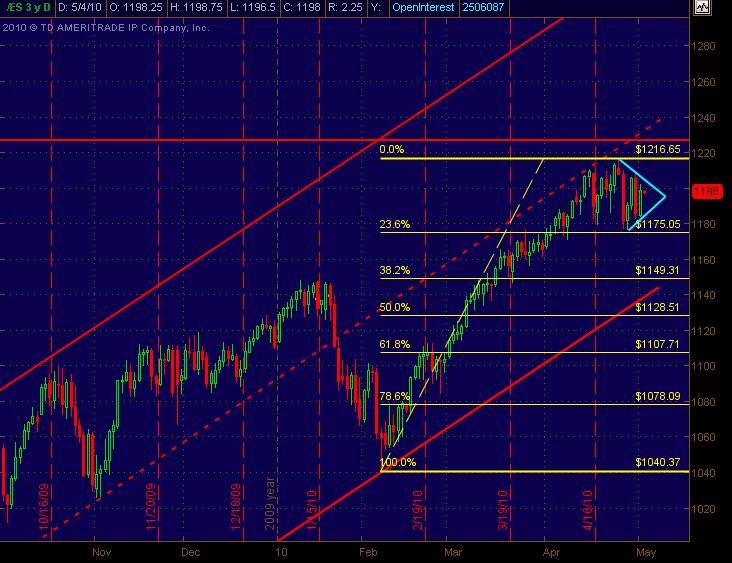 also 618 extension down of the 15min opening range is 1172.15, so 1172 handle can be a bounce point.
Monkey, if the trend is truly down (for the next day or 2) i would expect nq to lagg on any move higher, etc....if for instance , it made a new daily low but the spx does not, that would indicate to me lower prices coming later....
Click image for original size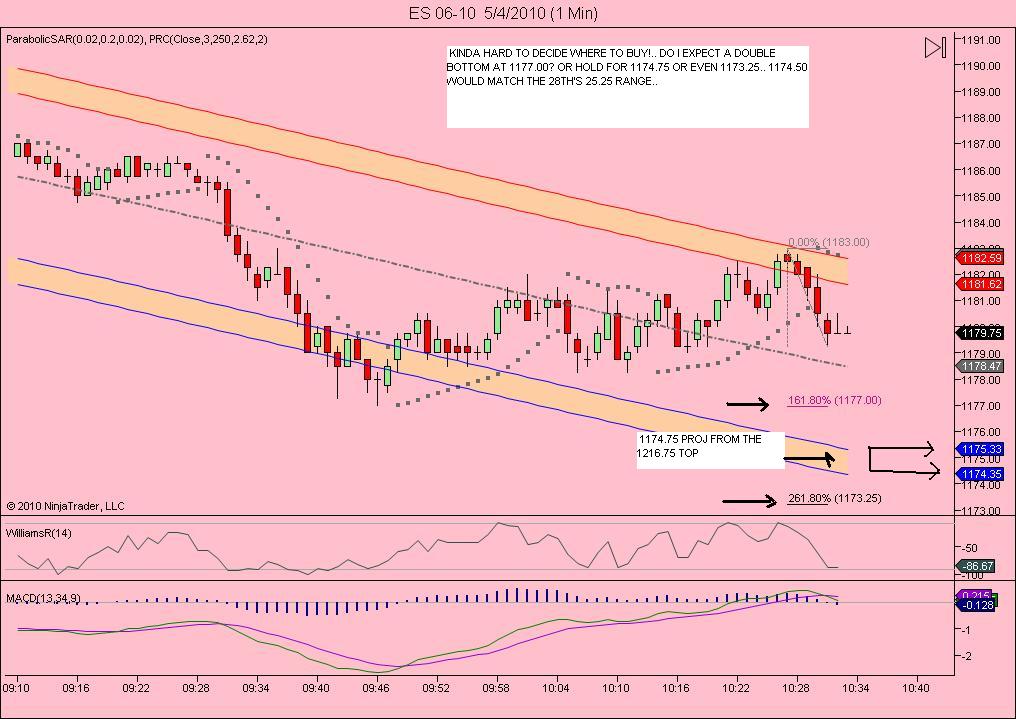 net loser in the 79 - 80 range....strating longs again from 72.50...looking for 76.25 print...I'm either gonna trade out of this losing day or
ADD
to lsoing day...this is a new campaign....just an FYI..will not be thrilled to see 67.50
Yep, got nasty ... unless short. I'm gonna go install some soffit vents on my house. That's a helluva down bar so far today ... perhaps the breakdown out of the diamond pattern that leob pointed out. Fwiw, next
price action
Support level I have is at 71.00 from the chart I posted.
I think this is the real power of having good minds and numbers in here......I saw that 81 area from
MM
's and kools work and was trying to get out because of it...while this was still a losing campaign because i had 91.50 and 86.50 in the overnight it still helped to take me out of a bad net trade....I was watching the test of the Operning range low...a common target after they flush in the breakout traders..
So thanks...it would have been a great
RTH
trade if the Overnight longs where avoided ...I'm still particla to longs...I guess some days it's the "even a broken watch is right twice a day" theroy..
76 .25 print will make me a net winner today...so get long everyone....and a retest of 79 will make it really good..
Otherwise, we accept the day and trade harder tomorrow..
thanks Paul...
Air pocket
on the hour break out at the 76 level..on a trend day they won't test it....
Originally posted by PAUL9

FWIW

5 day average of Low versus the open comes in today at 1172.30

Omg! stopped out again at 1170.00!! That was on 2 es! ouch... now down 7.50 total on the day.. only one more try left cause my personal limit is about 10 handles a day
Bruce I find him to be the most thoughtful, accurate and flexable analyst I have ever seen. His Sat audio updates are complete and concise. He has been calling for March 20 high to be followed by a short correction leading to an Aug 20 high which you better get out of the way. This call is over 6 mos old. New Lows, maybe and lasting for a major cycle.