ES short term trading 5-10-10
ES short term trading 5-10-10
just checked the
CME
website,
lock limit
up is +5% during overnight
GLOBEX
, which is about 1162 for
ES
.
However, note that the limit up rule is removed once
RTH
starts.
covered last at 51.25...here is the initial chart with the 51 area that I was using as a bias...look at the low area in the volume histogram on the right..
Some may also look how deep that retracement was the first time we went up into the 61 area and sold off...that was biggest correction in ON
Click image for original size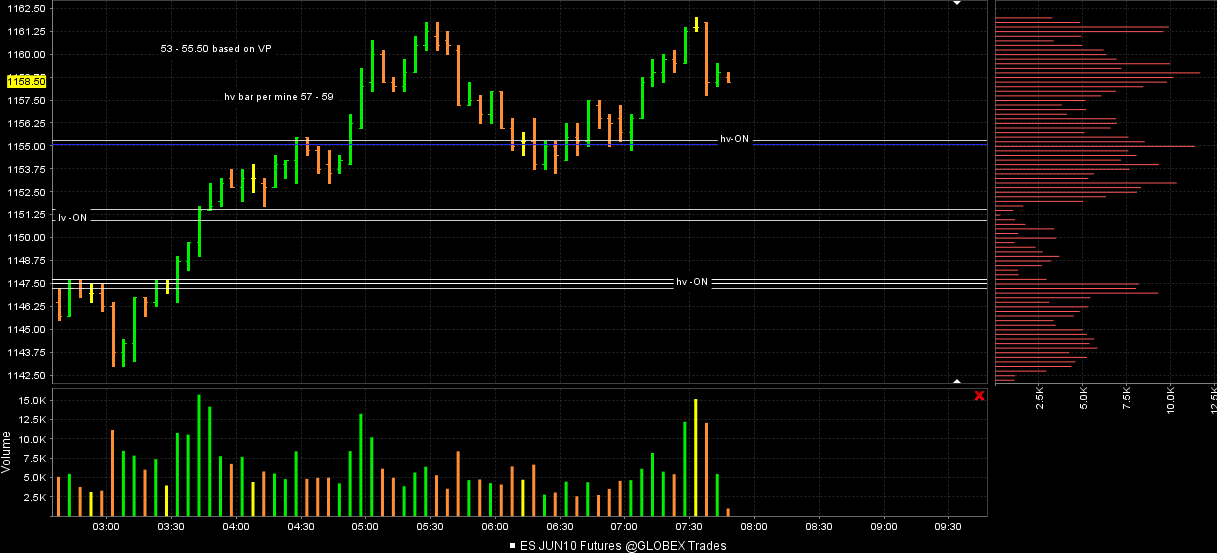 WEEKLY volume at price
Last week, (I think it was Thurs morning pre-
RTH
), I pointed out that price had moved below the Low of the previous month (1166) and that when similar
PA
occurs in daily trade, if L of previous day turns into resistance, well...
Now, today price is coming back up to test that area. (For Thursday's
PA
,
RTH
breakdown highs 64.50-65.00)
I have looked at volume at price chart: 30 minute bars for the
RTH
only, for the past 5 trade days:
the biggest aggregate "volume at price" for the past week is at 1169.75
1166-1170 is a "monthly" resistance level. I usually expect first tests to be rejected.
1137.50-1136 looks like the closest smallest volume at price area(based on an entire week of
RTH
volume)
I don't know whether 1166-1170 will be tested today, nor do I know what the
PA
will look like if this level is tested but it's an area of prices that will compel me to pay closer attention to
PA
especially since in the current pre-opening market there is a DT 61.75 & 62.00 highs, these prices carry the possibility that price can make an upthrust to run short stops (and maybe print 66+ handle).
new HV price now in
O/N
at 53...so we have the 53 and 59 drawing a lot of attention...in ON
other dowside is 47.50 and 41 (
O/N
midpoint here too)
I'll be watching that huge
YM
volume if we get down there..and we should
On upside is the obvious current
O/N
high and then the 70 - 75 zone as big volume and key number up there...then 88 - 92
Good luck today, I'm trading lighter due to volatility
keeping Monday and the open price in mind as per Phileo and mutual funds. My bias is to the downside but it may be too obvious...every newbie in the world will be trying to sell this huge
gap
up..
so 53 is ending up being the top dog of
O/N
volume so that is the battle line in early trade..a break down of that and hold below will target the 47.50 and 41 - 42
and obvious break above will go to the 59 and the
O/N
high
failed buys and sell will use that 53 as the magnet......your results may vary...LOL
edit: that's my way of saying all magnets will either repel or attract price...good luck today
hopefully 56.25 will get worked on.......wow...volatile and won't be adding a second time today...plus 8 - 10 in minutes of trade...yikes
air pocket
and key 53 retested...
YM
led that out...could be a tough hold for 47.50 and 41.50...but we'll try...
hoping they don't go for the 57.50 fill in from underneath at 53....this 53 a strong force so far..
so far we can't hold the overnight high and the
YM
is trying to lead out with two tries higher...now all we need to do is overtake this damn 53 and we are good to go I think.......down!! 47.50 and 41.50
clearing chart off my desktop.....here is why I thought that 650
YM
was a magnet....LOOK at that volume in
O/N
......that test became the
RTH
low on Monday.....and they are jerking it around there in current overnight for Tuesday..
Originally posted by BruceM

what's up with that 10650 volume on the YM...hopefully not a data issue and hopefully a strong magnet




Click image for original size