ES Short Term Trading 5-18-10
ES Short Term Trading 5-18-10
Here's my 30m
ES
chart with
S/R levels
based on
price action
... Red are potential significant levels with Magenta as semi-significant ones. The Cyan dashed lines are the Weekly Pivots. This is a map for trading coming into Tuesday for me. There's also a Volume Provile of the past 30 trading days shown on the right side of the chart. Hope it's helpful to all.
Click image for original size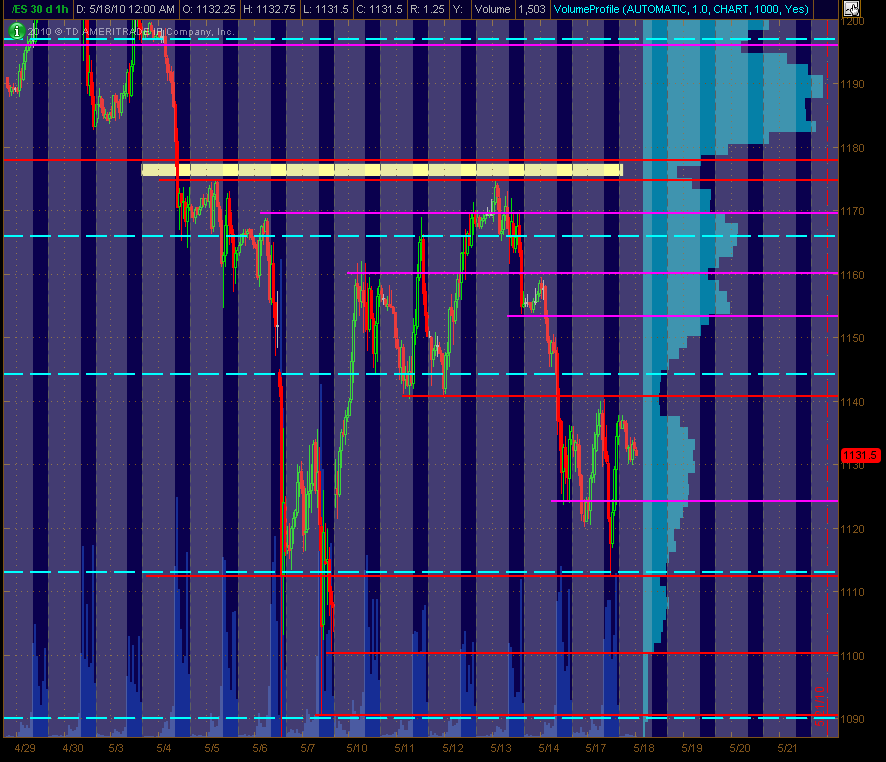 Looks pretty bang on. I'm thinking we test the 25 area today. Going get long there. Might even take it a bit early with one contract and a wider stop. I do believe were poised to move up. Very similar to what we saw in early Feb. Just a larger more volatile range.
when I combined the last 3 days into one profile the 29.50 area becomes even stronger and that is current
O/N
low....Obviously we will need some help with the interpretation of the 8:30 reports for longs to keep going. Tricky thing about these "air" pockets above is that we never know if we will just blow through it as if it isn't there or if traders will defend their breakdown points..
Key area for us to get above and hold is 1144 as that was last weeks break downpoint....also weekly PV up there and a daily number so lots will be using 44 -46 today I think... so getting above that and staying above that zone is critical
On downside is that huge volume from Tuesday at the 1118 - 20 area...that was also the same basic area from two fridays back...especially the 1118 area.....
so we have three key zones to work from...
CM19- you made some comment yesterday I believe about bearish news being discounted etc.....so how do we know what equates to bearish news with Today's specific reports....

I don't follow fundamentals so I'm interested in your approach and how you qualify a bearish report.....it seems to me that there are conflicting opinions on reports too often....I'm interested in your take...thanks
Bruce,
help.
you wrote:
"On downside is that huge volume from Tuesday at the 1118 - 20 area..."
I don't see any prints 1118-1120 on tuesdays past.
-did you mean Monday (as in yesterday)?
Here are a couple of things I'll be looking at.
1)
O/N
PA
found support at 50% of previous day's
AH
range. This is a positive for early going today.
2) yesterday daily chart was a bullish hammer. some upside should unfold. Maybe that 44 level could be a breakout point. (often, a breakout, a first break above chart resist stalls, comes in for retest of breakout point, but then, can run, and if this runs,
gap
fill looks like a target.
thanks, Bruce
If yesterday's H (1140.25
RTH
) is tested and acts like support, will probably increase buying demand on prints above
O/N
H (H was 1144.50), I need to see something more than 3
ticks
above a H (avoids 1
tick
takeouts).
Bullish case for upside would be confusing to me if price undercuts the 35.50 level (look at overnight chart)
I got killed today. I was to scared to pull the trigger when I should made up for it pulling it when I shouldn't. Same old mistake