ES short term trading 5-19-10
ES short term trading 5-19-10
Here we are! The 19th, which my work shows could be a pivotal day! It should come as no surprise that we went all the way down to the number shown on the weekend preview, the 0.786 retracement at 1110.25. It is also the 2.618 projection from the 1147.50 high on the one hourly chart.Also it is the 3 std deviation line on the 13 min
vwap
. Cycles had us down into today ,then up and down again into the 24th. So its all coming together... or is it? Extreme caution is advised , as today either marks an important low.. or the breakdown of the indexes for a true test of 1090 or even 1056!
here's how we are shaping up against last weeks...so this chart is showing Monday and Tuesdays trade against last weeks composite..nice test of the 43.75 area today...
Click image for original size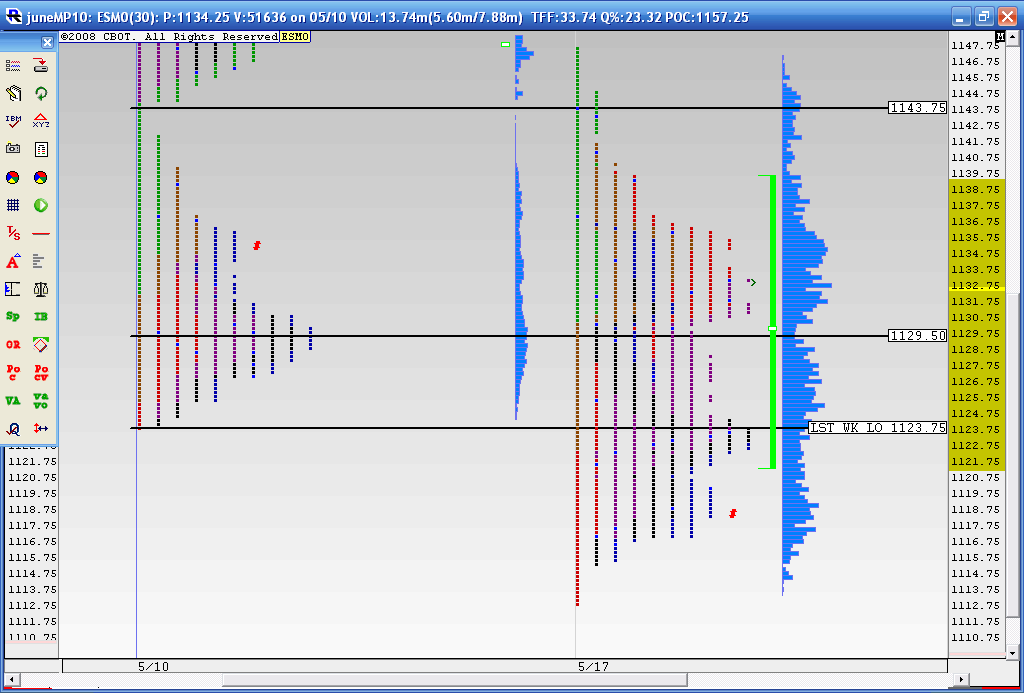 more important is this chart...it is the 3 day composite...it is mature and today we broke it down away from that 1129.50....so we can look at this fairly simple....
If we are to stay in a range we will come back into that 29.50 which also happens to be the midpoint of the composite...and we can monitor if we get above last weeks low and the 1121 area ..
Otherwise we may just keep trending down...but lets not get carried away..just yet...lots of traders will be trying to buy this expecting trade back into the range.....and a retest of 29.50....
Click image for original size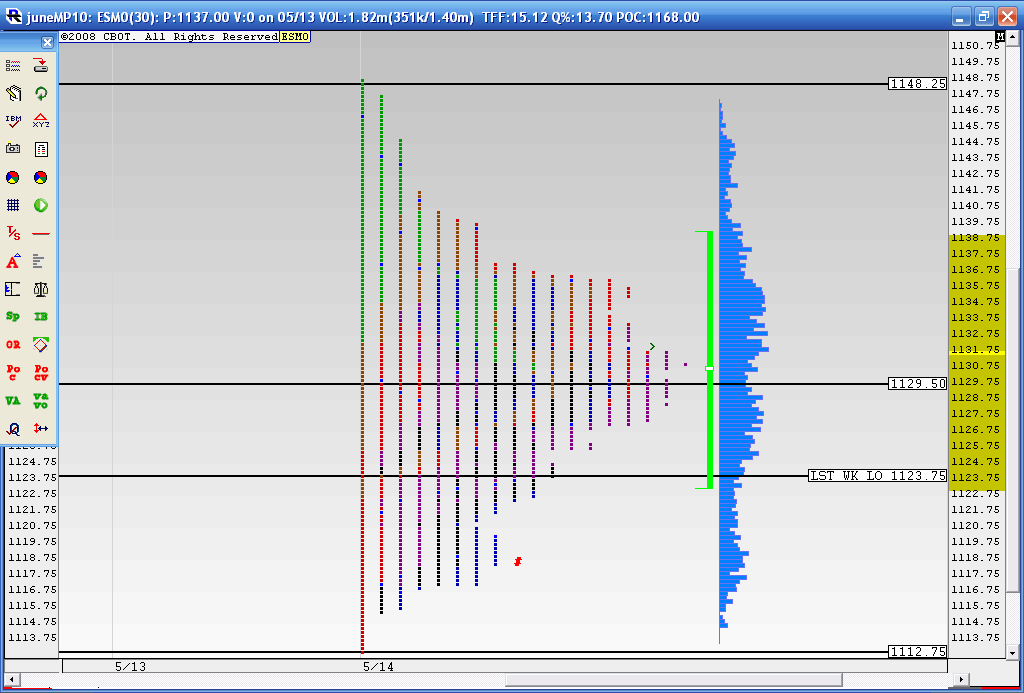 and here is today only with the Volume overlayed..you can see the obvious high and
low volume
points.and trend day down...we need to be careful with volume as that 4
PM
close can mess up our reading with the usual high volume cash close ..personally I like the 21 - 25 as first resistance..
Click image for original size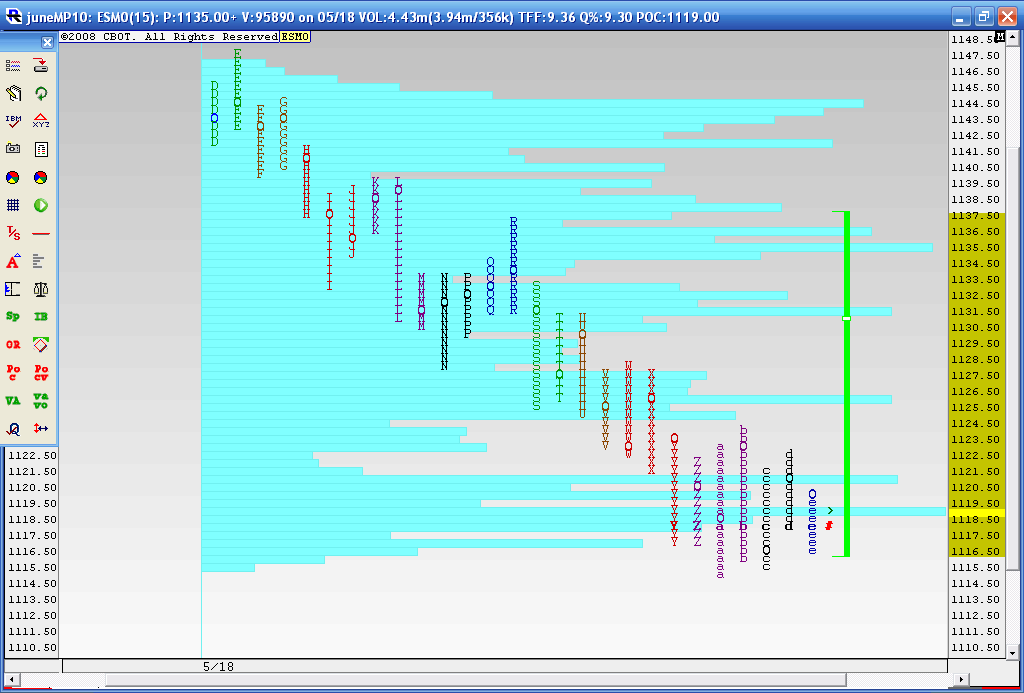 here may 5th and 6th ..at least the key parts....
below 1100 we have 1091 and 1068..of course the big bulge is at 1108 and that
gap
...
Click image for original size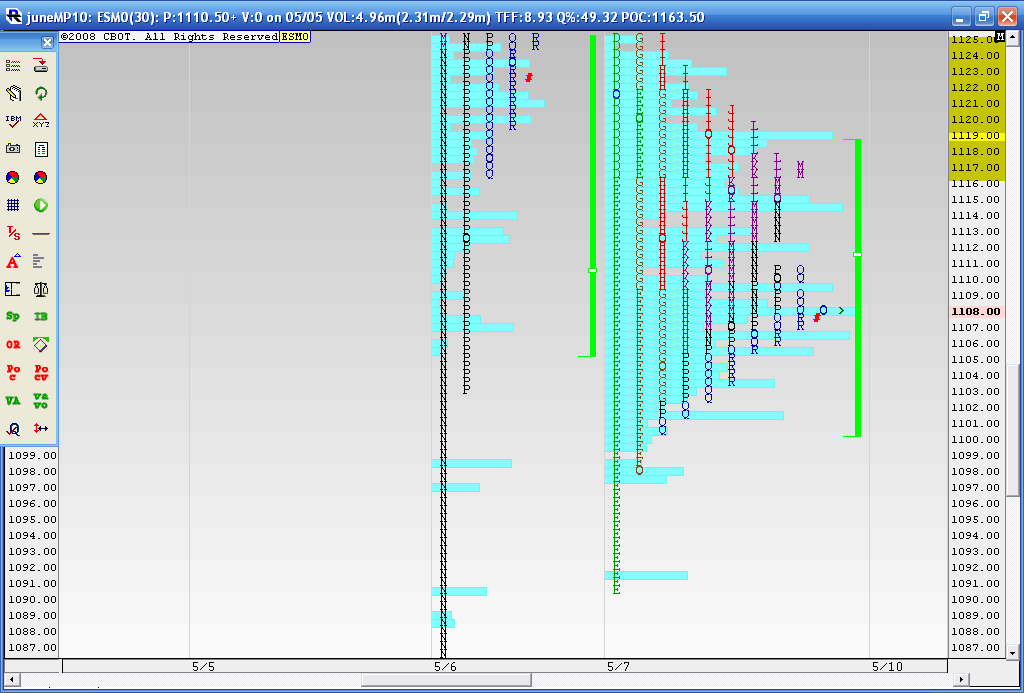 Good morning .. just a few words before i get some sleep. I dont know how much trading i'll do today, as this thing could really go either way. This is when the market is at its best! Be very,very, careful today as a strong moves and reversals would be expected....
Click image for original size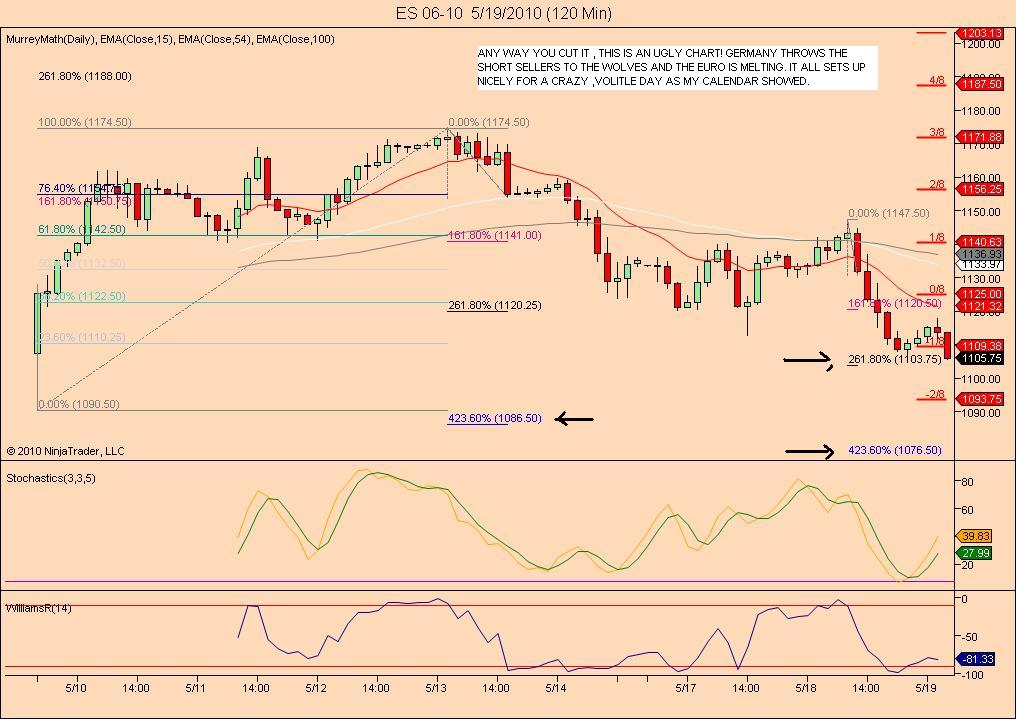 Key zones I'm watching ...we'll update after the 8:30 reports
1144
1136
1124 -1129 - *****previous weeks low, HV from Tuesday, daily
PP
and HV of composite
1112- 1113 - *****3 day composite low and weekly S1
1105 -1106 S1 and current
O/N
low
91 - 95 - S2 on daily and weekly and a key volume from may 5th
I'll be focusing more on trading the structure of today meaning that I want to fiqure out as early as possible if reversion to mean trading is the better way to go over trend trading down..
I'd prefer to buy into declines and early....as a general theme
Thanks for the feedback johnpr2010. Judging by the number of people that visit the site versus the number that post on the forum (1 to 5%) I'm guessing (and hoping) that there are a lot of other traders out there who are a little bit more profitable today because of the generosity of one of the other traders on this forum.