ES short term trading 5-20-10
ES short term trading 5-20-10
Here is how we shaped up today....we broke below the lows of the composite but then consolidated right at that key low.....seems like tomorrow or
O/N
will be a deciding factor of direction for this market. A person who was selling this breakdown at the 1112.50 area would not want to see a close like we had today so my bias would be back towards the upside.
Click image for original size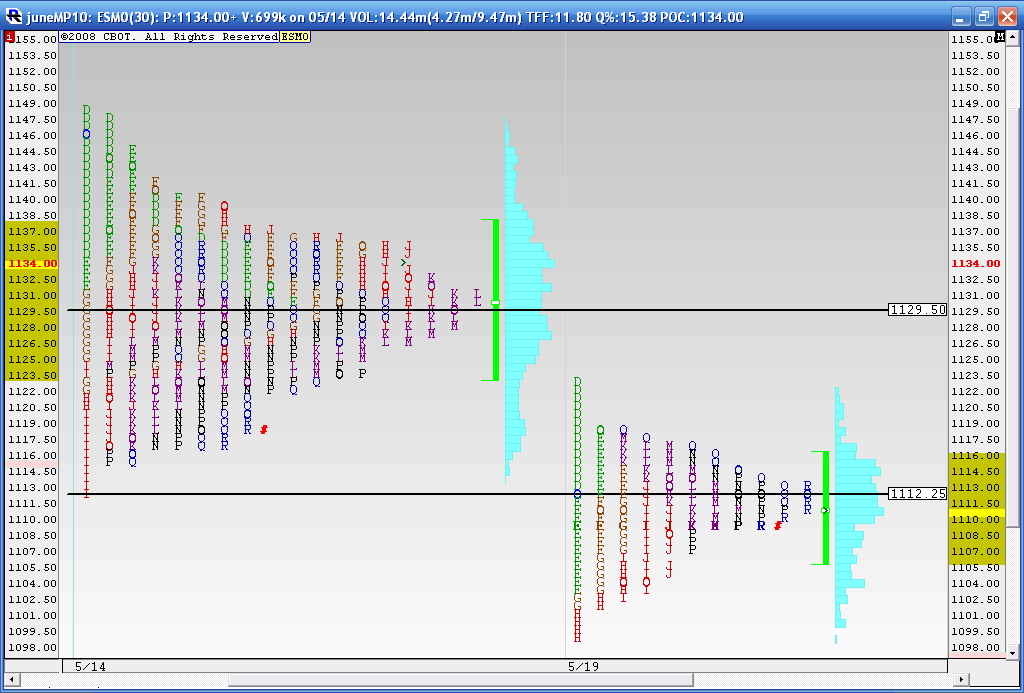 Originally posted by redsixspeed



Originally posted by johnpr2010

Computers are halting the market again. Watch out




Hey johnpr

What does this mean..

It looks like the May 6th fat button that melted the market in minutes. That could be experimented today. So be cautious on your trades.
I didn't see anything Paul but I wasn't looking as I don't follow the news...I usually look after the fact
not sure about the consistency of my Volume histogram in
IB
...I have a spike on the histogram at the 95 area for some reason....can you confirm?
I'm disappointed in this overnight selloff because I wanted to have the direction correct with my longer term profile work,,,,basically I'm just sucking at calling long term direction..
I really thought all those folks who sold that 1112.50 breakdown would have covered and that would have led to higher prices in the
O/N
not lower....These
O/N
sessions seem unpredictable...just based on day session work..
Thks Rich....I think the
O/N
is a tough place to trade.....I'll be surprised if this selling is real...which means I expect some back and fill higher towards the 1100 again...lots of magnets up there..
Here is my support to the long side 1082.75 and my resistance to the short side 1102.00 is a good area. Let's see if the market retrace from here without breaking
O/N
Low.
yes....so my bias is naturally long....
Originally posted by PAUL9

bruce, isn't there huge air 97 to 1100?

we had 25 points range from Mon - Tuesday...
rth
only...subtracting that range from Tuesdays low gets us to 87.50...so hopefully the longer term traders will be satisfied and cover soon...
This is like an
initial balance
off weekly...much like some use the 60 minute range for daily projection...
so lots of numbers down here