ES Short Term Trading 6-1-10
ES Short Term Trading 6-1-10
Tossing out two 30m (20 day) charts here with the Red lines as potential significant
S/R
price action
levels with the Magenta lines "semi-significant." The dashed Cyan lines are the Weekly Pivot levels. Also, there's a
Volume Profile
on the right vertical side of the charts that can be useful.
The 2nd chart adds the Daily Pivots in dashed Yellow. Yeah, yeah, yea ... I know, tons of lines so that any will "work." That's not the point. It's a MAP. And it's also about clusters of lines that are in the same price "zone" give or take a few
ticks
or points (depending on the volatility).
Click image for original size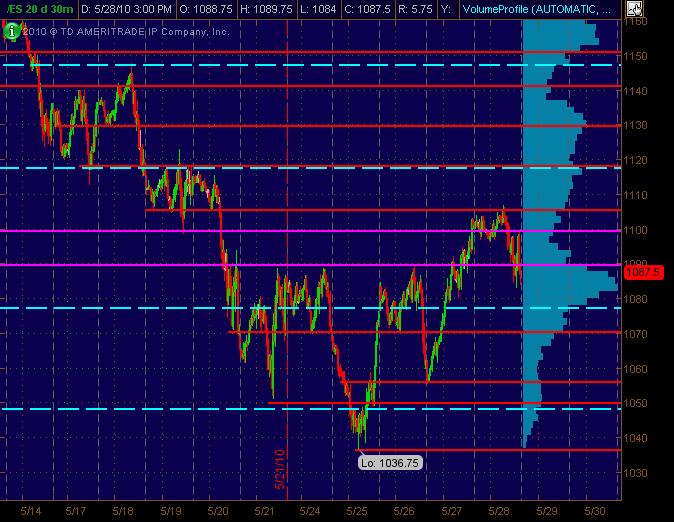 Click image for original size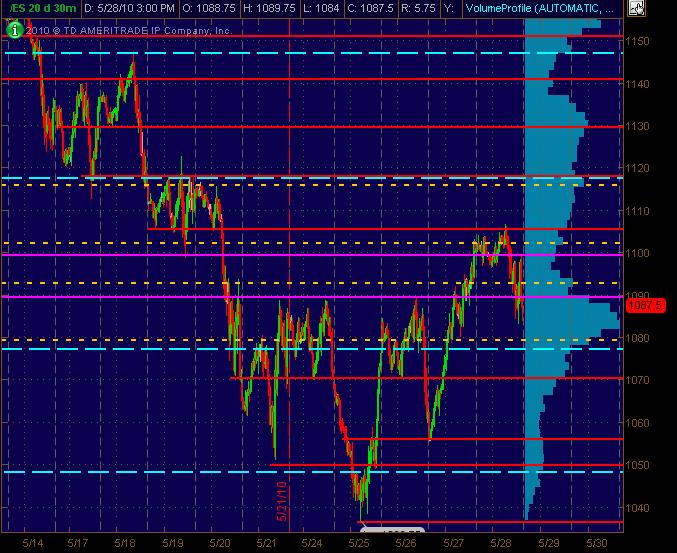 Hope y'all find this at least semi-useful and look forward to postings of everyone elses analysis of drawn-charts and significant numbers!
And fwiw, here's a 3 year Daily chart with higher level
S/R
price levels drawn in RED. Also, have a 50 and 200
SMA
as well ... just for a bigger picture look.
Click image for original size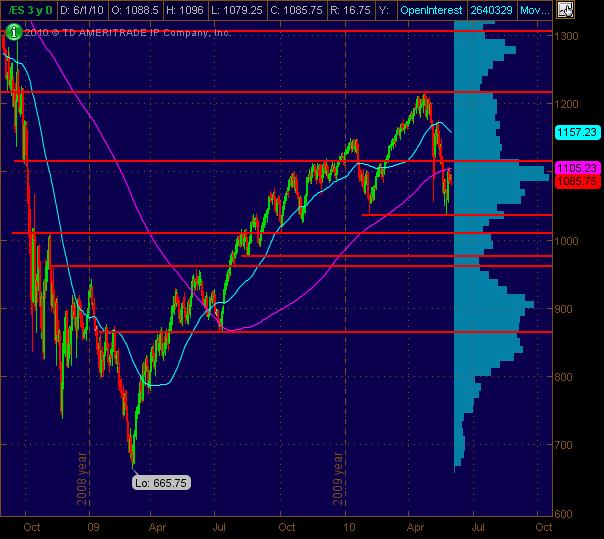 Bruce, correct me if I'm wrong as I am still learning, but I think there is an
air pocket
at 79 ya? and 88?
thanks
MM
..here's where I'm at today
1062.50 - 1061
gap
and
Rat
**** I don't like shorts below that today if it prints
1068.75 - 1069
Rat
, daily S2,
O/N
inflection Point
1077 - 1075
Rat
and weekly PV ****
1081.25 - 1082.50
Rat
and Friday low
1087.50 - 1088
Rat
and Fri close
93 - 95 lots of volume there the past two
RTH
sessions.
Rat
there of course.
We are building Volume at the 75 this mornng so that seems to be the most important number as I type....we know they will take at least Two
ratchets
today. Se we can project which ones after the first one trades in
RTH
. Mondays are fairly bullish so we need to watch open print closely today.
Low volume
sits slightly above weekly PV in
O/N
so a good long should target that this a.M
Originally posted by feng456

what do you mean when you say "Rat"?

He's referring to the
ratchet
levels... the
split
of the
split
between the 00, 25, 50, 75 levels
25 / 2 = 12.50
split
12.50 / 2 = 6.25
split
of
split
50 + 6.25 = 56.25
............56.25 + 6.25 = 62.50
...........................62.50 + 6.25 = 68.75
..........................................68.75 + 6.25 = 75.00
wash rinse repeat
yes the 79 is from
O/N session
as that was a new low price too that didn't get traded back to.....
I prefer longs if we can get the trade down first today.....below the 75 after
RTH
opens...we will have fib players come in under there too from last Tuesday low to Friday's high...below 50 % retrace
AK1,
I can't get the context of your first set of numbers so I will be starting with the second ones you have labeled at that swing low..
The key is that you need to expecting a swing low based on your work so lets assume that.
You get the up close which comes right before bar 2. Then bar 2 attempts to test the swing low so you go long on the break of the bar two high which was bar 3. The great thing is that it would take and outside bar down on bar 3 to stop you out on the same bar as your entry.
the next swing low you have labeled does the same thing. the one before bar two gives you the up close, then you getthe test down with bar two, so you go long on the break of bar two's high at bar three..
The two swing highs in between these lows could have been trade in the same way...At those swing highs you get a down close, followed by an upwards test, so you would go short on the break of the low of the up close bar.....hope you see those...it's a simple pattern once you start looking for them...they can work on all time frames
Originally posted by ak1

DT please help so that Bruce's concept can be shared



Click image for original size