ES short term trading 6-3-10
ES short term trading 6-3-10
Good morning crew,
O/N
Market had slightly upward bias
O/N
range is 1096 - 1104
1105 is resistance from last week
1097-1098 is yesterday's
gap
fill and daily hi
1084-1086 is friday's low, Tues.
VPOC
,
POC
and reaction area from last week.
1081 was the start of Mon. breakdown, and start of yesterday's breakout.
1069-1070 is an unfilled
gap
and double bottom (more obvious on a volume chart)
Today's stretch (from opening price) is 7pts.
Price is currently above the value areas of all sessions since May21.
Euro was slightly weak in the European session, and this morning's 830 am economic releases were slightly below expectations, but mkt response has been non-chalant.
Today is
MATD
, so my guess for the initial
MATD
oscillation points are:
1105-1106
1090-1094
Today's daily Range estimate is 1087 - 1112
Based on current mkt strength, I think mkt will probe the 1105-1106 area first before attempting to fill
gap
(1097).
Click image for original size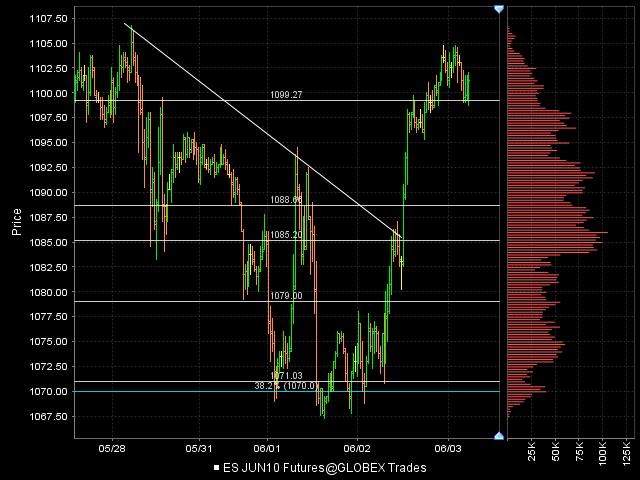 Originally posted by BruceM

damn ..they left a gap at the high.....they gonna get it cleaned up..that was my hit to sell...flat at 1103.25 as I think they will go get that high

I saw it run to 1105.25 right around the econ.number. That was my number, but couldn't pull the trigger.
I was looking for a +ve
TICK
extreme, but never happened, and mkt ran down. dang.
Looking for a retrace.
Bruce,
I see that little
gap
, but I also see
rth
gap
below.
isn't there air open from yesterday 88-87.25, or do you consider that negated by 1min? -still looks like it's there to me.
this second day in a row with an unfilled
gap
up, historical odds roughly 7 in 10 that
gap
fills.
Originally posted by BruceM

here is the gap...don't trust shorts till that is cleaned up...perhaps they will smoke me and long side will not work


Click image for original size



Bruce,
Is the
gap
between the high/close of the last green bar and the high/open of the last red bar? Trying to see if I recognize it or not.
here comes the rain.
short 1100.75 1pt stop
hopefully dip buyers can stop it at
gap
fill 1097
there was someone here who was looking at
triples
in the
O/N session
and then POOF !! They disappeared.....maybe they just made so much money trading for them.....Ha! I hope it keeps running up..
triples
are all over the place in this
O/N
but I still want 1105.25 cleaned up...
Originally posted by Piker



Originally posted by BruceM

anyone getting long in O/N..? My world seems to think that tomorrow whould make a HH and HL then today...so why notget in early ? Like at 1100 area....and 1105 still needs work I think...Anybody ? Anybody "




I am long at 1100.75 shooting for the triple at 1104.25, at least initially.