ES short term trading 6-10-10
ES short term trading 6-10-10
i'M HOPING THE 75 .75
va HIGH
CAN
ACT
AS SUPPORT..NO 30 MINUTE CLOSE BELOW THAT i HOPE..failure to keep running now will try to go back fillin 72.50...sure hope I'm wrong...I want the strong close..UP!!!
Originally posted by feng456

why dont u expect a bounce at 75?

remove stupid comment lol
those one minute highs and double 5 minutes don't usually put in long term high....so they will get tested....just wish I knew when...ha!!Hope today!!
hey guys i didn't trade all day was out..
but.. if we close above 1077.75 it will form a bullish engulfing pattern.
Also i noticed from the morning the high volume bar at 10:00. The H (79) and L (76.25) of this bar proved to be good
support and resistance
areas. The H also coincided with the
IB
resistance (hopefully now acts as support and we get that good close today.
hey.

With the close today we have a bullish engulfing candlestick pattern on the daily.

Just a heads up for possible action tomorrow.

Also on 6/8 we made a Higher Low. You guys think this is going to run up to the 1107 area?
the 1107 area is a high volume bar on the dailys that is looking like strong resistance also. sorry for all the consecutive posts


KoolBlue a questions for you!

looking at a daily chart:

If we take the low on 5/7 (I'm not using 5/6 because that was a freak

day) and the low on 5/25

that predicts a short term top at 6/11; which is tomorrow.

Is my analysis correct per your technique?
Not sure how many come back to check these threads but here are two charts from todays trade...The first shows the
gap
in the data that set up the long trade. You'd need to go back and look at my comments in the afternoon as I had some context setup for the long side... We also had the
Triples
above not shown on this chart...
Click image for original size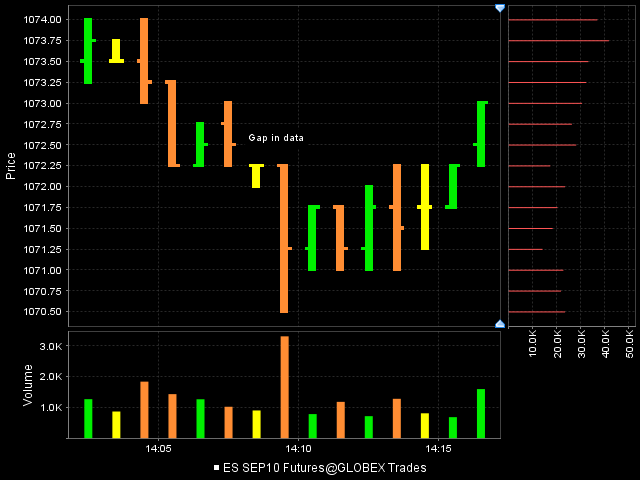 The second charts show a temporary high that I was hoping would get run out today and it did. I've said many times that the only time to "HOPE" when it comes to the market is if you are working runners and get lucky.This high shows no impulse and doesn't show anyone in a rush to get short...so those get tested often at highs and lows. This also set up as a double top on the 5 minute time frame.
Hope some find these useful. Context is everything!
Click image for original size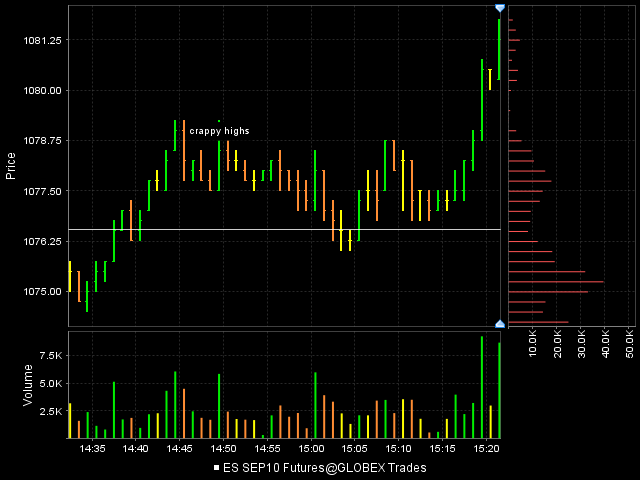 Originally posted by feng456



Originally posted by day trading



Originally posted by feng456

well i dont have access to this MP stuff anyway.


You do have access. There's a free MP calculator right here.




how do i use it?

There are
some instructions here
. Reply to that topic if you're still having problems.