Es short term trading 7-13-10
Es short term trading 7-13-10
short 86.50 in
O/N
as this is a secondary Resistance point....... up top there is 94 - 95, then 1101 and the 1108 - 1110 . we know a big move is coming with the reduced volatility......and we will
gap
up most likely in
RTH
. I don't want to get caught in a trend.
Looking for 81.50 to be tested in
RTH
.
I guess I really meant the multiple bar run up off the 5 minute charts.....thanks for helping me clarify that!!
Obviously watching to see if they can hold above
O/N
as that is next key area...extreme 87.....so far they can't do it
c'mon 82.50 !!!
this does not look like a trend day to me, so maybe it is safe to trade both the long and short side today...
Originally posted by PAUL9

phileo, I have 86.25 for open (this is tick by tick data)

I can't believe it will come into play this morning. (and that opinion means nothing).

The current PA (3rd bar heading lower) is not a positive in my book.

price can move into the gap, but undercutting the first 5min Low is not the super bullish steamroller of bears.

Yeah, I saw how they undercut the opening 5min. bar that you mentioned, that's also what led me to believe that today does not look like a trend day to me.....
End of 3rd wave? If a wave 4 it'll need to break that green Gann line and 1080.5
(61.8% fib level) and big
S/R
mark.
I 'm thinking higher until some weakness shows. The 15 min 50
sma
is at 1080 though. Watching the open and
high of day
.
Take what you get.
Just in case 1099 is the 76.4 retrace mark.
Click image for original size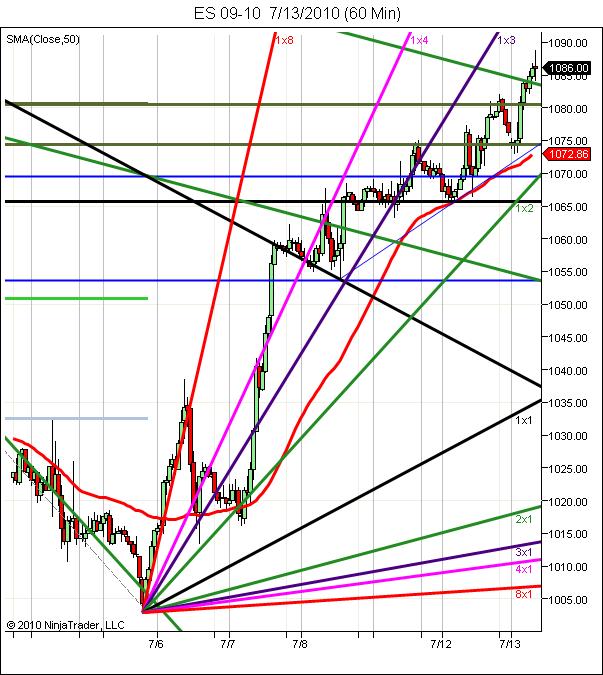 Originally posted by BruceM

shorting 87 again...new double low is target

Just an FYI Bruce, bonds are selling off (new session lo's), and the Euro is in a trend day up (new session hi's just now).
That does not bode well for shorting
ES
, imo.
Good luck w/ your shorts, and be careful.....
Two days of up move with
low volume
....
Conventional analysis says the market is losing steam....but
the market continues to rally.
Anyone here started placing their shorts?