ES short term trading 9-8-10
ES short term trading 9-8-10
8-Sep is the last trading day of the U (September) contract for the
ES
. On Thursday 9-Sep we
rollover
to Z (December) contract.
cool day....on 99.75 ...they want to retest YD highs
RTH
from above...we all know Fridays
gap
looms above!!
highest one minute spike came on the break OF YD high...good
fade
so far...they will test it though from below also so lets not count our short money yet
Beige book
2pm
INTC
sub 18 here
everything else looks positive,dollar down,treasuries down
bkx above 46
see if they can decline into that report?
1094 the 50% retrace of this wave up from
O/N
low
yd I had 98.75 - 1101.75 as key support....we opened below that YD so we need to get some volume above here for any of you long folks to win....
triples
and ledge run out
single print
still at 98.25 and
low Volume
at 97
This looks just like one big consolidation between Friday , Tues and today..the stopping price
here is the shot of why I was short and trying to hold runners up here.....simple is better...into akey zone etc..and targets below..we knew they would test that one minute vlume spike
Click image for original size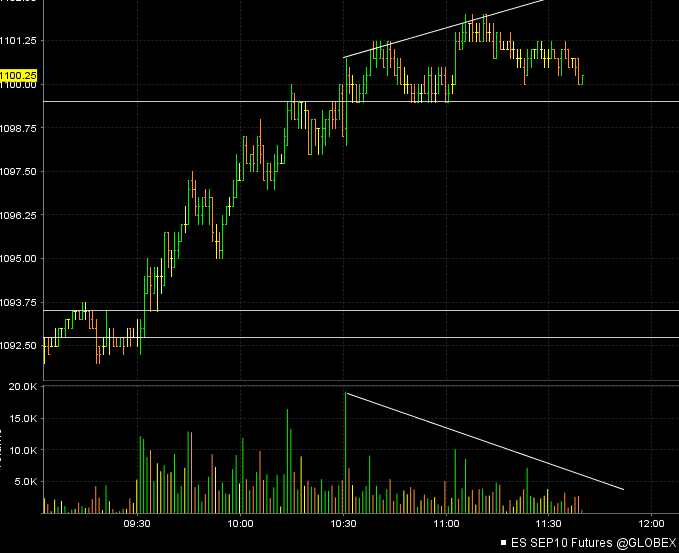 kinda surprised they haven't given 97.50 more attention...I'm passing on longs up here .......still just a three day consolidation so why play it like a trend? That wouldn't make sense to me....

Profile "p" shaped today once again so that seems to be a struggle for longs up here
Weren't there
triples
at 1095.50? I was gunning for them from 1099.00. Didn't quite get there.
Tomorrow's another day.
Good luck to all.