ES Short Term Trading 9-21-10
ES Short Term Trading 9-21-10
1137 hit and exceeded.It was the minimum target for a wave C up from 1035 and nothing more than 1137 is required of
EW
rules if indeed a C wave. However, an equal move for a C wave would equal an 1160 target.If that comes to pass, C waves can be larger than A waves and usually are equal to or greater than.(please reread the first sentence again).
I operate off of the thesis it's an
ABC
corrective move as that's the conservative analysis and keeps you safe. If this happens to be a 3rd wave of 5 up it will become apparent and one can operate from there.
Note the
price action
around the 1x1 Gann fan line(black diagonal). I treat this as I would a 50% horizontal
S/R
line. Above is strength and below is weakness. You can't say it hasn't been an attractor.
For up, I'd expect it has to break and hold or we get more advance while it clings to the line.
On the downside,
O/N
low here at intraday S level (and Friday
hod
) 1132.75 so far. Below is psychological 1130 level and former high 1124.5 area marked by extended green horizontal line. Under that is 1115
S/R level
and the 23.6 retracement level from 1035 and also the 50% retrace for this wave up from 1081.75. Beneath it all is that
gap
at 1107.
Hope this helps!
[file]e59897bb o-58b1-4515-af03-c479aceda421[/file]
Click image for original size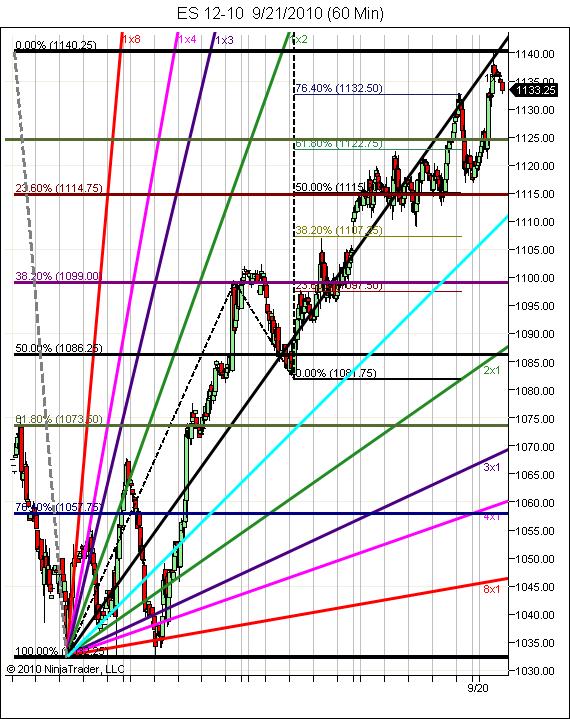 Until we get a solid close under
VWAP
chances of rallying back up are high imo.
Originally posted by BruceM

nt too thrilled when things get obvious ..like this 5 minute head and shoulder top forming......just too classic....they may run it up from here...hope not

the only saving grace is that IF the 30 minute grail trader DOnot buy now then we could have a good waterfall decline
A look at the action since the announcement. Interesting that the
volume profile
still looks like the bulging range day style, just elongated.
Click image for original size
Watching
TICK
readings. Since the extreme of +1250 at the 1144
ES
high there is an obvious overhead ledge of resistance on the
TICK
at +600. This is
Tradestation
data so I know my readings will be different from others.
Click image for original size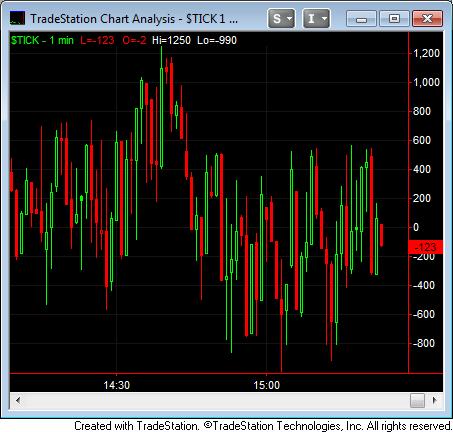 flat on final at 33.75...that's where the move began and the volume....

Man, how I love trading..........SOMETIMES!!!