ES Short Term Trading 9-21-10
ES Short Term Trading 9-21-10
1137 hit and exceeded.It was the minimum target for a wave C up from 1035 and nothing more than 1137 is required of
EW
rules if indeed a C wave. However, an equal move for a C wave would equal an 1160 target.If that comes to pass, C waves can be larger than A waves and usually are equal to or greater than.(please reread the first sentence again).
I operate off of the thesis it's an
ABC
corrective move as that's the conservative analysis and keeps you safe. If this happens to be a 3rd wave of 5 up it will become apparent and one can operate from there.
Note the
price action
around the 1x1 Gann fan line(black diagonal). I treat this as I would a 50% horizontal
S/R
line. Above is strength and below is weakness. You can't say it hasn't been an attractor.
For up, I'd expect it has to break and hold or we get more advance while it clings to the line.
On the downside,
O/N
low here at intraday S level (and Friday
hod
) 1132.75 so far. Below is psychological 1130 level and former high 1124.5 area marked by extended green horizontal line. Under that is 1115
S/R level
and the 23.6 retracement level from 1035 and also the 50% retrace for this wave up from 1081.75. Beneath it all is that
gap
at 1107.
Hope this helps!
[file]e59897bb o-58b1-4515-af03-c479aceda421[/file]
Click image for original size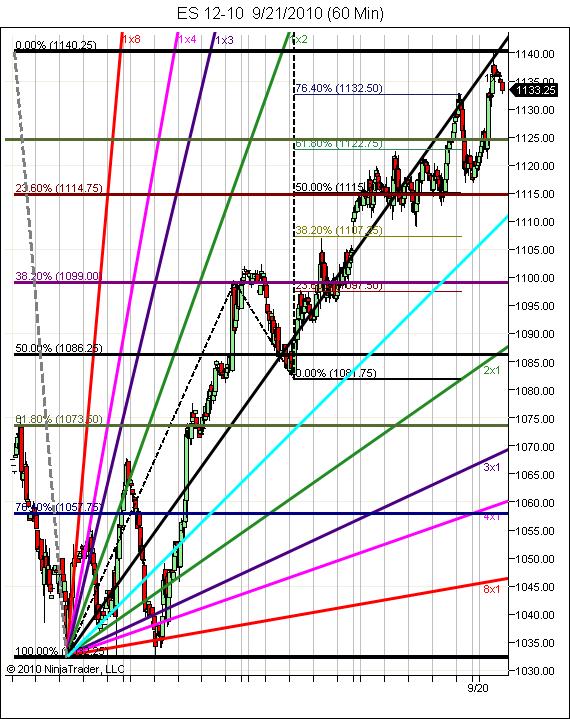 A look at the footprint into the open. Its
FED day
today so that migh suggest range bound trade in the morning. You can see its a small range in
O/N
.
Click image for original size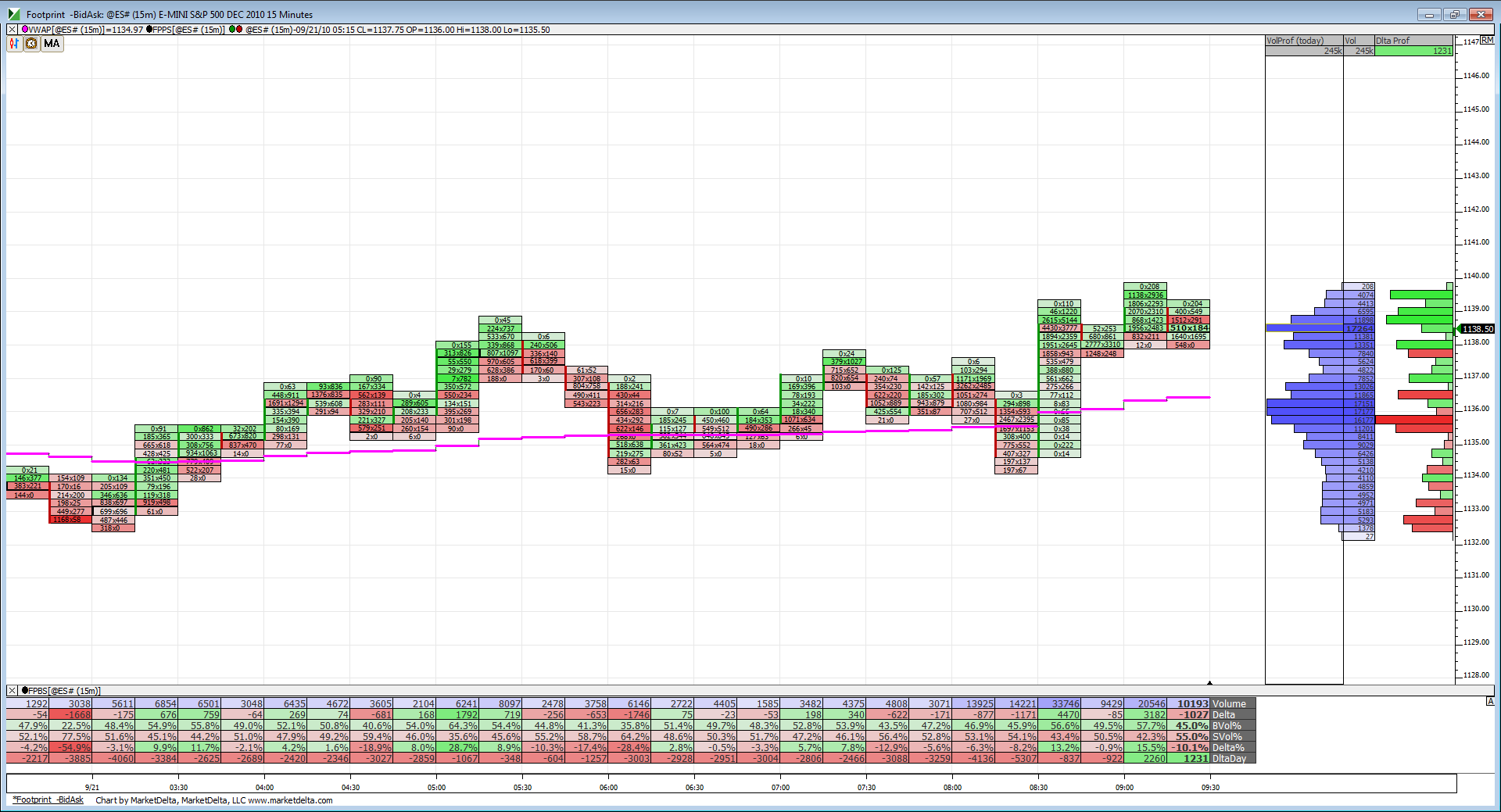 It's a
Fed day
but also a
MATD
environment as well ... so higher propensity for 2-sided trading and a range bound mkt.
haha!
I suppose there are some traders who actually enjoy this kind of
PA
.
Originally posted by PAUL9

this really is "two-sided trade"

2 tics to one side and 2 tics to the other side.

ugh.

Big move yesterday. relative to the first fifteen minutes of trading, Close was over 3.22 times first 15min range added to first fifteen minute H. (3.22 is roughly 2 * 1.618)
I went back and looked over the past 4 months, what happened yesterday was rare, but one thing I did notice, there is a tendency for price today to reach up in the
RTH
and eclipse yesterday's
RTH
H, which was 1140.25.
a similar day to yesterday in terms of the pattern of price in a 5minute
RTH
only chart was 7-7-10, the following day, price did eclipse the 7-7-10 H, but only after drifting lower and tagging, slightly undercutting a rising 100 period
SMA
(on 5 minute
RTH
only chart).
current 100 period
SMA
for today is rising and is about 1134,
There are several potential magnets with 32 handle
32.75 was H of last week (often first break above a weekly high has to come back and confirm buying interest)
32.25 was yesterdays price only
POC
32.25 was
O/N
L
magnets work when they work. if price gets down to these "32" magnets you would still need to see
PA
supportive of a reversal (like a
DB
, or a 1-2-3) but run up could be nice. need price pattern confirm.
woops,
should have added,

that 5 day average of H vs Open and L versus Open I run,

for today average H vs Open comes in at 1146.50,

5 day average of L vs Open comes in today at 1133.50.
Interesting that 1134 is currently the 2nd standard deviation band below
VWAP
which also tends to be the extremes on both sides of
VWAP
during range bound days. Range traders will enter
fades
at these bands.
Originally posted by PAUL9




current 100 period SMA for today is rising and is about 1134,
There are several potential magnets with 32 handle





flat on final at 33.75...that's where the move began and the volume....

Man, how I love trading..........SOMETIMES!!!