Es short term trading 9-28-10
Es short term trading 9-28-10
Market will try to decide today if yesterdays low range was nothing more than a consolidation and acceptance of prices before the move higher.
Key zone is 40 - 41.50 to resolve. On downside is 32-33 as that is current
O/N
low and the open prices from Fridays trade.
Further upside is 47.75 - 50 as we had volume in Sunday
O/N session
, a key
Rat
and an
O/N
high sunday night.
Let see where we open in relation to YD
RTH
trade
O/N
declined below and back above 50% retrace level. Above is strength, below is weakness.
1140.75 the 50% level for this retrace upward and same applies.
Keep in mind 1124.75, the previous high that took so long to break, and 1117, low of the ramp up wave that went to 1150. Below those is the
gap
at 1107.
Above is the second set of fibs and 1150.
Click image for original size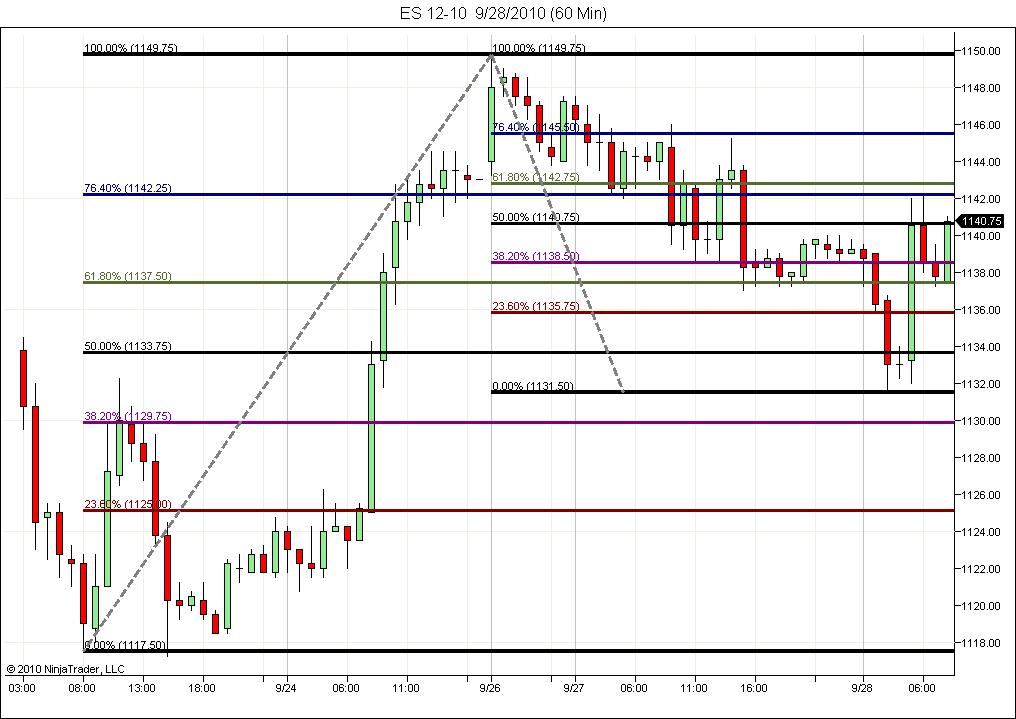 better late to post than never. (especially when it's something you can calculate and follow yourself)
I was busy in a trade and just concentrating on it, sorry.
618 extension down of Monday's range was 1132.00,
the observation is that if price prints the 618 extension, the historical odds are very HIGH that a full extension will print (full extension means Monday's
RTH
range subtracted from Monday's
RTH
Low (or added to Monday's High))
full extension was 1128.75.
31 is ultimate goal as that is where the volume started from report....this 27.50 has been interesting as many trends have included that price....so we need to be careful of that price probe!
open at key number of 40 and immediate drive away kept me off
fades
earlier.....more attractive down here...lots of air above
1st move down,2nd up
Keep in mind that 1129 here was a psych level from days of yor but the actual prior high is 1124.75 on this contract if both those S levels lost sometime today.
I never like initiating inside a big hour range like this...

Do they want the open print and new Highs?
Do they want to test below 31.25 where the buying tail is and try for new lows?

Just not sure so I'll sit this one out until one of those two events take place