ES short term trading 9-30-10
ES short term trading 9-30-10
Key resistance up here at 47.75 - 50....short now...reports at 10 and a different open today in day session...monitoring for break out
204,939
ES
shares traded for the 15 min period ending 11:30. The last time we traded over 200k in a 15 min period was 8/31 at the end of the day. Nothing comes close to this level of volume for quite some time.
I'd say this current low is important in someones mind.
Unreal.
I get busy looking through old charts and then see this huge downdraft.
Was there any news?
there is still a
gap
below at 27.25 down to 20.50.
It's days like this that make me sit back and say "come on, you don't really have any idea what the market will do..."
LOL...brains everywhere!
Originally posted by BruceM

flat on 37.50 print

Go to jumpinfrontoftrains.com

This is concerning (for bulls). Notice the
delta
at the bottom of the chart. Off the low of -49k we have only come off about 10k. Definitely a battle here at this low.
Click image for original size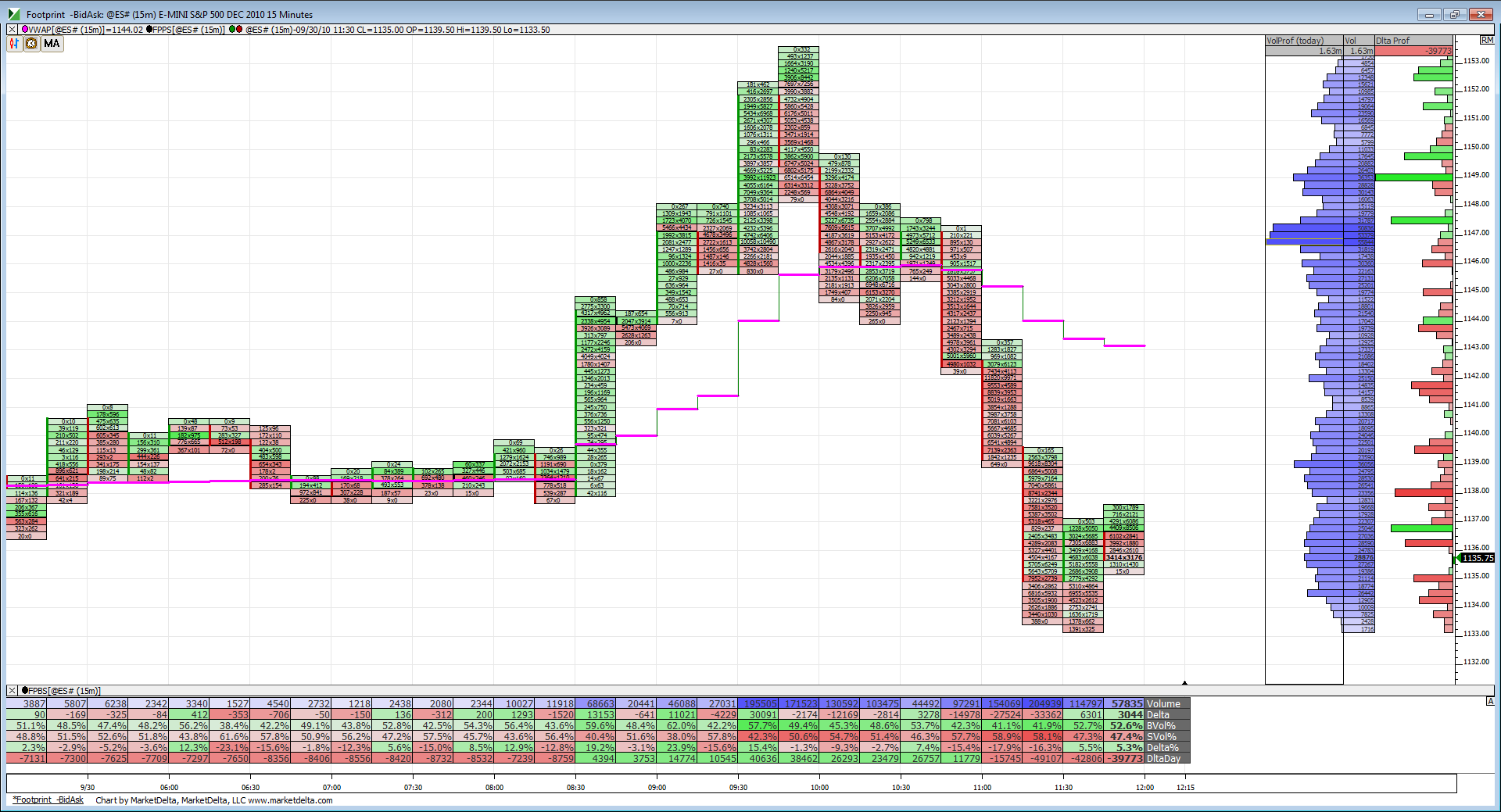 only
air pocket
left is 43.50 and that is where
single print
traders are too....we need to remember we are still range bound until/if 27 area gives way
Biggest volume bar is one minute on the lows..
38.5
S/R
repelled by Cyan line on chart there(39.5)
Under articles tab,"Quarter End Markups" article suggests return to mean, at least somewhere about there, today.
35.50 the 50% retrace of lunchtime lift.
be careful if we can't breach 38.50 at any point we fall below it.
Rburns...here is a shot of that
gap
that caused me to cover shorts way to early...it goes on the radar though...didn't want ya to think I forgot about you....or that
gap
!!!!!
Click image for original size