ES Short Term Trading 12-02-2010
ES Short Term Trading 12-02-2010
Lets start with some context. Profiles of this week and last week next to each other. We have 1205.25 and 1200.25 as
HVN
. We have 1203.25 and 1196.75 as
LVN
. And of course that large
gap
up yesterday will come into play eventually.
Click image for original size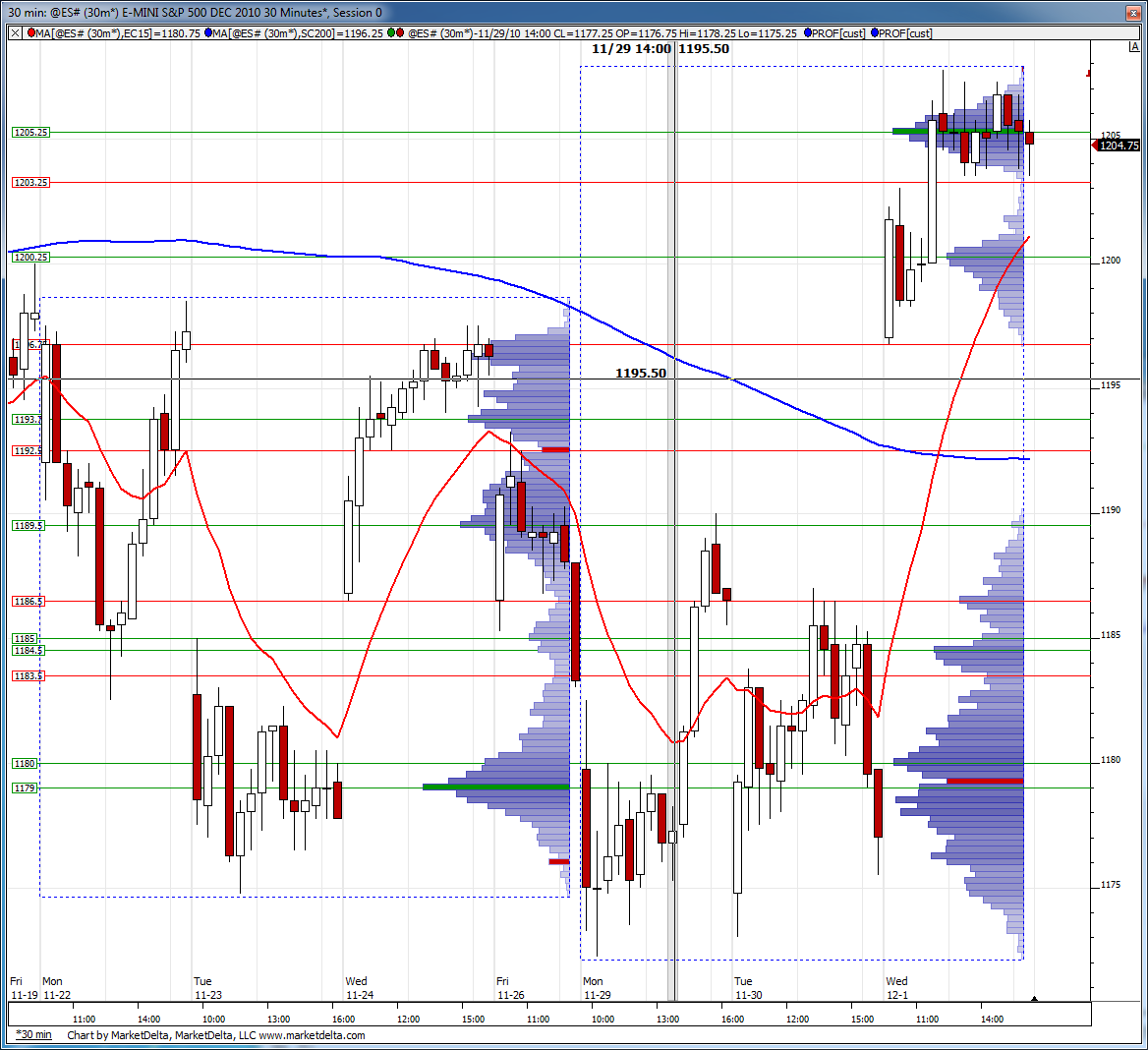 Some more context with two fib projections up. I realize 6.854 projections are rather large but it gives us an idea of where the next proportional zone is when lacking a clear new level to project from.
Click image for original size
I can't stick around but I wanted to point out a couple of things
historically, by end of day, 2nd
gap
in row has high percentage to fill (but if go 2 days in a row no fill, odds about 7 in 10 that next day will be small range, less than 5 day average
RTH
range, which was 12.65 pts as of yesterday's close
for today, 1215 area (even though price has poked a little above it with a 16.75 print ) should be a ceiling area...5 day average of H vs Open comes in today at 1215
new intraday High in
ES
was not being confirmed by
NQ
(weakness in
AAPL
)
good trading to all
1212.00 looks like a new focal point,
low volume
zone
took a big loss at 15.75...just had to clear head...starting again from 18.50...short......looking for a 16.50 retest,,,this a big area like I said....up to 20.75...lots of volume here
Originally posted by pt_emini



Originally posted by pt_emini

Starting my short attempt at 1215.50




Avg short now 1216.00

Got stopped out of that short attempt. Trying again with a new short at 1218.50
this is one of those days where they WILL test a previous 30 minute low but as usual the big question is..."How high up do we need to go to shut off buyers and roll over for that test ??""
hoping high is in for the day....ideally we will see 1211.50 again today and lower....1215 is mother lode of interested now!!
need to see some 30 minute closes beyond the 60 and 90 minute highs....


they did the test of previous bar and so far it is not bringing selling back in...

they still might want to print 1220....hope not
Agree on the 1215.00 level, this 1217.00
low volume
level is being sticky, once below that I expect we can get some two sided trading back into the market. Singles at 1213.25. So if we can get this rolling downhill, rich field of targets to choose from.
a close up of November 9th and why I had 18.75 , the
LVN
and the 20.50 , the
HVN
area I mentioned early this morning...hasn't done much for me yet..
Click image for original size