ES short term trading 1-26-11
ES short term trading 1-26-11
First, a quick, but important note. Ive been encouraged with all the views on this thread lately, but remember the reason i started it... so we can all learn from each other! Please dont be afraid to post trades, as long as the REASONING is also presented. Look, honestly, whether you make a good or bad call, or trade, really doesnt matter. We are more interested in the reasons and methods! Thats how we learn from each other!... now i'll stick my neck out first! ... So far the 'alternate' scenerio i presented on the weekend preview appears to be in force. (marginal new highs coming, then a big down turn!). Whether it turns out to be accurate is too soon to tell. I expect today to be somewhat boring sideways mish-mash (and difficult to trade beyond small scalps) untill the fed announcement at 2:15. As you may know, i base my 'alternate ' scenerio view mostly on seasonals (which turn positive for the rest of the week now, and historical considerations, for example, from Frank Hogelucht:the market "was trading at a higher level the session immediately following the State of the Union Addresses on 17 out of 20 occurrences (thereof the last 13). Chances for an +/- 1.0% change two sessions later (in this event on Wednesday, January 26) are 9 : 1 (9 occurrences with a 1.0%+ up-move, but only 1 occurrence with a -1.0%+ loss), and downside potential was regularly limited (except in 1931) over the course of the then following four sessions (the remainder of this week)." Note, my .line in the sand around 1265 or so ,to confirm a downtrend was never violated, so
price action
, for me is still bullish. However, i cant emphasise enough, that i expect a decent down turn very soon, for all the resons on the weekend preview!
Yes Bruce as they say, a picture is worth a thousand words....
Originally posted by BruceM

I like that visual Lorn...especially the divergence between Cumulative delta and those price highs...

Click image for original size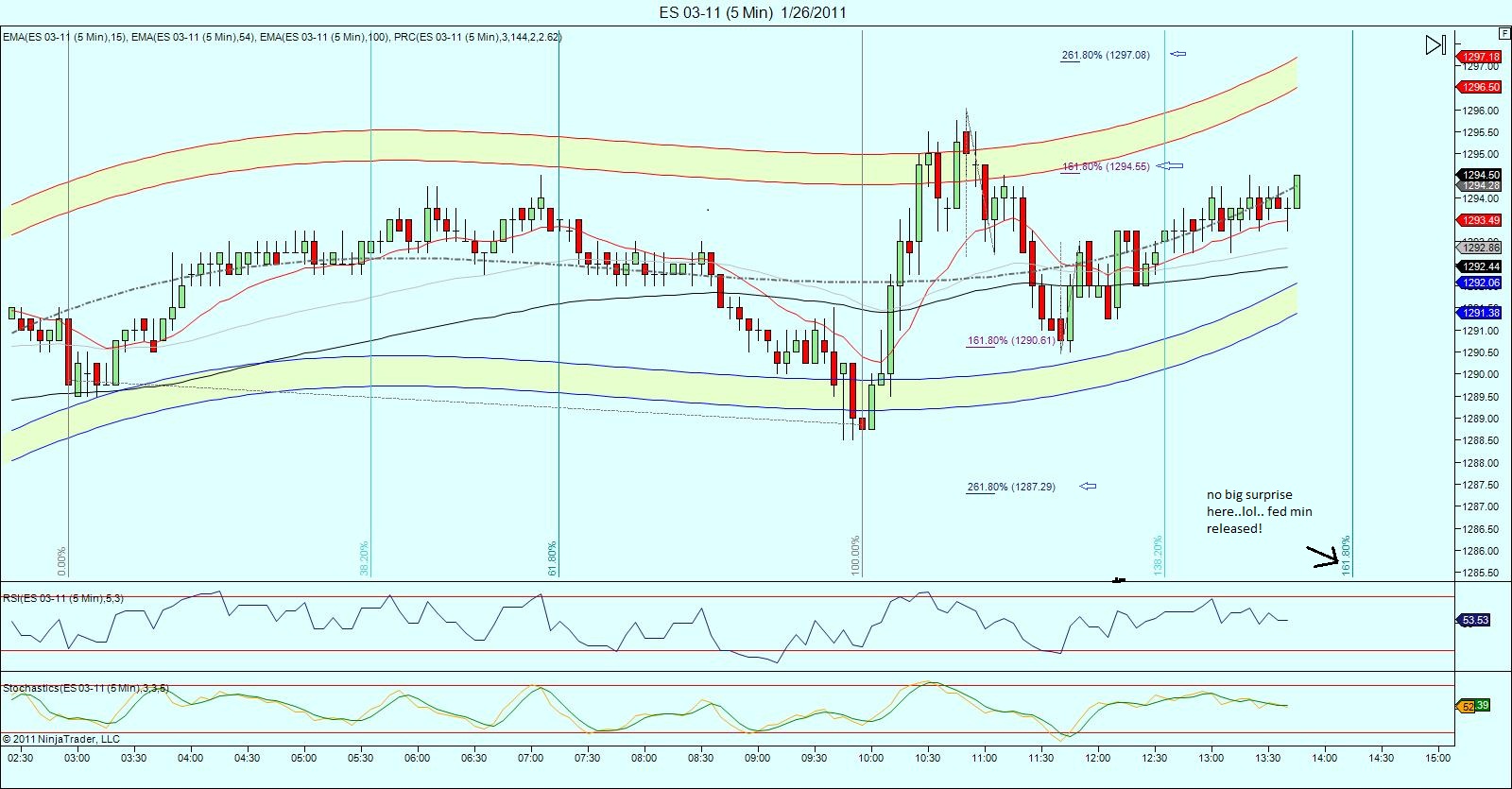 .. well bingo on 1295.00(finally).. Probably a good short, but i got to get some sleep before work tonite!... Good trading all! (click to see the whole cycle!)
[quote]
Originally posted by BruceM
Hello Feng...glad to see u r still around...how did you make out with your system? I remember you were trying to take one trade near the
RTH
open months ago..[quote]
Originally posted by feng456
well im still lurking here once in a while...still doing basically the same thing. i duno have a few basically break even months than a good month and now looks like another break even month. very unrewarding.
best trade for me post fed release will be a trade back to breakout point at 2:14 number.....i hope!
As you know, first move after 2:15 is usually a
fade
. After the last 2 meetings, the inital move stopped at 2:20, so a good place to watch for a counter off the 2:15 bar. Move continued into 3:20 the last 2 meetings as well.
Originally posted by feng456

i just noticed a possible Bat formation on the 30 minute...next leg should be down.

actually more of a butterfly...
Originally posted by BruceM

where is it?

A at
LOD
, B at 96, C at 90.5 @ 12:00 EST and D at 95.75...
im not trading by it im just screwing around and seeing what happens with this.
eventually they decide that they have had enough of jerking it back and forth through the pre fed price...today it's 94.25.....and just keep moving it without returning...I don't want to get caught on the wrong side of that final move away from there
If I had to pick a direction it would be down but that is really only due to some minor weakness in
NQ
...not tradeable for me
they still can't get that close above 60 minute high....interesting so far