ES MAP for 4-29-11
Here's what I've got looking at the
ES
30min chart of 20 days. The Gray background is the "overnight" trading. The right vertical axis shows the 20-days worth of Volume at Price in Light Blue. The Red lines are my
PASR
"zones" of potential
S/R
with the Magenta potential semi-significant. The White dashed lines are the Weekly Pivots.
Have a Yellow line above the current market that looks like a potential significant Fib cluster area to me. Also, I've drawn in a Cyan trendline across the top swings of prices. I've adjusted some of the lines/levels/zones since the last posting of my "map". Hope it's helpful to both
ES
and equity traders!
Click image for original size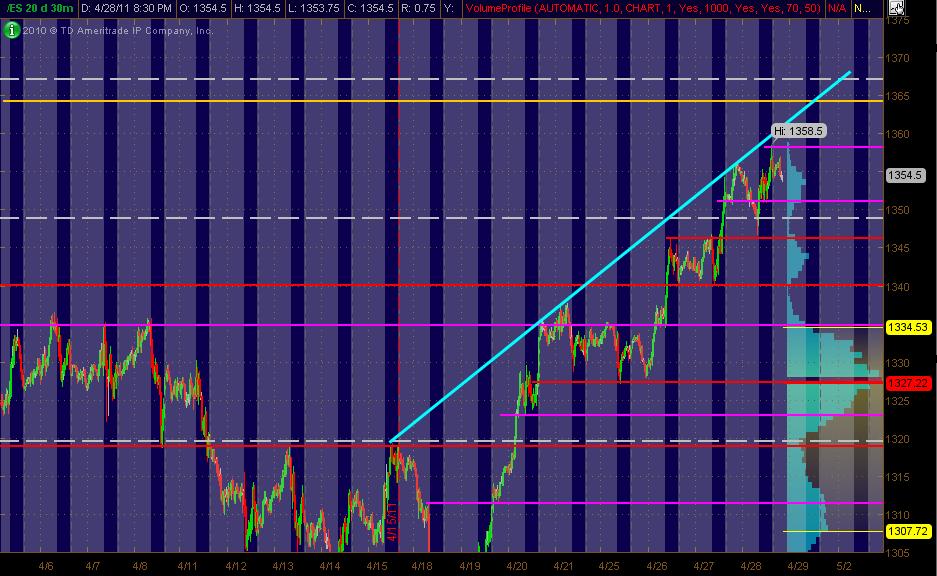 I talked about 1
tick
"fakeout" yesterday (or day before?).
Today, so far, "1
tick
takeout" where H for today took out yesterday's H by 1
tick
, as long as 58.75 is not exceeded, would play short-side scalps,
break point for something more to the downside would be 54.50, Pivot based on
RTH
only. If price tests there it is either support or it isn't and if it isn't, target 49.50 (plus 3
tick
) = 50.25 (I always allow 3
ticks
as close enough)
And I'm out of here, I have to go deliver my check for township taxes, oh the joy, the joy, the joy of home ownership.
good luck to all.
trying new sells at 58.25...will watch hour highs should they go for the breakout...56.75 is tightening point..so far symetric again..concern here is that they seem to be accepting price above the peak volume from YD and the ON
damn those royals !!
here is what I am watching...lets see what happens if buyers actually come in...how this changes and specifically what happens if we hit up into yesterdays highs of
CD
...still targeting lower based on internals ...we'll see
Click image for original size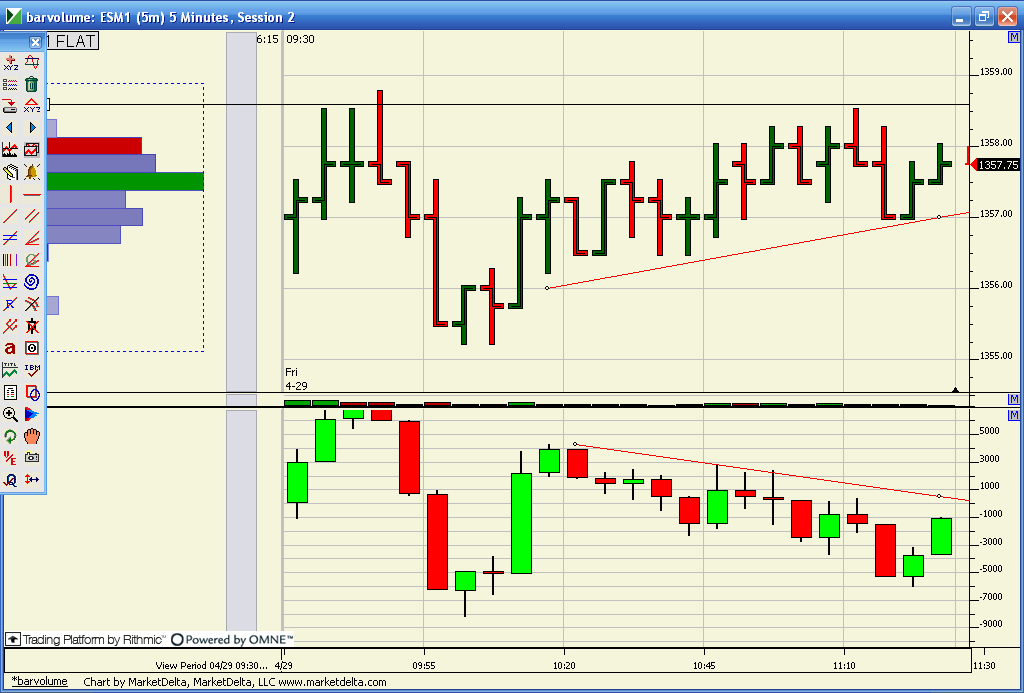 always fascinating to see what happens if negative sentiment CAN'T drive the market down...all us shorts get trapped....that afternoon surge from YD afternoon was a good example but that move fizzled