ES MAP for 4-29-11
Here's what I've got looking at the
ES
30min chart of 20 days. The Gray background is the "overnight" trading. The right vertical axis shows the 20-days worth of Volume at Price in Light Blue. The Red lines are my
PASR
"zones" of potential
S/R
with the Magenta potential semi-significant. The White dashed lines are the Weekly Pivots.
Have a Yellow line above the current market that looks like a potential significant Fib cluster area to me. Also, I've drawn in a Cyan trendline across the top swings of prices. I've adjusted some of the lines/levels/zones since the last posting of my "map". Hope it's helpful to both
ES
and equity traders!
Click image for original size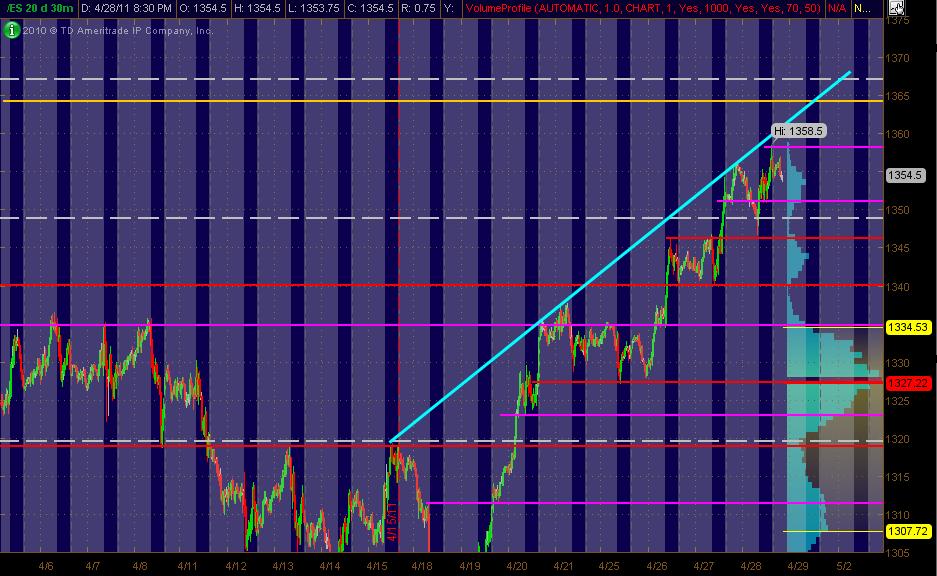 Here's what I've got for
Volume Profile
:
Top Left: 5min chart of 2 days data ATH
Top Right: 5min chart of 2 days data
RTH
Bottom Left: 5min chart of 1 days data ATH
Bottom Right: 30min chart of 2 days data ATH
Click image for original size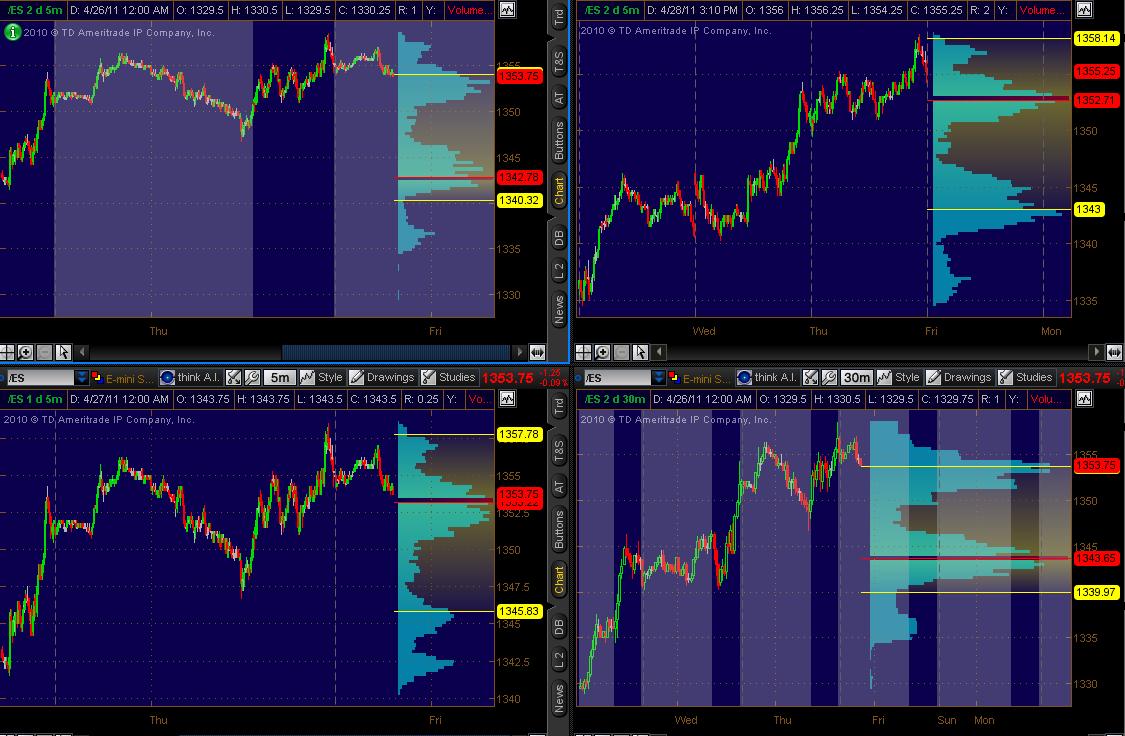 This ain't nothing but a big ole bell curve still with the 58 area being the distribution high and 47 area being the low.....and that 52.50 as the center..that is if you look at all session data.
If you look at the day session only then we have 3 HH and higher lows so we are trending......I like to sell on higher opens on the fourth day.....so a
gap
up in day session above yesterdays highs will have me put my sell glasses on. Either way I have a short bias.
prefering to get trades on at the extremes, I want to be selling up near the 58 area and preferably higher . eventually targeting the middle ( the 52.50)
The only good volume spike from yesterday happened at the 1357 number so if I had to pick an upper zone to watch it would need to be 1357 - 1358.50...any
fades
above there need to watch that area when/IF we come back down
Just want to say thank you for all that contribute here. I am learning alot. Wish I could contribute some myself but find you all to be much more advanced in your trading than I. Nonetheless thank you. It is appreciated.
should be interesting.
thanks for your comments, Bruce,
once, sometime in the last couple years,
gap
guy said after 3 consecutive higher Lows, UP
gap
fills 85% of the time. Unfortunately, as I look through my notes I don't know whether he had any other filters in place or whether he said fills or "was profitable" by end of day.
I gotta wait as we have a double top with yD high and
O/N
high....so we need that to run out first....hopefully we won't miss the short ...reports coming!!
I have to
add
here, that the "3 higher lows" note (not dated, but I know very old) does not designate whether
gap
fill was measured vs 4:00pm close or 4:15 close.
Yesterday, 4:00 close was 56.50,
4:15 close was 55.25
today's open at 57.00 with a low print of 56.25 would satisfy a 4:00pm C fill.
LisaP,
that 55.00 is the "
settlement price
" that the
CME
produces for something, I don't really know, adjusted for ex-dividends???... adjusted for something. They probably have a definition at the
CME
site.
My reference to the 4:15pm "Close" is technically the "last trade" of the day (which I prefer to use after getting screwed one day waiting for a
gap
fill in which the
settlement price
was 1.25 points lower than the last trade. At the time, I had been using the
settlement price
in stead of the last trade. (I didn't really think there was a difference in terms of importance, and maybe there isn't) But, on that day price came down, took out the "last trade" price by one
tick
(thus remaining ABOVE the
settlement price
by 1 pt) and market turned on a dime and took my profits with it.
On that
I have 55.50 as the close...once again we see Trade above YD highs and
CD
is no where even close to that when we open....chart later...failure above the
O/N
range....blah, blah , blah...same old stuff different day
57 - 57.50 is where bears need to hold the line back now
wow, now that is what I call dumb luck as an exit...!! I guess they like that 57.50 !!