ES 5-10-2011
Interesting action so far. Look at that ledge forming and notice
CD
pushing down.
Click image for original size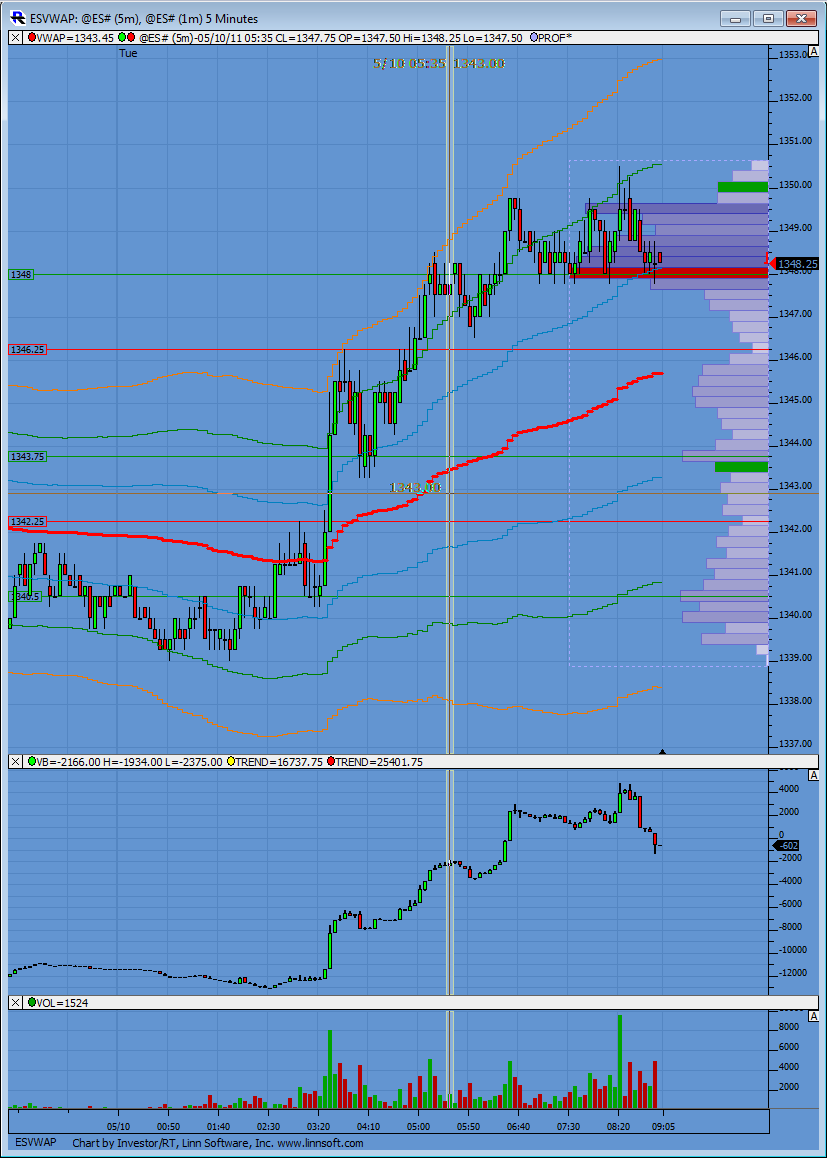 Originally posted by Lorn

They get nullified when price trades beyond them.

Thanks for the reply. So, I show 3 active: 48, 48.75, and 51.
VOLD
and VOLDQ still trending up, $BANK showing weakness.
it is days like this that only re-inforce (for me) trading 4:30 or 5 am through to noon east coast.
I guess if price is on a third day (
RTH
) with lower lows and lower Highs and it is even lower in the morning I would stick around looking for a rebound that could start just before 11am or just after 2pm.
seriously (this becomes (or used to become) even truer in the summer)
good luck all, I've had it for the day.
Here is the 1353-1353.50 I was wanting earlier. I only wish it wasn't so late in the day...
Footprint levels update. INDU at Friday's high.
NQ
approaching its Friday's HI.
VIX
at support=market at resistance. Longs are very risky here, so I am thinking of shorting. Watching action at this level.
Click image for original size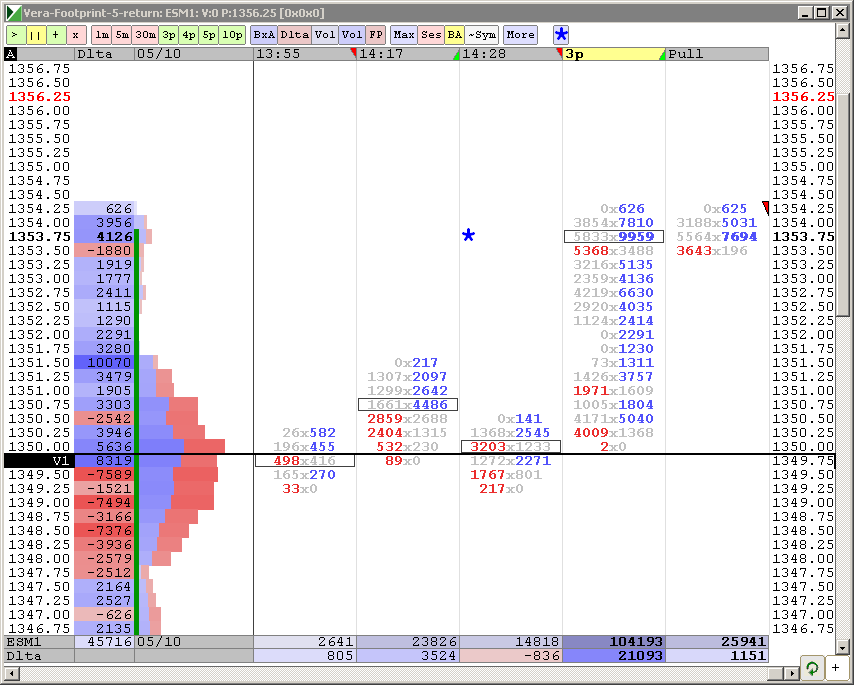 Next stop 57.75 perhaps?
Originally posted by MonkeyMeat

btw, Paul's Monday RTH .618 move comes in at 1353.25 (or 1353.50) ... which, if reached, then suggests price is likely to trade the full 1.0 X Monday's range at 1357.75 ... just a heads-up

I'm short my 56 number...c'mon Lorn lets see what ya got ? LOL !!
Trying for 53 !!
I left only to come back and see this.
2x EXTENSION does not have to happen today. As long as Monday's H remains support (1346.25) then odds greatly favor print 1357.75 before next Monday close (hey, I was looking at 30minute charts when I uncovered this phenomenon).
But for today, sideways consolidation between roughly 10am abd 2pm created a box. take height of box and
add
it to H of box, target for measured move was/is 55.50, has been achieved already.
now I am really going to leave computers.
This one is for you Paul.


Leave all the afternoon for exercise and recreation, which are as necessary as reading. I will rather say more necessary because health is worth more than learning.
Thomas Jefferson
Thanks, Lorn.

That is a goal I have to persue.

your reminder has increased my determiniation.

it is now time for action.