ES 6-8-2011
From the perspective of the
RTH
session only as on this chart, you can see that Monday/Tuesday have been a big consolidation from last weeks down move. Are we seeing a break of the range to the downside here in the
O/N
? The only clue on this chart is down moves have come on surging volume, up moves on decreasing volume.
Low from 3-23 of 1279 has now been breached and if you look at a daily all session chart there is a
gap
in the data from the open on 3-18 of 1268.50 to the low on 3-21 of 1274.75.
Click image for original size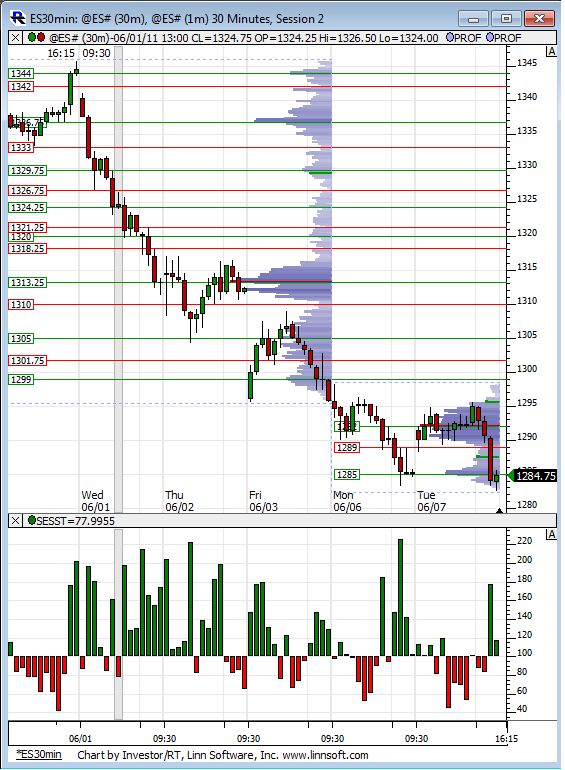 oh man...that would be great right now.....just one though.....unless of course u twist my arm...
Originally posted by palmer

Lorn buy Bruce a virtual Heineken :)

I think we will see 82.50....( gotta check for typos) again after report hits...hopefully after a big spike lower below the On low....that is the only trade I will attempt...

I wanted to buy below 80 again earlier but now it is too close.....not gonna be a gambler down here in front of that report
For sure...big catch up phase in
NQ
if it can't hold this level.
Originally posted by BruceM

I don't watch NQ but that 2250 low from 4-18 seems important..

what is bothering me is that we trade through the
O/N
high or low a huge percent of the time ...and so far neither has happened and it was only a 11 point range...I'm not selling into the 82.50 but it seems ligical that the more time we spend below there then the greater the odds we will go below the
O/N
lows..
gheesh...that volume spike u mentioned from
O/N
Lorn is a tuff customer..I'm too confused...a
gap
in the data up at 81.25 will keep me off the short down here ,,buying small at 78.75
Originally posted by NickP

i thought the same thing when i looked at my screen after 4.30pm but then i noticed dtn-iq had rolled over to sep; don't know why, jun is still good till tomorrow afternoon, volume wise

My research shows that volume switches to the new contract at 9:30am tomorrow morning:
http://www.mypivots.com/articles/articles.aspx?artnum=10&page=5