ES 6-8-2011
From the perspective of the
RTH
session only as on this chart, you can see that Monday/Tuesday have been a big consolidation from last weeks down move. Are we seeing a break of the range to the downside here in the
O/N
? The only clue on this chart is down moves have come on surging volume, up moves on decreasing volume.
Low from 3-23 of 1279 has now been breached and if you look at a daily all session chart there is a
gap
in the data from the open on 3-18 of 1268.50 to the low on 3-21 of 1274.75.
Click image for original size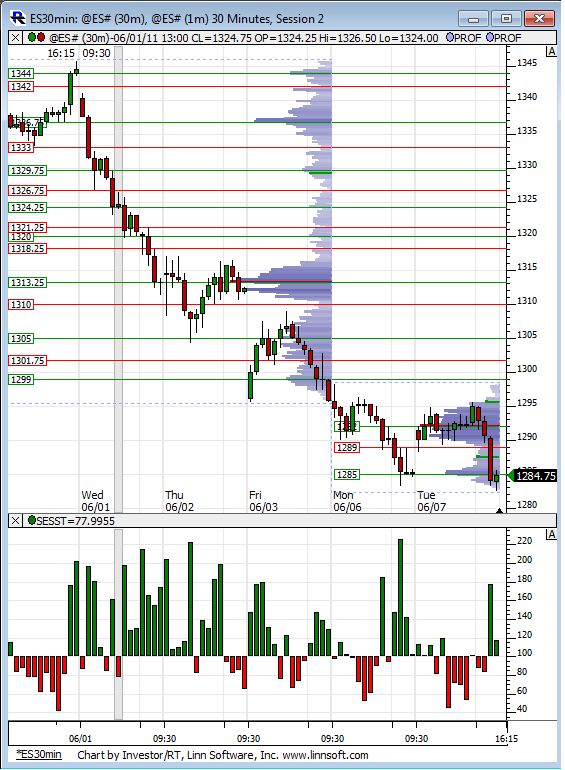 that was an interesting bounce right at 2:30 eastern, like someone moved price lower for low candle close and then immediately started covering Shorts into stops?? 0 resistance on that bounce..
Something to consider as we watch this market stay within its
O/N
range. Dr. Brett Steenbarger, on his fine blog discusses five things to look for in a market breakout. One of them is the presence of an extended trading range. On average, the larger the range, the more extended the subsequent breakout/trend move, as a greater number of traders are forced to cover positions.
So taking that into consideration, this is a small trading range today. Only 11 points so far, where the 5-day average daily range is 20.50. If we do manage a break of the
O/N
extremes before day end, this observation would suggest the move won't be very large.
Just an observation.
Hi guys. I am in and out most of last and this week (mostly out). Here is an interesting capture - huge short at close
Click image for original size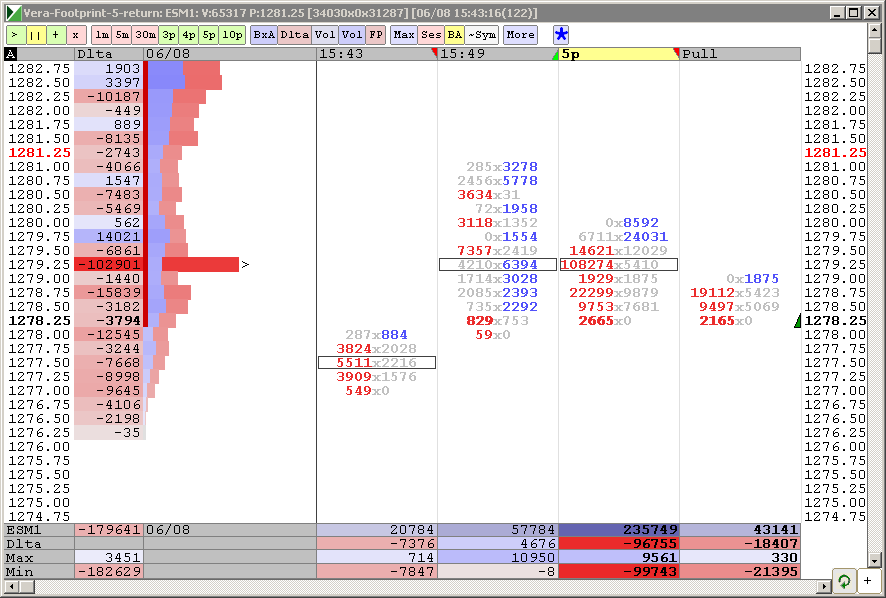 wow...what a difference there is between the first 90 minutes of the day and the last hour and 15 minutes....a completely different animal..I think it is cruel how they will pull up or down towards a target and stop short of it...maybe as time goes on things become too obvious.. and those with more money than Lorn can push it any way they want...
How is your celebrity rehab going Lisa..? Seriously though ...is it going well ?
Thanks for asking Bruce. Getting better. Also today settled with insurance on the car value. I had to complain to their ombudsman to resolve that.

Rehab claim above minimum has been rejected, but lawyer says: "keep going, I am confident that insurance will pay". We will see.
Re above chart. I have not seen such size for a long time.
Now I am sorry I have exited my
QID
(double short Nasdaq) here.
glad to hear it is going well...regarding your chart....how do we really know that it isn't just Longs exiting at the close and those who don't want to hold overnight? We can never really know...perhaps Lorns
CD
would help there....it's a great visual though....thanks for posting that..
wow..down to 1271 in the first 8 minutes of the
O/N session
.......
Originally posted by NickP

i thought the same thing when i looked at my screen after 4.30pm but then i noticed dtn-iq had rolled over to sep; don't know why, jun is still good till tomorrow afternoon, volume wise

My research shows that volume switches to the new contract at 9:30am tomorrow morning:
http://www.mypivots.com/articles/articles.aspx?artnum=10&page=5