ES 6-8-2011
From the perspective of the
RTH
session only as on this chart, you can see that Monday/Tuesday have been a big consolidation from last weeks down move. Are we seeing a break of the range to the downside here in the
O/N
? The only clue on this chart is down moves have come on surging volume, up moves on decreasing volume.
Low from 3-23 of 1279 has now been breached and if you look at a daily all session chart there is a
gap
in the data from the open on 3-18 of 1268.50 to the low on 3-21 of 1274.75.
Click image for original size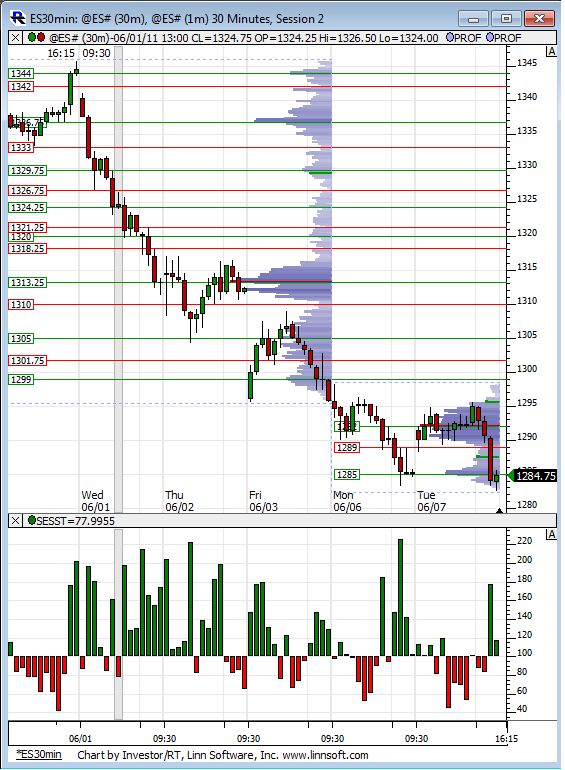 i think your data provider may have rolled the contracts to september
thanks Nick..at 4:30 my
IB
data froze again so I went over to Finviz...they were showing 1270 but I don't know how they arrive at the data...now that
Ib
is back I'm showing 75.25 for the June lows.....
Ib
had data problems yesterday too... usually they are failry good
i thought the same thing when i looked at my screen after 4.30pm but then i noticed dtn-iq had rolled over to sep; don't know why, jun is still good till tomorrow afternoon, volume wise
Originally posted by NickP

i thought the same thing when i looked at my screen after 4.30pm but then i noticed dtn-iq had rolled over to sep; don't know why, jun is still good till tomorrow afternoon, volume wise

My research shows that volume switches to the new contract at 9:30am tomorrow morning:
http://www.mypivots.com/articles/articles.aspx?artnum=10&page=5