ES 6-8-2011
From the perspective of the
RTH
session only as on this chart, you can see that Monday/Tuesday have been a big consolidation from last weeks down move. Are we seeing a break of the range to the downside here in the
O/N
? The only clue on this chart is down moves have come on surging volume, up moves on decreasing volume.
Low from 3-23 of 1279 has now been breached and if you look at a daily all session chart there is a
gap
in the data from the open on 3-18 of 1268.50 to the low on 3-21 of 1274.75.
Click image for original size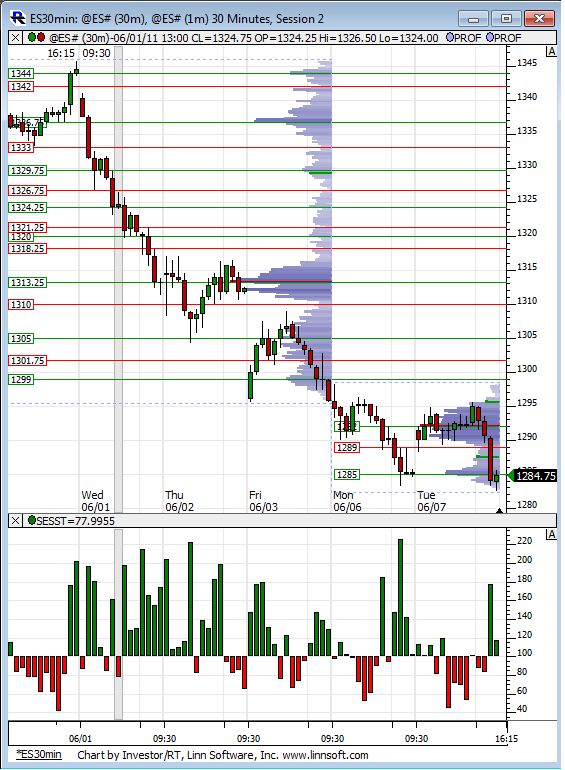 We have another
NPOC
down at 68.75 along with that unfilled
gap
at 68.50.
NQ
trying to find support at 1250.
Everything doesn't have to happen in one day!
starting to flirt with Paul's Monday
RTH
range expansion, I have if print 75.25 expect to see 70.25
1250 ?? now u really do owe me a beer,,,LOL....
tryin from 77.75...81 is target..
pulled last off at 82.75///a lucky voluem spike as I went to market
LOL...you must be contagious.
Originally posted by BruceM

1250 ?? now u really do owe me a beer,,,LOL....

not trading any more so just pointing this out...we have traded on both sides of the
IB
so gamblers and those with more knowledge than myself ( which is everyone) will be trying to fiqure out if we close neutral extreme or in the center
Originally posted by NickP

i thought the same thing when i looked at my screen after 4.30pm but then i noticed dtn-iq had rolled over to sep; don't know why, jun is still good till tomorrow afternoon, volume wise

My research shows that volume switches to the new contract at 9:30am tomorrow morning:
http://www.mypivots.com/articles/articles.aspx?artnum=10&page=5