ES 7-5-2011
Reference Numbers to start the week.
Weekly Close 1335.25 (4:15)
Weekly H/L 1336.5/1257 or 1336.5/1261.75 (
RTH
)
1339.00
Gap
from 6-1
Single Prints
1330 and 1317.25
Currently the
O/N
MP
Profile is showing a three
TPO
selling tail. Volume is above average so far so it should be interesting to see how
RTH
handles things.
Lorn thank you
Originally posted by Lorn

Are you wanting to see the volume laid out in profile style (volume per price) or standard volume per time period?



Originally posted by della
good afternoon Lorn
can you put up a chart from last fri VOL where the VOL was big
standard volume per time period?
Hopefully this is what you are looking for. This is Fridays
RTH
session with a
volume profile
and standard volume on the bottom. Interesting contrast between volume views.
Click image for original size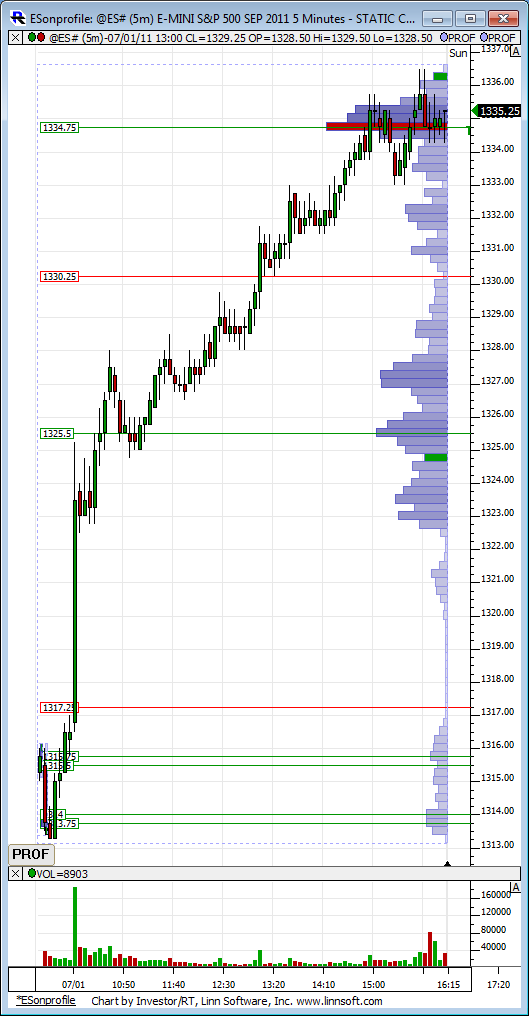 Originally posted by della
good afternoon Lorn
can you put up a chart from last fri VOL where the VOL was big

Thank you Lorn
32.to.27 there eas a drop the if I am seeing it rite
(Reuters) - U.S. President Barack Obama will deliver remarks "on the status of efforts to find a balanced approach to deficit reduction" at 4:40 p.m. EDT (2040 GMT) on Tuesday, the White House said.
I was just thinking that... Too much information today(ON
MY
CHARTS!). Like trying to catch a super ball.
Thanks Lorn, Bruce and Lisa... On the good side... there is some great information put out today... Many many thanks as always.
Originally posted by Lisa P

tough trading today

Feng, I did a thread on one minute volume spikes. I think Lorn covered all the key points though in his reply. I always look to see if we can get big
$ticks
on push outs of key ranges also to see if prolonged lower or higher readings prevail. Today we had higher lows in the
$tick
when we broke that hour low. That helps with the entry.
I began a research project about two months ago with the footprint charts that I look at after the market closes to help refine entries but so far that has been a worthless pursuit. I can't find an edge with that. As you know I
add
to trades so there is an element of "Gut feel" to some of this. My
Market delta
software has some cool volume with time functions that I have been messing with. To help show momentum or the lack of momentum.
For now I just take the trade as long as it is in proper context. I'm unafraid to
add
. Trust me when I tell you that I am working hard to remove the discretionary elements of my trading. Posting ideas to the forum helps me realize how hard it would be to "teach" certain elements of trading as I know it.
Many times you will not get that great mean reversion trade but often you will get the retest back to the 60 and 90 minute highs or lows after they break it out. I will
add
to trades expecting retest back. So often I am wrong on the first part of the campaign. hope that helps.