ES Tue 8-2-11
Market profile single print
left at 1291.25 during the Monday trading session. Market currently trading under it.
Click image for original size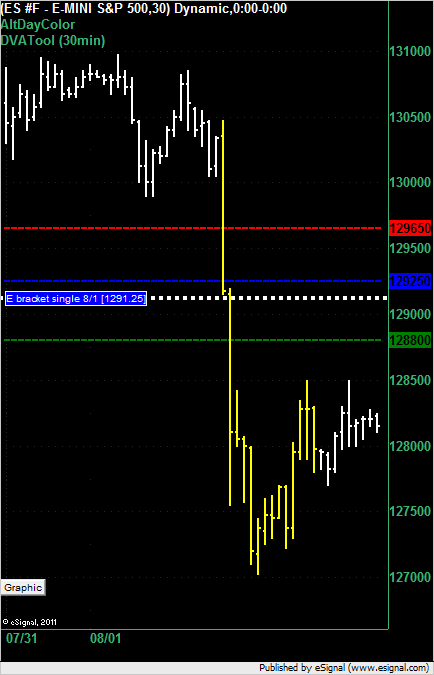 Market seems unimpressed by the vote... hmmm
Sellers at 1264.25 did not make money. If we move up, they will be the "rocket fuel"
Click image for original size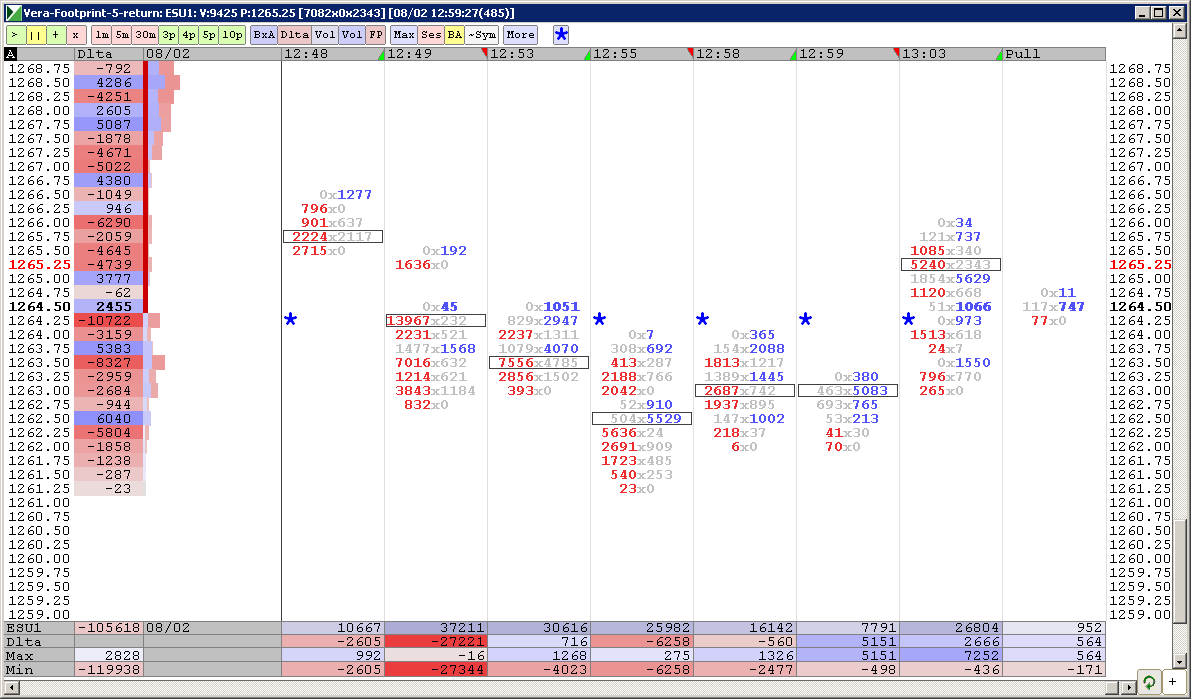 INDU tested 12,000...on
low volume
Click image for original size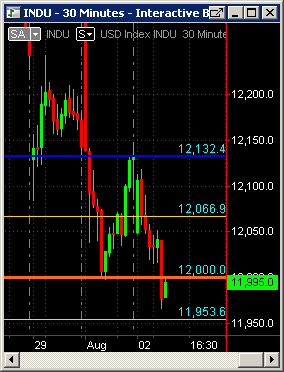 (Reuters) - "Italian authorities who met on Tuesday agreed that markets are targeting Italy because of broader problems in the United States and the euro zone more than domestic factors, a source close to the meeting said.

A statement to be released shortly will be "reassuring", and will say Italy's financial system is solid, said the source, who asked not to be named."

Sounds familiar...lol. We have heard it from Greece, Ireland..etc.
this played out perfectly; we broke below monday's low during
rth
and could never trade significantly above that level again; so that was quite bearish; we went and took out the
o/n
lows and bounced off different areas before getting down to 58-59. You can argue the 64 level i mentioned was somewhat off, and yes, that happens but you could still made money off it if you held a decent stop (3pt wide, nothing out of the ordinary).
Now the 58-59 area was nailed to the
tick
. The full extension of the move on the hourly chart from 313 to 292.25 was there, as well as two projections coming from the 15min chart (a stretch number also at 58.25)...ym right at s1 to provide additional support
I got long at 58.25 and dumped 3/4 at the unconfirmed
single print
in the 61-61.25 area and carrying the rest to the 63.5 area or b/e
good luck
Originally posted by apk781

not good for bulls if we build volume below yesterday's low; if that is the case the o/n low won't last too long. I have 64 and 58-59 as potential support areas below that. Tomorrow's adp and friday's payroll data will be key.

italy's market is for sale with shares halted and rumors of suspended bond auctions...

lisa see the vol at 58.00
Originally posted by apk781

fyi, the deal passing was almost a certainty, that is why you saw no reaction. Same thing with the voting in the house yesterday

the reaction to the debt deal agreement was on the open on sunday but it was overshawdowed by the poor economic data yesterday and today, along with sovereign woes in europe.
Ark, of course you are right. Trouble is we never know what news are important. I thought that trouble in EuroZone would roll the money into US market, but I was wrong.
BTW, the
NQ
gap
is now closed. Anal MFs (pardon).