ES Tue 8-2-11
Market profile single print
left at 1291.25 during the Monday trading session. Market currently trading under it.
Click image for original size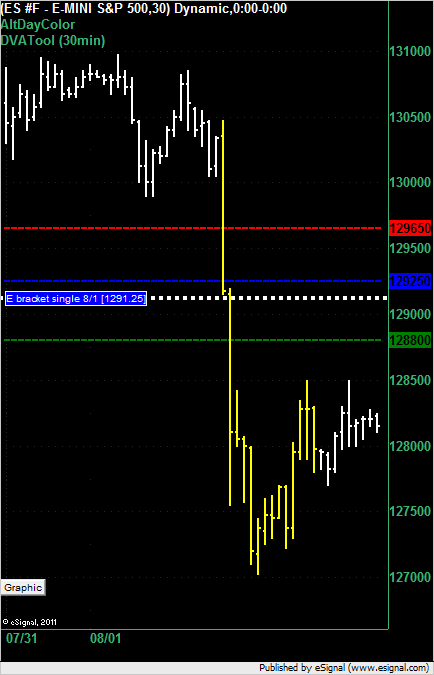 Copied these replies from the
Value Area
and
POC
topic:
Originally posted by gus

If I understand the concept, Tuesdays high should be 1291.25 area, where a short should be entered. Correct? Tnx Gus aka August

Originally posted by john newton

no-the high could be 1283 ish but no one knows for sure-if it doesnt break that 1283 i would probably short there at 1283.50-not investment advise

Originally posted by john newton

p.s. the camarilla method would have you shorting tomorrow in that 1290 ish area if its not broken to the upside-you might want to learn both -good luck

I am still confused about
single print
. I would have thought a sindle print is a topping or a bottoming tail representing exxhaustion
I would have thought that the first linne of resistance would be 1283.25 which is a
single print
and where you had a failure at the close. The next resistance level is the breakdown candle with open at 1291.75. I use
thinkorswim
platform to look at charts
prave
in your post, notice that the words
single print
are a gateway to a definition. click and read.
Thank you for your response. I do not have
MP
software which shows
single prints
as single letters. I use
Thinkorswim
platform where they allow you to set up user defined time brackets, 30 minute or higher or lower and plot
VAH
/
VAL
AND
POC
. Within the bracket however you cannot identify
single prints
Praveensuri - if you have the letters (
TPO
's) on your chart then you should be able to visually identify
single prints
. Not all software automatically draws a line like on the chart above. You have to manually find the
single print
and manually
add
the line to your chart. Was that your question?
dt,
does
POC
mean anything in
MP
?
I'm asking because when I look at my chart, I think the
POC
from yesterday was 1280 something
Yesterday's close was 79.75.
all price did this morning was close the 4:15
gap
and print at the
POC
.
isn't the
POC
first test some sort of potential reversal area? I don't know. that's why I am asking.
Paul,
POC
is best used as a target, as there is often a reaction once it reached. By definition it is an area where market is in balance - no incentive to initiate trades, as that is where "driving" buyers meet most sellers.
Of course, news drive through any
support/resistance
Is anyone out thereeeeeeeeeeeeeeeeeeeeeeeeeeee
Market just "took out"
O/N
POC
(see grey volume area). I am watching the response. IF we bounce, I will get on board. If we continue to fall, all those traders who initiated longs at this
POC
are "losers" and they will bail driving the market further down.
BTW,
NQ
is at support, so I am watching that too.
Click image for original size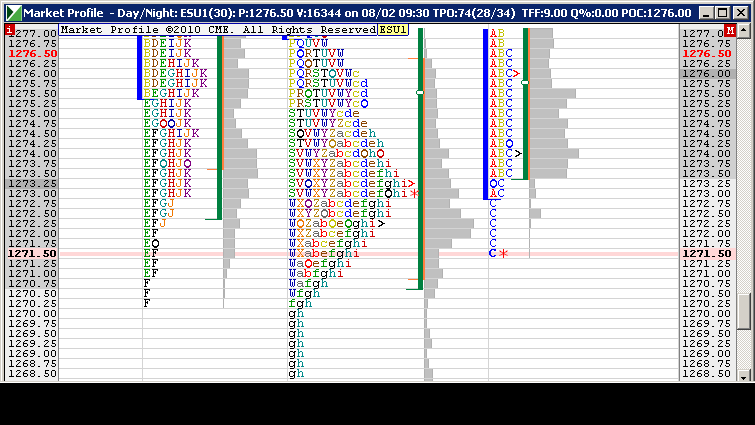 Originally posted by apk781

fyi, the deal passing was almost a certainty, that is why you saw no reaction. Same thing with the voting in the house yesterday

the reaction to the debt deal agreement was on the open on sunday but it was overshawdowed by the poor economic data yesterday and today, along with sovereign woes in europe.
Ark, of course you are right. Trouble is we never know what news are important. I thought that trouble in EuroZone would roll the money into US market, but I was wrong.
BTW, the
NQ
gap
is now closed. Anal MFs (pardon).