ES Tue 8-2-11
Market profile single print
left at 1291.25 during the Monday trading session. Market currently trading under it.
Click image for original size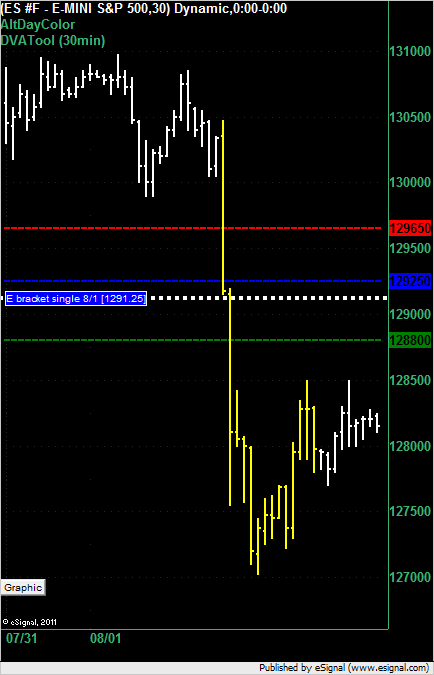 Paul - what Lisa said about
POC
is accurate. It's where there was "agreement" during the previous trading session and most business was done.
There's an unconfirmed
single print
at 1272.75. If the market does NOT trade back up to this price by 11:30am
ET
then it will become confirmed. The green line at 1272.50 is the
VAL
. Because we opened inside the
VA
we would have expected the
VAL
to provide support. It hasn't so those 2 prices so close together will become a natural ceiling after 11:30am.
Click image for original size
not good for bulls if we build volume below yesterday's low; if that is the case the
o/n
low won't last too long. I have 64 and 58-59 as potential support areas below that. Tomorrow's adp and friday's payroll data will be key.
italy's market is for sale with shares halted and rumors of suspended bond auctions...
Originally posted by Lisa P

DT, what does "unconfirmed" single print means, please?

When a new bracket (30 minute bar) starts and it leaves a potential
single print
behind (above or below it) then one of two things can happen: (1) It trades back to the
single print
that it left behind and fills it in so this is no longer a
single print
or (2) it does not trade back to the
single print
price in which case the
single print
is confirmed. However, we won't know if the potential
single print
is going to be a "fact" until after that half hour bracket has closed. Until that point it's an unconfirmed
single print
. In this case the market did not trade back to that price so the
single print
was indeed confirmed. The indicator that I use automatically changes to color of the line from yellow to white after the
single print
has been confirmed.
Click image for original size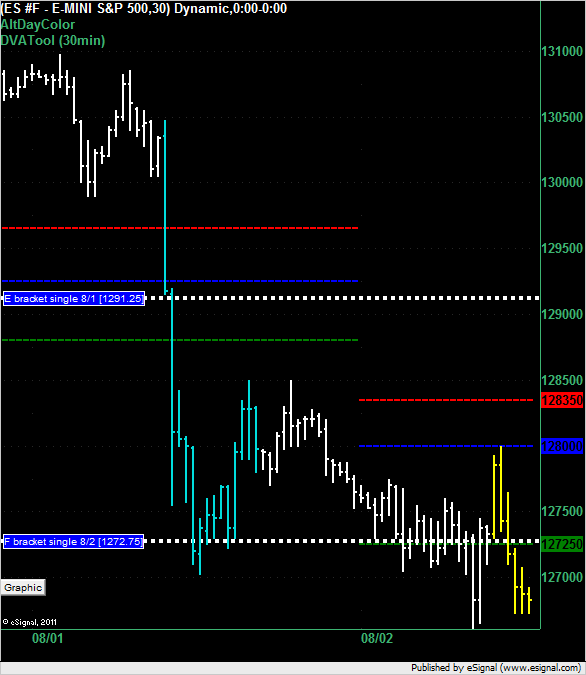 Originally posted by apk781

fyi, the deal passing was almost a certainty, that is why you saw no reaction. Same thing with the voting in the house yesterday

the reaction to the debt deal agreement was on the open on sunday but it was overshawdowed by the poor economic data yesterday and today, along with sovereign woes in europe.
Ark, of course you are right. Trouble is we never know what news are important. I thought that trouble in EuroZone would roll the money into US market, but I was wrong.
BTW, the
NQ
gap
is now closed. Anal MFs (pardon).