ES Wed 8-24-11
The yellow bars on the chart below are from
RTH
trading on Tuesday. The white bars on either side are the overnight session bars.
As with most trend days and wide spread days
single prints
get left behind. The following
single prints
were generated on Tuesday:
E bracket at 1131.00
H bracket at 1139.75 (filled)
P bracket at 1150.75
After forming the
single print
in the H bracket the market returned to this price and filled it in triggering a long trade at 1139.75. The
draw down
was 1.75 points to the subsequent low of 1138.00 and then the best run-up during
RTH
was 21 points to end of day high of 1160.75.
Did anybody reading this take that
single print
long?
Click image for original size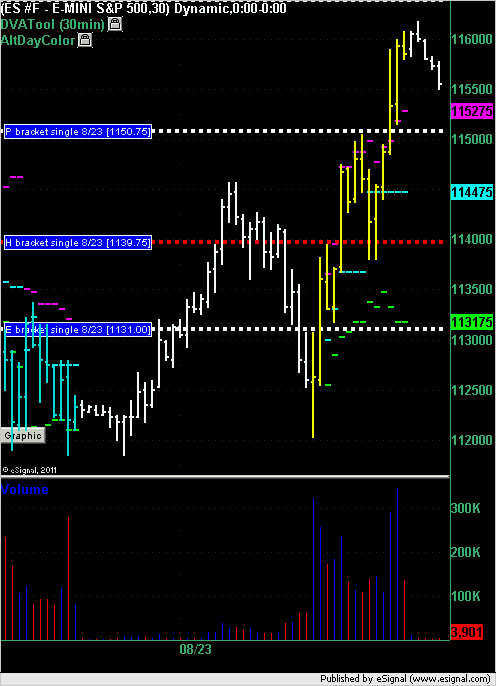 i am, don't take me wrong...i trade a bit differently (in fact a lot) but i find
mp
intriguing to say the least, so trying to pick it up little by little (remember i asked you abt good books to read and so on? i am still in that phase), but not trading based on that at all
was just going back through the
price action
and that question popped up, that's all
whenever you have a moment, could you post your renko chart so that i can see why the 64 area was a no go and the 72ish was
thanks again and congrats on your trade
Originally posted by BruceM

No Nick...I had no signal as per my renko and delta charts until we started getting above the 71 number...it should be noted that I'm hoping most find their own numbers as I type fast and sometimes I transpose my numbers incorrectly....I work off lines I have already marked on my charts....that line up their started at 72.50 and not 71 !!!


so hopefully most are doing their homework!!