ES Wed 9-7-11
i would thank all of you guys and gals for posting.keep up the good work.

duck
Lisa could you pls point out what you are looking to do at what levels on your charts.
rburns, usually when such large entry pops up, I enter only if I am expecting it (based on the earlier "significant levels"). HEre is account of my actions this morning, based on the charts posted above.
If I have no idea why the entry popped up at that spot, I mark the level and wait for market to come back to it. First volume node popped up at 1178.75 and it was short (red)and large - 12,698 contracts. I have nothing marked there that would require action on my side.
I assumed that there was information available to the shorting party which I do not know - tweet, rumor, Bloomberg info....whatever. So , based on the significant size of that order, I joined the short, with a small stop. My reason was that both
ES
and
YM
were at resistance after a decent pre-market run and there were no news to drive the market higher. I was stopped out on that trade.
The next level of large entry was around 1183. It was a significant long order. I have a bottom of the old
gap
there, so I assumed that it was a "resting" short order, that a party left there for a market to pick up. I waited for a short entry signal (for me) and entered again. Got stopped out again.
WIth large orders it is hard to tell if it is an "initiating" or "resting" order.
SO
it is up to me to decide.
Now after two losses I am on a "take a look at it" break. So I see that 3 markets are in dissonance.
ES
and
NQ
entered the
gap
, but
YM
has not taken its resistance yet, so it is a fight and I am out of it licking my wounds. Also today there are no reports until 2
PM
(
Beige Book
" so I expect market to be sloppy. That is my story. I will watch the
price action
and try to better my morning situation
------------------------
Generally, I try to trade long above a large entry, especially if that entry shows shorts (red on my chart) that do not perform, as it adds fuel when those shorts cover. Also I try to trade long above the
VWAP
and short below it.
Usually I do better trading with the trend. I am not a good fader - Bruce is. Today, however, I took short trades because we approached the
gap
bottom, which often is a resistance, after a long run up in pre-market.
Hope that answers your question. Buzz me please if you have more questions.
Wicked spot to be in.
I'll point out the 1183 is the 50% retrace of that last wave down.
Could be stuck here awhile as a lot of people will be wrong either way.
I'm thinking positive if it can pop that double top at 86.Then again,might be short lived.Would really like a break and hold of 88 level
Below is 1180.50 as the level to hold and I'm seeing 1179.75 as a
pivot point
.
1172 and 1194 the 38% and 62% retrace levels.
rburns, here is my "big pickture" 30-min chart. We are now filling the old
gap
Click image for original size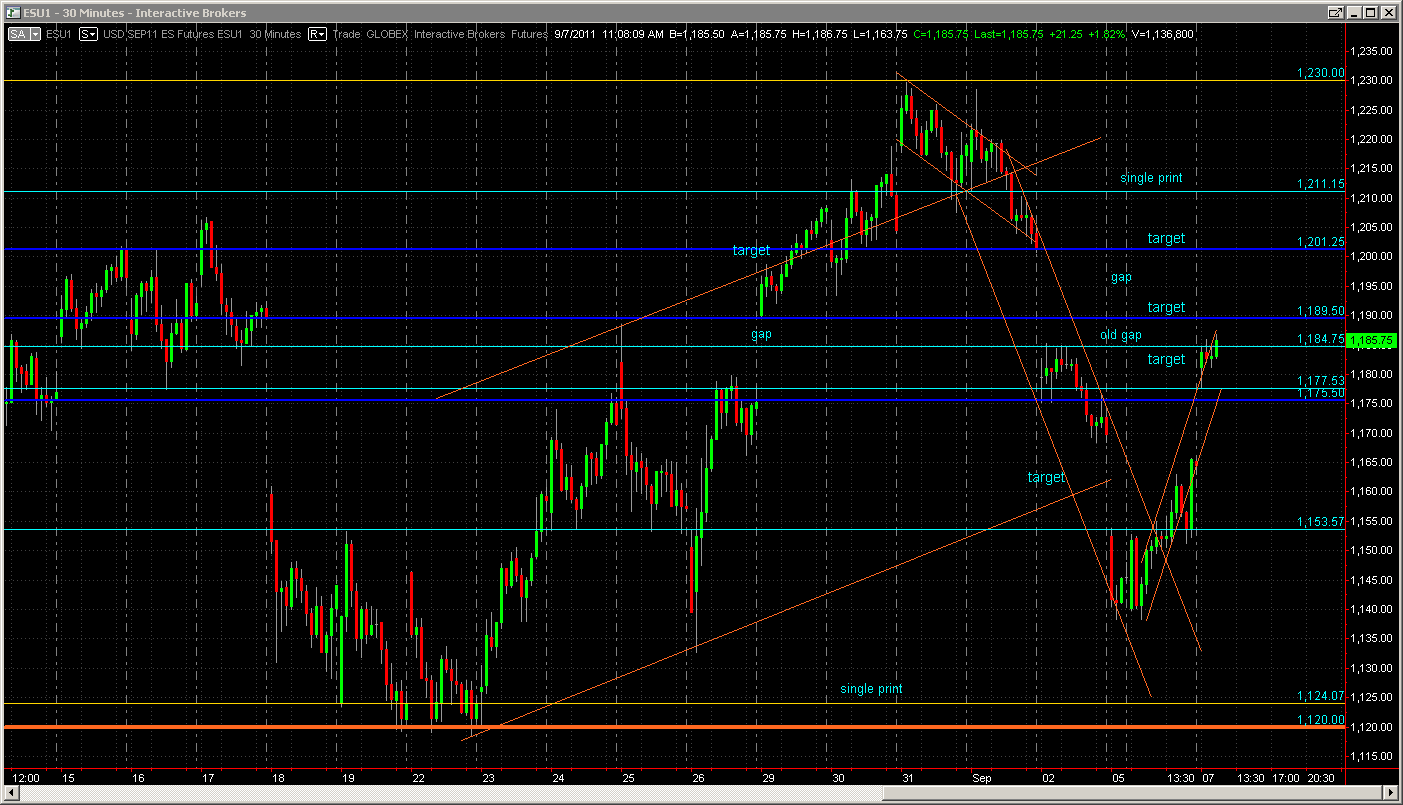 rburn, also 1185 was 50% retracement of the Aug - Sept move
see that 5001 buy at 87.50?
could be topping here
next higher target is that 94 retrace level and above that is 96
finding top of parabolic moves is hard but I think this might be it for now
I'm thinking sometime tomorrow around the 1210ish area around 10am. Does need a two legged pull back.....sitting on the 20ema on the 5min now. 1st time since 10:15
After the fact lol but something I watch there was a HH imbalance yesterday of 45 to 27 lower lows. Should be about equal.