ES Thursday 9-29-11
I thought that we could use a refresher and some basics in case we have some new folks here. Most will know this stuff but hopefuly this will inspire some questions or help clear up any questions regarding the use of high and
low volume
in your analysis. Here is todays chart with the key areas labelled for Thursdays trade.
Click image for original size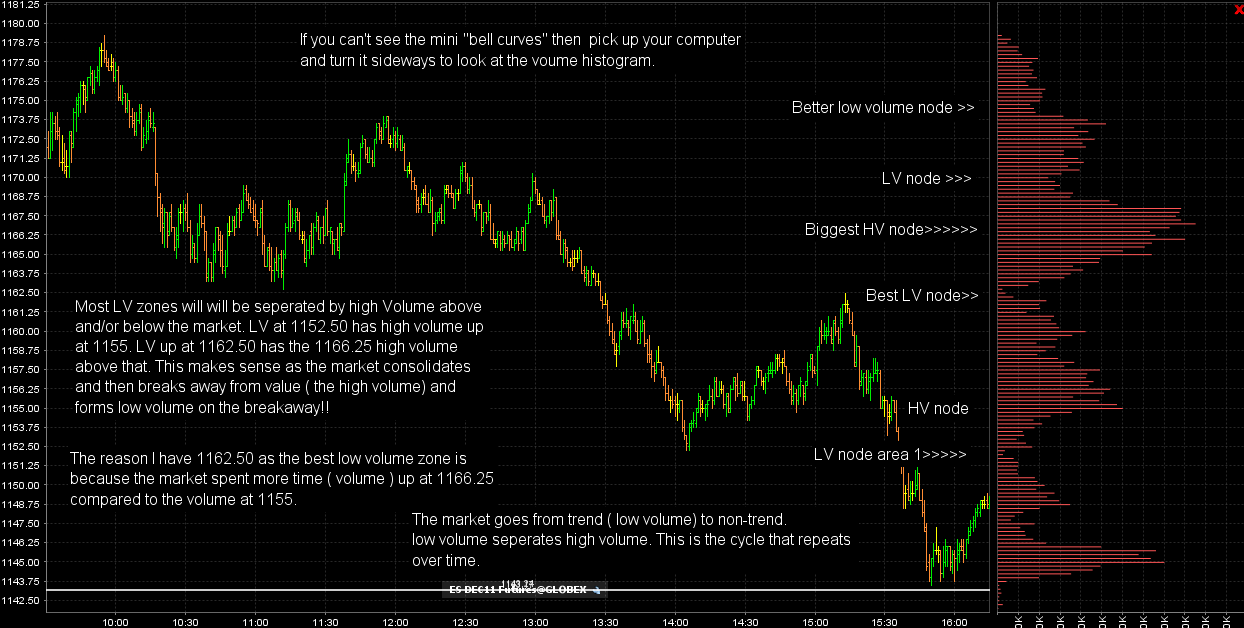 Here is the
O/N
V Profile. What jumps out at me immediately is the P shaped profile, which represents short covering.
Obvious
LVN
area here is a big zone between 1149-1153. This coincides with yesterday's 1152
LVN
...so first support for prices here.
We can also see prices broke through that 1162.75
LVN
discussed by Bruce. Watch to see how prices respond in this area upon
RTH
trading.
If we open right here prices will be in the middle of yesterdays
MP
Value range. 1177.25 is
VAH
and is another
LVN
zone.
Click image for original size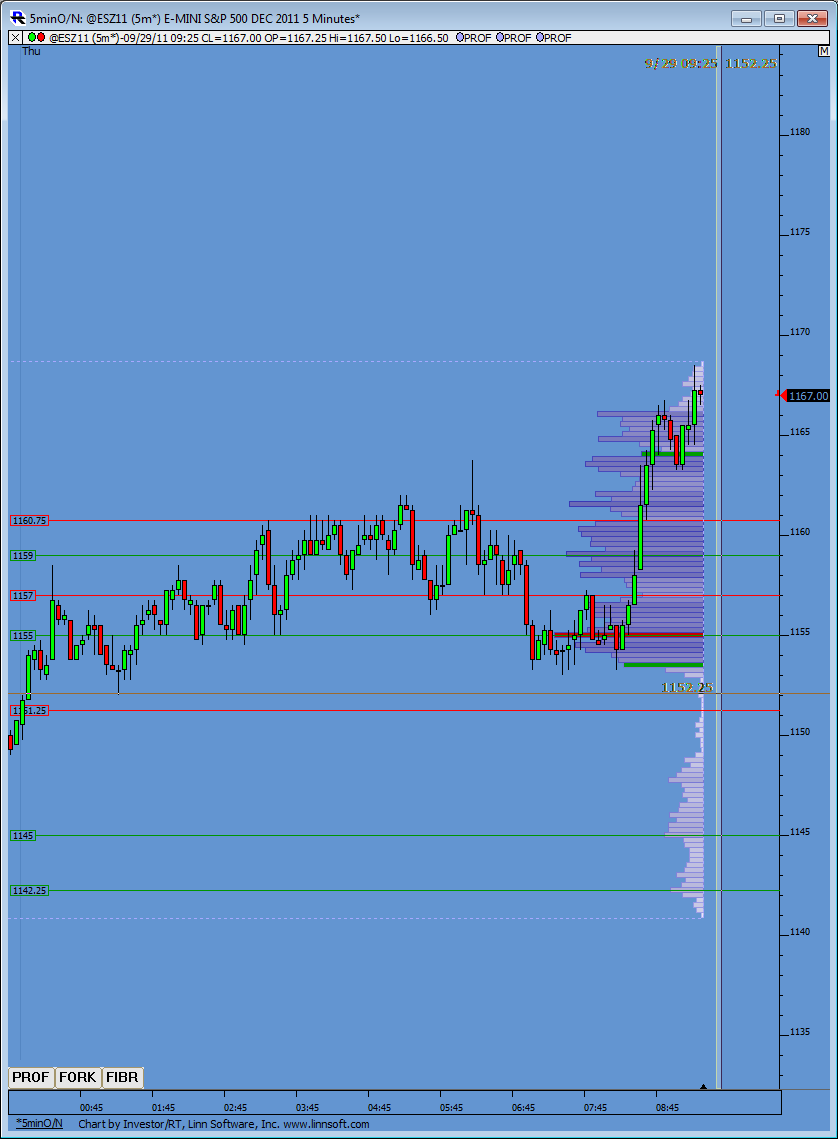 A few subtle things....when we open right at a
low volume
number the trade is much more difficult. In the current overnight session we have stopped right near the peak volume of yesterday ( as I type)..so this is a case where it is ok to look for shorts into the
high volume node
/Overnight highs....but the best short would likely come near 1170...
Low volume
in the Overnight falls right at our 1152 area so it is ok to look for longs down there..It will also be ok to look for longs at or slightly below 62.50 as that will still need to fill in..as is still
low volume
..we most likely will come down to retest that area from above...so good shorts can also target that
damn u Lorn... u beat me by a few seconds..great to have ya back!!!!
so my bias is to trade for the 62 - 63 to fill in !!
trying the short from 70.25
lightning up at 66.50...runners will try for new lows on the day into 62.50 but we are at the north side of that peak volume now....gotta be careful in here
Originally posted by BruceM

trying the short from 70.25

Bruce did you have
Market Delta
corroboration at 70ish or was it strictly the open +
pitbull
numbers that got you in this short?
TIA
pending homes sales coming out
they see those stops at 63.75...I hope !!!
flat at 62.50 print.....beautiful...if I may boast a bit
Look how this guy trades
NQ
(Nasdaq futures): <redacted>
He captures a huge amount of the market.