ES SRs and Fibs for 11/21/11
ES SRs and Fibs for 11/21/11
Below is the
ES
60 minutes chart with s/rs and fibs. set-up for tonight and tomorrow's sessions.
IMO
, if the
ES
moves below 1204.50, we will see a test of 1179.75 in the next few days or sooner,
Will see, and as always, the market has the last word and in due time will show us the real deal in dollars and cents.-.
Right now, next hours, next days, next weeks, next months and next years to come,
I
see for you
the same I see for my self:
Having the very best of luck, fun, awesome, and incredibly profitable trading experience!!
Click image for original size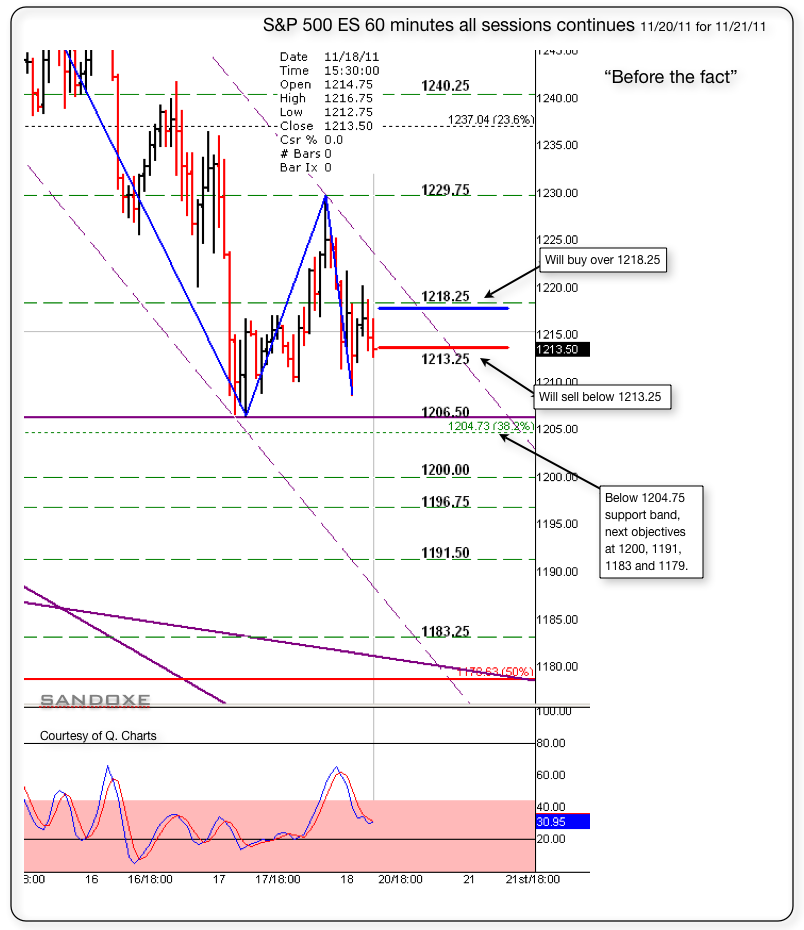 Here's what I've got for my
ES
MAP of
PASR
ZONES using a 30min chart of 20 days of data coming into Monday's trading. The Red lines are potential significant levels with Magenta lines as semi-significant. The White dashed lines are the Wekkly Pivots and the Yellow line is a Fib cluster I thought worth including. The White ZONE of roughly 4 points near the bottom of the chart is a significant
PASR
ZONE (though wider than usual). The Light Blue Volume Proile of the past "rolling" 20 days is displayed on the right vertical axis. The Gray background shows non-
RTH
price activity. Hope some find this useful!
Click image for original size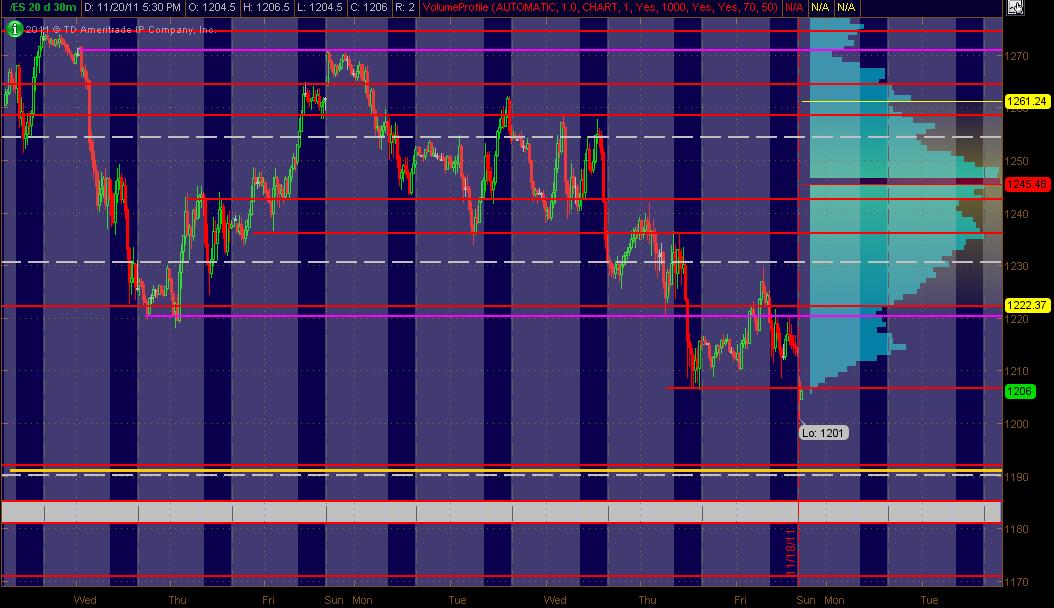 MM
As of now, Sunday night's trading opened down, outside of the Friday's
Inside Day
, tagging the Daily S1 (based on
RTH
) with a slight bounce so far.
Here are the Major
Support/Resistance
levels/zones I've got on my MAP that I'm looking at based on where price is currently:
1220-1222
PASR
/Daily R1 (based on
RTH
calcs)/VolProf 20-day Low Vol area
1200 area, simply because it's a biggie round figure (and 1201 is currently the "overnight" low as of now) ... oh yeah, and DeMark Daily S1 too
1192-1190
PASR
/Wkly Pvt/Fib cluster
1185-1181
PASR
significant ZONE (though 4 points "wide")
Don't have much that makes sense to me as significant levels in between these ... knowing these posted levels are 10+ points apart in price. Ain't gonna "force" other levels that I don't see in between.
We all know this is three days of "holiday type" trading coming into Thanksgiving. Was looking into the seasonals for bias on these days but would appreciate it if someone who is more steeped in the seasonal tendencies to post what they've got for this week. It'd be another puzzle piece!
And a bigger SIMPLE view of the
ES
Daily to look at with prior posted 30min chart (even though everyone has this displayed on their own charting gig). The Red line is 200-day
SMA
and Cyan 50-day
SMA
. Yellow parallel lines are a channel for now fwiw. Just thought it'd be helpful to post this visual along side the 30min chart ... uncluttered in all of its naked beauty.
Click image for original size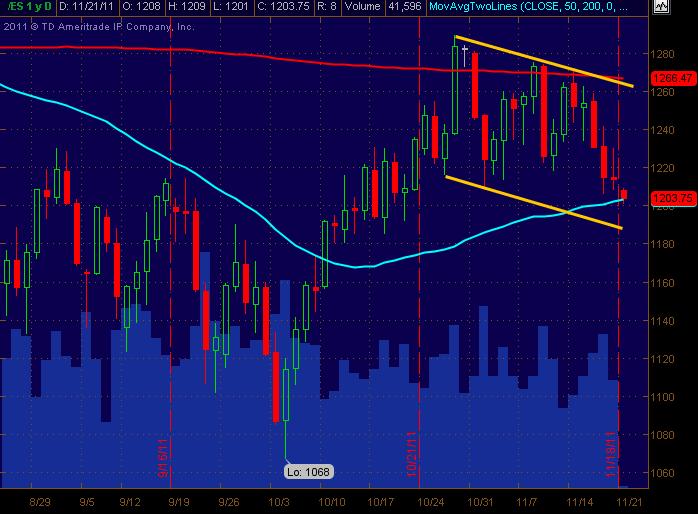 Thx for the charts
MM
. It looks like it's holding well and above your 50ma. I think that if it moves above 1206.50 and find support there, it could move up fast. Will see.
ES
now trading 1204.50 @ 21:52
Is trying to get back above 1206.50 but fails. Good place to try a short.
smaller account traders would want to take something off in front of the 91.75 overnight low just in case
Is a tuff call to the out side.. It needs to base a bit . As long as it does not touch 1187.25 again. up,up,up If it does touch 1187.25, then it's range bound with downwards sentiment.
ES
now trading 1189.50 @ 10:32
buying agressively under hour lows....
Originally posted by BruceM

I just locked Sandoxe for trying to antagonize me instead of commenting on the educational posts we provide here...I knew he would fail to post real trades as they happen when I asked for them weeks ago. This is the way of the paper trader.

I feel he owes me, but more importantly the forum an apology. His intensions to me are clear. Perhaps eventually we can get back to the quality posts we come to expect on the forum.

DT can work it out with Sandoxe from here to regain access.

I fully support Bruce's actions.