ES Friday 1-6-12
Here's what I've got for my
ES
MAP of
PASR
ZONES using a 30min chart of 20 days of data coming into Friday's trading. The Red lines are potential significant levels with Magenta lines as semi-significant. The White dashed lines are the Weekly Pivots. The Light Blue
Volume Profile
of the past "rolling" 20 days is displayed on the right vertical axis. The Gray background shows non-
RTH
price activity. Hope, as always, that this is helpful to some as a "MAP."
Click image for original size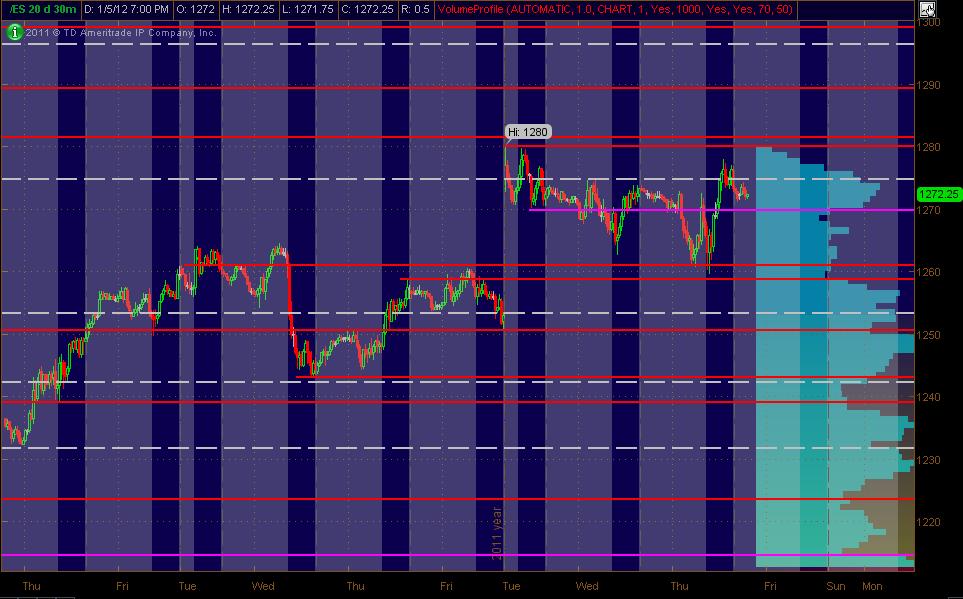 Btw, a couple of price lines are very near each other in price ... and should be considered ZONES between them.
Ps. (un)employment report comes out early in the morn' ... so thangs could be a bit whacky
got long 70.75 looking for target 73.50
the only potentilal mechanical trade would be to buy the minus 4 number after the minus 5.5 number prints...so once 72.50 printed then they would be buying the 74 number when/if it came back up...
if we stalled at the minus 4 then they would have bought the minus 2.5 at 75
no
pitbull
trades yet
small buys at 68.50.....close overnight low...two sets of
air pockets
above...concern is the open and drive
got the air fill and trying to hold 2 contracts.....8-10 points is a key
pitbull
zone but lacks good entries in general,,,,so subtract from open print...67.50 begins key
low volume
from Thursday...we may need to be buying under that 67.50 if they run it out
flat at 69.25..will try to buy below 67.50...volume building down here...
an agressive trader could buy the 72 ( minus 5.5) after the minus 8-10 zone hits
I think the safer buy is to look for the "w" pattern...first leg is down ...next leg is up...next leg is down...and then buy that 72...

so we want to see if drop from 72 without making new lows and then buy that if you are mechanical
they are working on the third leg of the "W" pattern off the 5 minute so I am looking for buys as we drop down...air still above
bruce on your footprint you use 5 min or 30 min