ES Friday 1-6-12
Here's what I've got for my
ES
MAP of
PASR
ZONES using a 30min chart of 20 days of data coming into Friday's trading. The Red lines are potential significant levels with Magenta lines as semi-significant. The White dashed lines are the Weekly Pivots. The Light Blue
Volume Profile
of the past "rolling" 20 days is displayed on the right vertical axis. The Gray background shows non-
RTH
price activity. Hope, as always, that this is helpful to some as a "MAP."
Click image for original size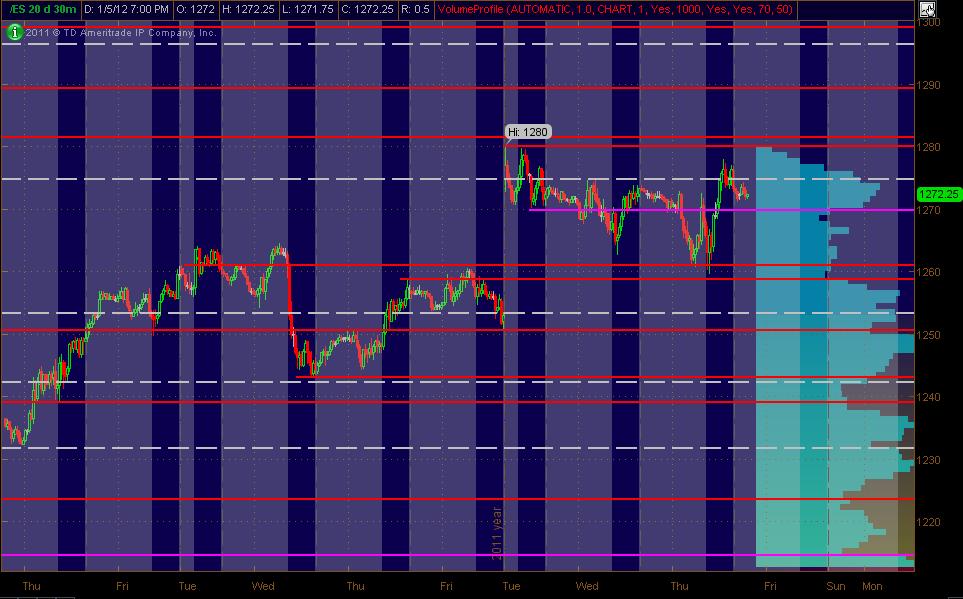 Btw, a couple of price lines are very near each other in price ... and should be considered ZONES between them.
Ps. (un)employment report comes out early in the morn' ... so thangs could be a bit whacky
Looking at 1 and 2 day VolProf ... along with Daily and Wkly calculated Pivots ... and what I'm seeing as
PASR
levels ... not much "confluence" ... in other words kinda messy to me.
The key price ZONES I'm seeing for now are 1260 and 1280 to work off of as attractors and/or halting areas for price.
And not to get lost from the bigger picture, here's the
ES
Daily with a 50 and 200
SMA
along with a Yellow downtrend line. The 200sma and downtrend line (that the
ES
has broken out ABOVE) are currently at the 1254-56 area as of today ... potential support (and also are key things a lotta folks ... including bigger money folks take into account in some fashion). Showing support so far after the upward daily breakout on the chart. Just a little more big-pic info that most already have on their own screens here.
Click image for original size
using 81 - 83 as initial resistance then up at 87.50 - 88.......76.25 is a big magnet...so sells up here 4 me
Tuesdays highs and October highs are the reason I'm using that first upper zone...Della mentioned that the other day.....76.25 is PVP price from Thursday and was
O/N
high before report hit.
Unfilled
gap
from back in june or july and we have r2 at 88.50 so that is upper zone for me..
Yearly open at 73.50 and
POC
from
O/N
sits at 73....this is biggest hurdle for any selling today....
Single print
breakout point from day session yesterday matches
O/N
lows.....so 64 - 67.50 will beome a bigger support zone as we move forward to keep track of...this is the peak volume of the bell curve and the
low volume
my basic plan for mechanical traders ala
pitbull
...if we open and rally 2.50 points up I would sell the open print ( most agressive) ..reverse this concept for sells but I should caution that these breakout trades are most agressive
...prefered trades will
add
or subtract 4 and 5.5 points off the open print and see what matches up with key numbers like the 73 area or up near Overnight highs for
fades
....see
pitbull
thread for how "Harvie" would have done it or ask me here if interested..
77.50 is open print so will look for buys under 73.75 and sells up near above 81...but if we stall at 75 and come back up to open print then the agressive traders will buy.....
flat at 72.75....too close to yearly open to hold for air fill
bruce on your footprint you use 5 min or 30 min