ES Friday 1-6-12
Here's what I've got for my
ES
MAP of
PASR
ZONES using a 30min chart of 20 days of data coming into Friday's trading. The Red lines are potential significant levels with Magenta lines as semi-significant. The White dashed lines are the Weekly Pivots. The Light Blue
Volume Profile
of the past "rolling" 20 days is displayed on the right vertical axis. The Gray background shows non-
RTH
price activity. Hope, as always, that this is helpful to some as a "MAP."
Click image for original size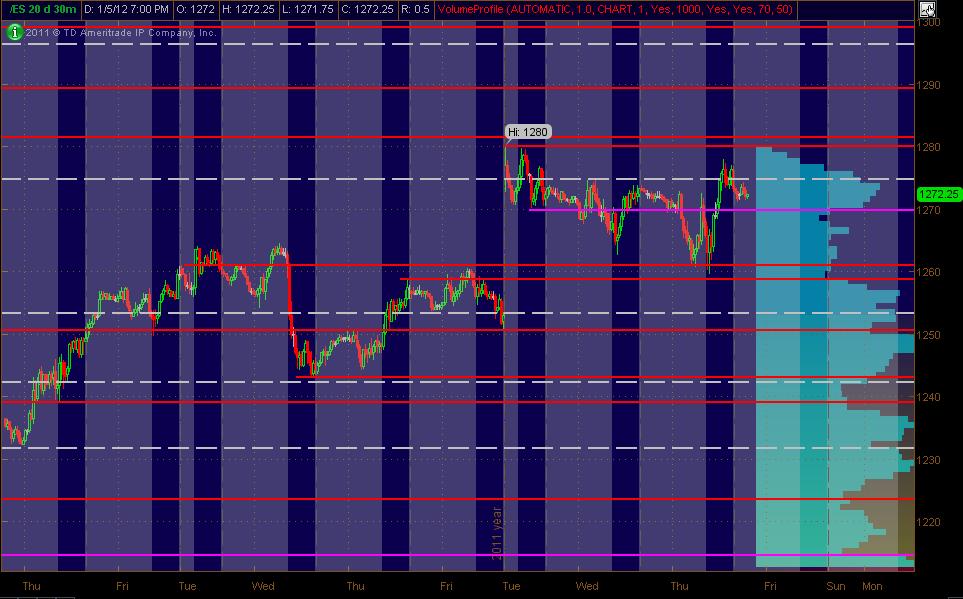 Btw, a couple of price lines are very near each other in price ... and should be considered ZONES between them.
Ps. (un)employment report comes out early in the morn' ... so thangs could be a bit whacky
a few problems with the
pitbull
method...it was designed for the big contract so buying on a limit orderin eminis will sometimes have you miss the entry and market orders can have poor fills too....
It's also a scalping method so going for only 1.5 points can be a challenge with all the noise but it doesn't mean we can't use the structure it provides for our own entries....I prefer trades inside the minus and plus 4 - 5.5 zone as it has a higher potential to go back to the opening range....
Once we stretch to a minus 8 - 10 zone then it obviosuly takes more energy and work to get back to the opening
look at how the weekly open print has messed with the market this week at 73.50...another reason to get agressive on exits up into it from below..
Bruce, I have year open print as 1274.25. Not that it makes a difference, but can someone confirm?
70.50 - 71 is now the price for bears to beat...if these prices hold then we will see the overnight highs ...all air is filled so I have no reason to be long or short...will wait until and hour high or low breaks out from here
I'm using day session only Lisa
bruce on your footprint you use 5 min or 30 min