ES Thursday 2-16-12
42.50 - 44 is first resistance to go back to 38- 39 area...( lots of stops at 40.25 now )above is 47 - 49.25 for sells to use 44 as a target


this is a bracketed market still and all the volume this week is in this 42.50 - 44 so these sells are harder I think...safer sells are higher up in that upper zone

below the 38 area i will wait till I see trade under 35 to look for longs
I joined u koolio at 52 but I feel we may need to wait for yesterdays highs..hope not...damn I hate hard stops..targeting 50...that is two sets of
single prints
now!!
yeah ,I also have 1350.00 as my exit. its the 1.618 of the initial move from 1352.50 (hit the term. ratio dead nuts!), to 1351.00
not holding and just went flat....I'll try shorts at 1355 if they can push...no patience or time now to manage...hope it goes 4 ya...don't like
doji
on 5 minute bars at highs...just seems too obvious
AAPLs comeback lurched naz into leading again.
re-enter at 52.75......still feel that 55 needs to come and now we have a matching high with yesterday so a poor high in general...will try multiple times if needed and each time small until that high breaks
I have very little confidence in getting this high right now....


I think I'D like to be getting high !!!
eur has constricted tightly
fascinating how they have blown through 47.50 multiple times this week and last week it was a
low volume
area...somebody is messing with us big time!!
Honestly, i felt quite certain that we would see the normal range today (1348.25) or a couple
tick
expansion, but the strength of this 'test' of the highs has gone higher than i would have guessed. I wonder if that means this overbought rally of 2012 continues to my 1364 or even 1425 in March?!?
a look at just the two day profile..two bell curves seperated by
low volume
at 47.50
Click image for original size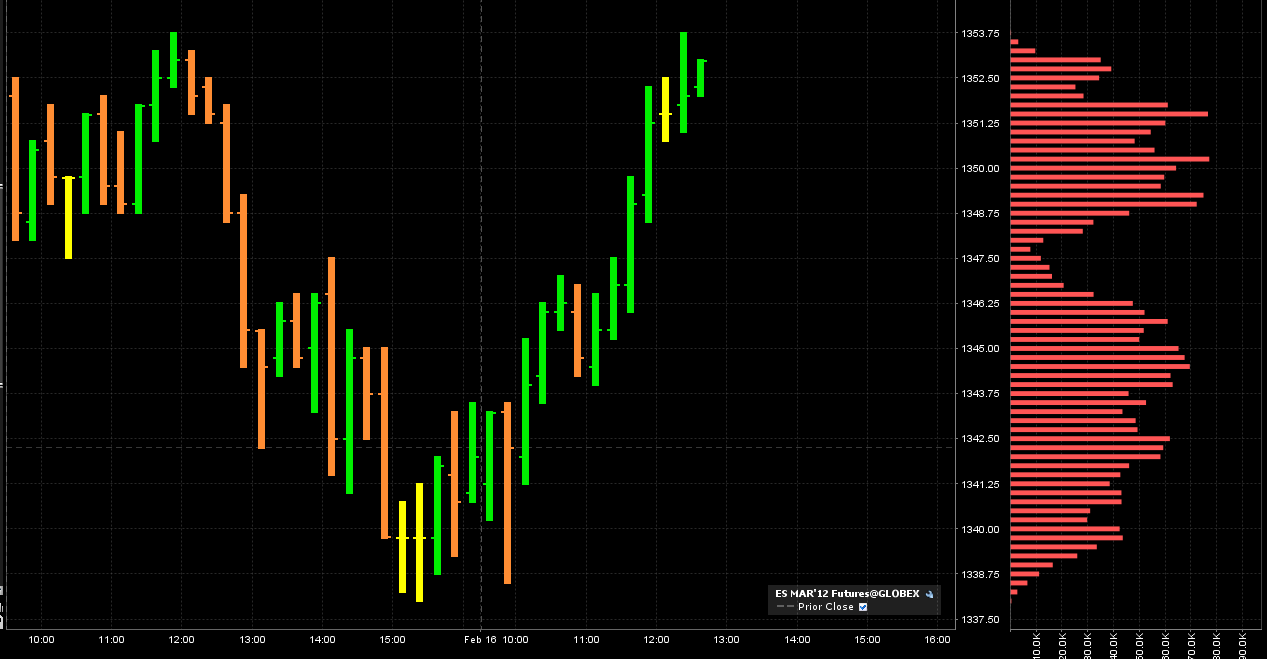 Originally posted by Dubya

Many Thanks to all the traders who kept shorting this market all the way up today and buying back above new highs..could not have done it without you....just kidding..the real credit goes to the Goldmans and Chases aand Wells Fargos of the world that make up 80% of the emini market..their computers all decided to pretty much go in the same direction today...and that I believe is educational...tomorrow is a new day..we will see what they decide to do tomorrow...I will leave the predictions to others...quite frankly, I am not that smart....

Less snark
More helpful input.
Do you ever post your trades as they're made?