ES Friday 5-11-12
Here are my Monkey Zones of
PASR
on a 30min chart (all hours with gray background being non-
RTH
price). Hope it's helpful as a MAP for trading coming into Friday.
Click image for original size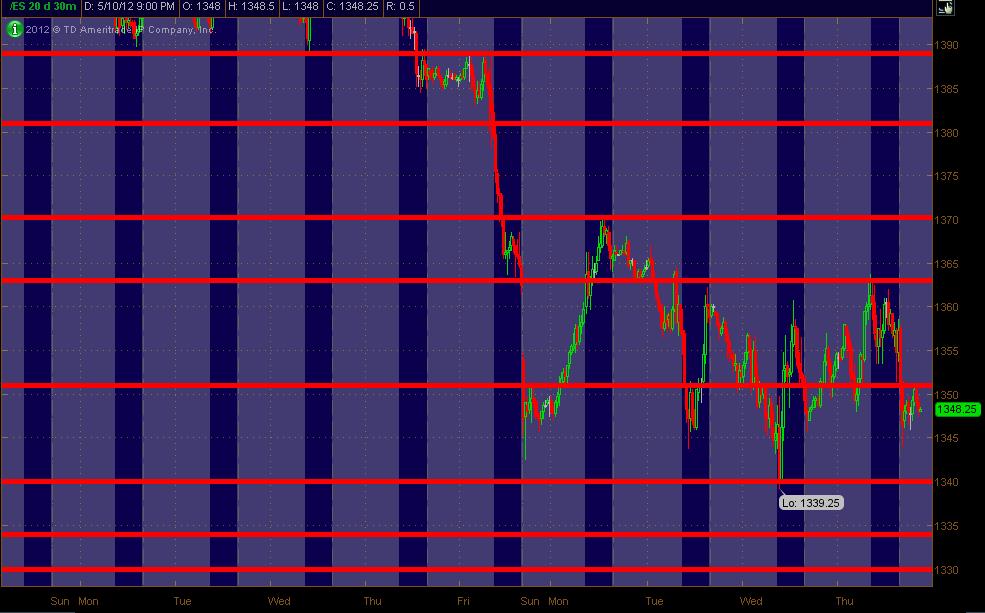 Funky market action now ... so take these levels with a shaker of salt, but hopefully they're something that's helpful along with whatever strategery you may be employing.
adding at 60.50 and targeting 58 now..hoping that was the thrust I wanted to see..61 - 62.50 is still a key price...last weeks lows are there
i never like the obvious
doji
on the 5 minute with volume..seen too many of those get run out as all the al brooks traders have their stops above the high...we'll see..perhaps they will be allowed to win today and cash me out...
the other problem with catching a good short is that the market will alternate from trend to consolidation...so we need to be more agressive on exits expecting the market to come into some kind of range and not just a retrace back down
I just took some off at 58.50 print as I am trying to follow my own advice..that is the first
air pocket
on the way back down which is really the LAST one to form...makes sense ??
Hi Bruce dont know about you but I have been trading like an ass for at least 3 weeks now. Seems the pull backs and retest are not there. Good trading to all.
RB
this is a
low volume
test and
$ticks
at minus 700 are not inspiring the sellers..this
IB
high will be key now moving forward today
Makes sense...I am on the same trade but from 61 so took some off at 58.5 as well and leaving one runner aiming for the 56 area
We had not only last week's high in this area but also yest
vah
...on top of this, as per Dalton, the 62ish area has decent importance as it is the top of the most recent range
I don't think trading has been bad but certainly not great either..RBURNS..for me it becomes more and more about the range extremes of the day session and the overnight session....and of course the
air pockets
/
low volume
areas but look at how we couldn't get back under yesterdays
RTH
low after we trade up into 54 today ...that was critical o me to avoid taking a bad loss....now they are watching to see if they can hold above the
O/N
high which will be bad for us shorts that remain
I want it back under that On high and often the
air pockets
will form at these breaks from those key ranges
it's as if somebody flipped a switch and just turned off the volume...for the last 20 minutes
starting new shorts at 62.25 but my bigger plan is to have price pull above 64 for additional shorts..ym hitting and leading into a key price swing first...
$ticks
diverging...expecting some consolidation so price should pull back to 60 soon
well Monkey I think today was an overload of posts by me and we don't have many here but I'm thankful for those who do read this stuff....
just went flat at 57.75...this is 1.5 points above my key
low volume
price and it's a beautiful day in VT
I don't want them to make me suffer for 1.5 points...not worth it today
ya gotta love how they sucked in all those long late to the party
Originally posted by BruceM

well Monkey I think today was an overload of posts by me and we don't have many here but I'm thankful for those who do read this stuff....

Nah ... great stuff as usual!!