ES Thursday 8-22-13
Magnet price for me today is 40.50 but I don't have a great read of the market yet...
I know that 44 and 46.25 are the first key numbers....I know we have a
gap
up of 8 points if we opened now...we also have the major resistance at 48.50...
see where your 1/4 and 1/2 gap numbers fall today ....for confluence
My plan is to see them get two points up and away from 44.25 to look for sells first...then use the 44 as a first magnet price..with 40.50 as the major magnet price..
we do not want to see them get above the 46 number and have that turn into support that will be bad for us short bias traders..we can sell the 48 number if it gets up there and us the 46 as a target too
if we open under 1644 I will sell a rally up to it knowing that the better sells are up at 46.25
I will watch 37.50 for possible support if it get s that low
...34.50 is another key number today too
my concern is that yesterday was just a big fake out
some will be using the 44 - 46 as a zone and a bull / bear "SWITCH" to provide them a bias...long above it and short below
Click image for original size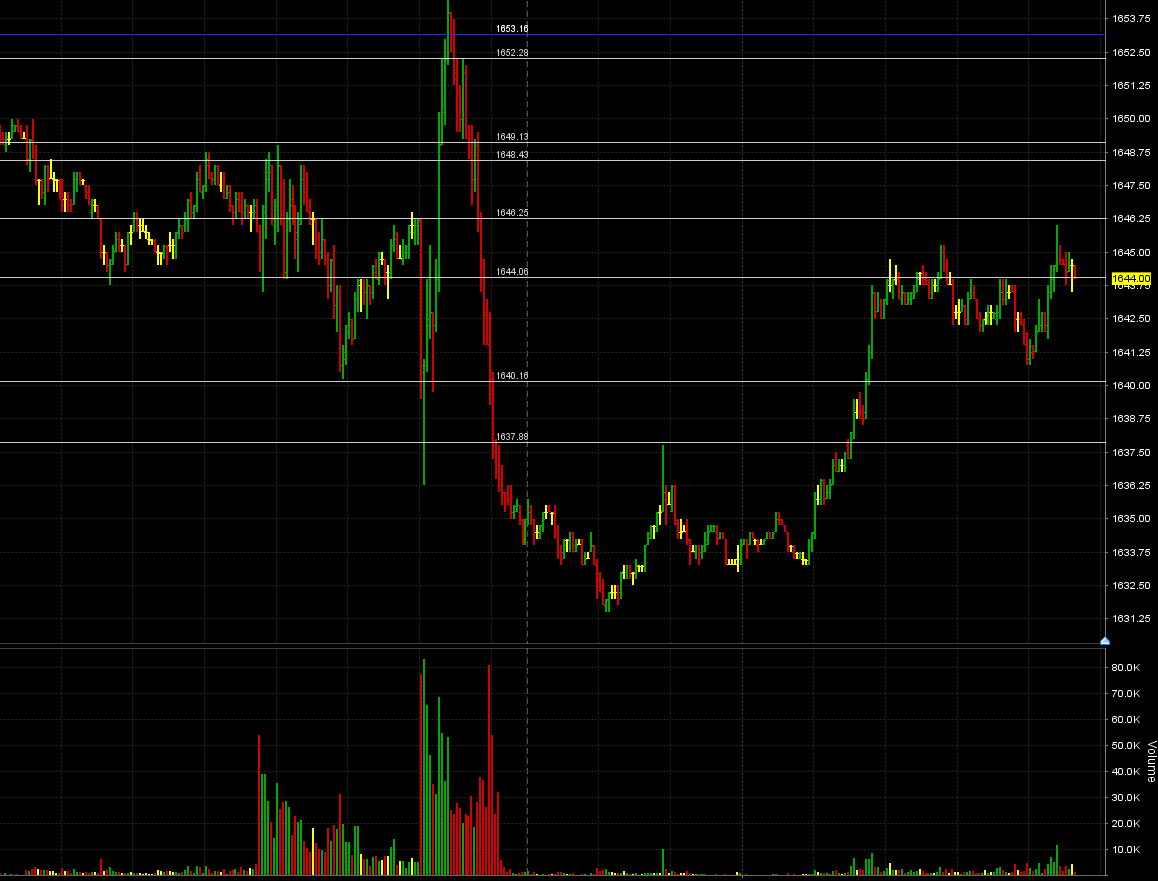 all those who used a stop the same size as the
gap
are just about given up.....so lets go down now !!
ok..
triple
top is done...I want to see what happens if / when we get back under 48.25....otherwise the only other sell zone is 52 - 53....
I'm trying again from 48.50....concern is that this is a bell curve forming up here and could go back and forth and then come out the highs....signifying that they might be accepting these higher prices

46.50 is target if right
watch for the quick test low only to come out the high...so keep a tight leash on this one


damn... can't type fast enough////got stopped at 48.75 after that quick test low under the bell
i am watching
tick
prety closely here...on the 1m chart that -400
tick
was bought up almost immediatly, not a good sign for sellers...will try shorts near taht 54 area, may be at 53 but not before....or when
tick
changes character a bit
3 small losses today... and that is cool..in the old days I would have added or held longer...so it's good to have planned losses and you can feel good about losses if you follow the plan...
having a feel for the context of the market helps with making money but also loosing less when you are wrong as a fader
Only other place I will play is if 52 - 53 come sin of for some reason we get back under that 48.25...
ideal would be to see an
Ib
high break into the 52 - 53 but that is a ways off
i get interested if the 52 prints...not before...

it would be good to have others see tic chart if u have a chance later Nick
sorry .....will post it in a bit
Here is experimental with numbers so you can understand some of the levels Bruce considers.
ESU13...............TRADE DAY: THURSDAY, 8/22/2013
GAPS
Measured to 4:15pm Close
Today
GAP
UP was 7.25 points.
GAP
FILL = print of 1636.50
Half
Gap
Fill = print of 1640.13
Half
Gap
extension UP = 1647.38
FULL
Gap
extension UP = 1651.00
Gap
Traders often risk a move of half the
gap
away from the Open
and still hold short for the full
gap
fill.
Half
Gap
extension (pressuring the shorts) means watch 1647.38
for signs of BUY STOPS being Hit.
Some
Gap
Traders will risk FULL
gap
extension before buying to exit short.
That means BUY STOPS could be triggered ABOVE 1651.00
Usual warnings....
trade at your own risk
educational purposes only
objects in the mirror are larger than they appear
Stop tracking mud across my nice clean floors.
I think they will return it to the 49.50 for a test of that breakout but as of yet have no way to get a trade on..but we are 2 points off it now

oh yeah Nic ..anything with internals would be great for all to see...
trouble so far holding outside the
IB
high and our upper zone....meant to put that in last post !!